Majestic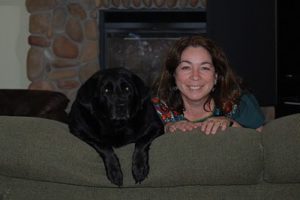 I knew a BIG black dog named Majestic. He belonged to my friend Cathy. I am sure that in his prime, he was majestic. But when I knew him, he was far along in age and had begun to slow down…a lot! His hips hurt, and his eyesight had gone.
Majestic could no longer run freely and chase balls. He frequently bumped into furniture if someone moved it. If you came into the room and walked towards him, Majestic would stagger to his feet and try to get out of your way, not sure which way to go. He couldn't wrestle with the kids anymore.
You would think that this once-majestic dog would have been miserable. But he wasn't. In fact, Majestic wasn't sad at all. Instead, Majestic was glad to be alive. He was open to sniffing your hand, getting a pat or two, and sleeping in the sun. He was grateful for every good thing and seemed to take the bad in stride.
When Majestic passed away, I thought a lot about his acceptance of his life. How could a once energetic and magnificent dog be happy with where his life had taken him – to aching hips and blind eyes? I have concluded that it has to do with expectations. Majestic didn't have any. He lived in the present, cared about his relationship with 'his people,' and took things as they came.
I have noticed that my expectations are the thing that gets me into the most trouble. If what I think should happen doesn't, I have a hard time enjoying what is.
Examples of Expectations Gone Awry
Here are some perfect examples of what I am talking about. A friend of mine took her family of three boys, ages 9, 6, and 3, on a road trip. They were finishing up a year's study of minerals and rocks. During that year, the family had terrific experiences. This trip was going to cap it off perfectly. She knew just how it was going to go.
A few weeks later, she gave me a call. I asked her how the trip went, and she said, "Well, it was OK, but it didn't turn out as well as I hoped." So, I asked her what went wrong, and she told me all the things that they didn't get to do.
I then asked her to tell me what they did do. They went to a dinosaur dig and had a fun day. They sang a ton of songs in their van as they traveled. They had great conversations about how the earth was created and what space is like. They dug for gems one afternoon.
"My goodness," I replied, "there are mothers out there who would give anything for a week like that with their kids." There was a pause on the other end of the line, and then she said, "Your right. I guess it was a pretty good trip after all. I hadn't thought about it that way."
Another mom was telling me about their failed home school day. She described the project she had planned for her kids. The finished product didn't turn out very well, in her opinion. I asked her if they had fun and learned things. She said yes, but she wished the end product had turned out better.
This mom missed the point of doing the project with her children – to be present with them, connect and have fun and learn a little. But, as far as I could see, and in fact what her kids saw, it was a great home school day, and the project was enjoyable.
Just the Opposite!
Another friend and her children worked in their garden all day long. It was coming along beautifully as they dug and planted seeds. When mom wasn't paying attention, the water got turned on and was on for some time. The garden was ruined. This mom could have said to herself or her kids, "What a waste of a day!" But she didn't. She was grateful for the fun time they spent together, and she told me it was a day they won't soon forget, even if they must redo it.
The Difference Between Adults and Children
Adults care about the product or outcome. This sets us up for frustration, disappointment, and sometimes anger when things don't go as planned. Kids, on the other hand, care about the process. They are interested in what they are doing and learning. They like the paint's feel, the clay's denseness, the cool dirt in the garden. They want laughter and mini-conversations.
The outcome will always matter to adults, but when you're with your child, make the mental shift from the result to the process. Let your preconceived expectations go. If you can keep your mind on the child and the joy they're experiencing, you'll have a far different experience. This is true in organizing, playing, working, taking a hike, going on vacation, shopping, gardening, whatever.
I understand this comment by the motivational speaker Dan Clark: "Begin with the why in mind rather than the end in mind." I love his statement because when adults adopt this attitude, our kids and we have more fun and satisfaction in just about everything we do together. Rather than focusing on how it turns out, we focus on the child. Our expectation becomes the relationship.
Remember why you're going for a family trip, why you're letting the kids help you paint, why you're planting a garden together. Remember, the purpose for just about everything you do in your family is to build relationships. So, link your satisfaction to your ability to enjoy what is with your family even when it falls short of your expectations.
Time with Our Kids Is What Matters Most
Time spent isn't just worthwhile if everything goes well. All the time we spend with our children matters, both in the good times and not-so-good times.
And there it is. We sometimes suck the joy right out of an activity, a family trip, a child-parent moment because it wasn't what we had in our mind; it didn't stand up to our expectations. Keep expectations from getting in the way of enjoying your family. Keep the perfect from becoming the enemy of the good. Let go of expectations and be Present!
Who do you know that has trouble with expectations? Help them out. : )