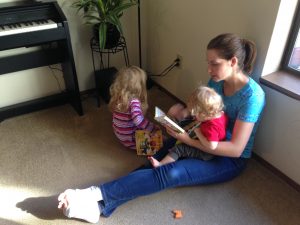 You have probably heard the saying 'begin with the end in mind'. In other words, visualize how you want something to turn out. However, if we want more enjoyment when we do things as a family then we should begin with the WHY in mind.
I love this comment by the motivational speaker Dan Clark: "Begin with the why in mind rather than the end in mind. This allows us to reward effort rather than results." I love his comment because when adults adopt this attitude we and our kids have more fun and satisfaction in just about everything we do together.
Remember why you're going for a family drive, why you're letting the kids help you paint, why you're making cookies, why you're folding socks together or why you're preparing dinner. The purpose of just about everything we do in a family is to build relationships.
Stop worrying about how the cookies taste, how the painting looks, if all the socks got matched, if dinner tasted great, whether there's a mess, or how long the project takes. Keep your mind focused on relationship building.
As adults, we have motives that can prevent us from rewarding our family's efforts to work and play together, regardless of the outcome. These motives can make it more difficult to give ourselves a reward just for being together, for enjoying each other, for working on our relationships.
MOTIVE 1—We want the experience and the outcome to match our expectations
When we plan any activity, vacation, chore, etc. with our family it is almost impossible not to have an outcome in mind. However, if the family event doesn't match that outcome then it's easy to feel dissatisfied, even angry. It's important to watch our expectations.
Keep expectations from getting in the way of enjoying your family. Avoid the trap of giving up because, well, what's the use, what can they possibly be getting out of this? Keep the perfect from becoming the enemy of the good. The point is not what you teach, or how well it looks, but being together. There's great value in linking your satisfaction to being with your family even when it falls short of your expectations.
MOTIVE 2—We want a reward
In our world, we get rewards for getting stuff done. If the job's done right, we get bigger rewards. Rewards are what we're used to.
In our families, the reward isn't a paycheck but a sense of accomplishment and a feeling of happiness. Frequently, we withhold this reward from ourselves and other family members if what we're doing doesn't turn out right, in other words, if it didn't meet our expectations. We don't give ourselves the reward for simply engaging with our family and solidifying relationships.
It's OK to reward ourselves with a sense of satisfaction and happiness even if we fall short of our expectations.
MOTIVE 3—We want others to think well of us
We want to look like the family we have in our mind – kids with clean hands and faces, no bickering, clean plates at dinner, clean rooms, happy conversation in the car…
That family doesn't even exist but for some reason, we think it does and that if ours isn't like that we have somehow failed. We want this imaginary family because sometimes our motive when being with our family is to look good to others – to look like that imaginary family. When we have this motive in mind it can suck the joy right out of any family activity with a REAL family
Success in any family endeavor can be measured by how people feel during and after an activity together. Is the family energized? Did you have fun? Did you feel happy being with one another? Was there a sense of satisfaction or accomplishment? Was individual esteem strengthened? Are relationships better? Is the family feeling still strong?
If we can answer yes to even one of those questions then we can reward ourselves because we will have succeeded in WHY we are together as a family – relationships!
When we remember why we do things as a family it's easier to jettison these common motives and have greater enjoyment as we work and play together.
REAL LIFE EXAMPLE –
Your family gathers at the table for dinner. You notice that one of your children's hands are filthy and send them to wash. Another child complains that now you all have to wait to say grace because of so and so's messy hands. The child with the messy hands comes back and gives their sibling a raspberry with their tongue. You intervene, remind them it's time for grace and pick someone to pray.
During the prayer, the smallest child tips their milk. They should have had hands folded for prayer but they were reaching for a slice of bread. While the family finishes grace you head to the kitchen for a towel.
Both you and your spouse feel a bit frustrated but as you wipe up the milk your husband says, "Guess what I saw today?" One of the children responds with, "What?" "Well, I saw a sign for the circus, it's coming to town." There is a round of happy comments and someone says "Can we go?" "Well, we can talk about that at our family meeting. But do you know what my favorite thing was when I went to the circus as a kid, the Kaliope." Someone responds with "The whatopee. I never heard of that." And so the conversation goes for the next few minutes. Then your oldest child asks to be excused which starts an avalanche of request to be done.
Quickly you and your husband find yourselves sitting alone at the table. You realize that you are going to have to call those assigned to clean the table back and that you are going to have to argue with the ones assigned to wash and dry. But for now, in this brief moment, you and your husband look at each other and one of you says – "Well that was nice."
And it was nice. You all sat down together. You ate together. You kept your cool and managed your responses. You had a full five minutes of conversation as a family. No one went away feeling less than. It was a success! Reward yourself with a sense of satisfaction and a happy feeling that you are managing just fine because you are!
COMMENTS? I'd love to hear them!
Your shares are the best compliment!