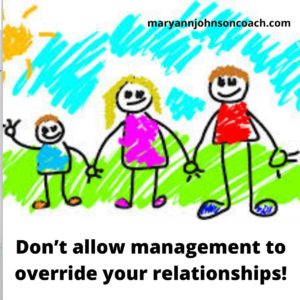 I have been thinking back to 2015. In February of that year, I had a friend who turned 111. You read that right, 111! She lived with her daughter, who was 87. Anna was in good health and could get around with her walker; she bathed herself, fed herself, and was as sharp as a tack. Anna is gone now, but caring for my mom, who is turning 91 in March, made me think back to some important things I learned about management vs. relationship from Anna and her daughter.
It was fun watching Anna. Sometimes when I was with her, it was like watching a slow-motion movie. She conserved her energy. She did everything slowly and with great thought. I guess in 111 years, you figure out that there is no need to hurry. There is time for anything that matters.
She also conserved her energy during conversations. She listened a lot. If you asked her a question, her answer was short and to the point. I guess in 111 years of living, you learn that you can get more from listening than from talking and that most things don't need to be said.
My mom can't do without help many of the things that Anna could. Mom needs more help because she has Alzheimer's. However, she can feed herself, take short walks, help me in the kitchen, and have a good conversation.
Interestingly, I find myself in the same mess that I noticed Anna's daughter got into. She and I both got stuck in management at the expense of the relationship.
What did that look like for Anna's daughter in 2015?
Anna's daughter was 87, no spring chicken herself. At that age, she found herself in charge of a woman aged 111. That could be hard. A considerable percentage of their conversations sounded like this:
Mom, please take your shower and don't mess up the bathroom.
Mom, stop slurping your food. You're going to choke.
Mom, why did you do that!
Mom, wake up. You can't sleep at the table.
For goodness sake, get dressed. It's already 10.
Mom, you're wearing me out.
To me, she might say:
Mom has really been naughty this week.
I'll tell you, I am so worn out.
I think that mom is having a pity party. She just wants attention.
Sometimes I think she pushes my buttons on purpose.
What does this look like for me, today?
Because my mom has Alzheimer's, I can't make the kinds of comments that Anna's daughter made. But here is my confession, I think the thought and feel the emotion that goes with it.
Mom, it's eleven. Get up. It's bath day, and I have a lot to do!
Mom, that house dress is not a blouse.
Do you need a personal invite to dinner?
For crying out loud, hang up your robe.
Man, I need a BREAK!
Does this sound familiar to you? Of course, it does. It sounds like Anna's daughter, and I are talking to or about a three-year-old, a nine-year-old, a twelve-year-old, etc. When I had kids living at home, I spoke to them as Anna's daughter talked to her mom. I thought the same kind of things I think about my mom. Here is the crux of the matter – when you are in the position of custodial care for another person, you can spend a lot of your time in management and only a fraction in the relationship.
Anna's daughter loved her mom a lot, and I love my mom a lot. But we both oversaw the health and well-being of another person. That is a great weight of responsibility. There is food to cook, clothing to wash, floors to clean, beds to make, and on and on. It doesn't matter if you are 20 years old and have a one-year-old, are 35 with seven children, 87 with a mother who is 111, or 72 with a mom in her 90s with Alzheimer's; there is a lot to manage! Add to this, if you are a parent with kids at home, your need to teach and direct your kids to grow into able adults.
You can see why the above types of conversations and thoughts are so common and why the conundrum of management vs. relationship exists.
Five Simple Tips to Increase Our relationship Time Regardless of the Work Load
1. When you walk through a room and see one of your children, touch them on their back, arm, or shoulder. Don't say anything. Just give a squeeze or a pat. You can do this a hundred times a day and use up only a few minutes.
I have begun using this tool with my mom. I call it 'random touch.' Neither my mom nor I are natural touchers. I have to think about it. I make sure I hug her goodnight now. I touch her shoulder when doing her hair or sitting by her. She is beginning to hug back.
2. Have mini conversations while you are in the car, waiting at the doctor's, etc. Just say something random and then listen. For example – "When I was a kid, I loved red socks." Or, when your child makes a statement, ask a question about it. For example – "Look at the sky. Not a cloud in sight. Isn't it beautiful?" Question – "Why do you like that?"
My husband asked my mother this very question today when she commented on the sky. He is a master at this. I am still practicing. : )
3. When a child comes and asks a question, stop what you are doing and make eye contact, smile. Then answer. If you feel interrupted, keep it to yourself. This is called 'active listening.'
I must practice this with my mom. She will come and ask the same question repeatedly. For example, "Are we going for a drive?" "Yes, mom. In a few minutes." Her memory is about 2 minutes long. It can be wearing answering questions, but I have learned that when I stop and look up at my mom and manage my irritation, she smiles back, feels heard, and our relationship is enhanced. Here is something else, when she smiles, my frustration lessens.
4. Have family reading time, even if it's only once a week for 15 minutes. Be consistent with whatever you can do. The number of days in a week and the amount of time per session matter far less than being consistent. While reading, cuddle up. Lots of pillows and blankets.
In our family of old folks : ) we don't cuddle up, but we do sit at the kitchen table and read. It isn't easy. Although my mom and husband have lots of time, I do not as a full-time caregiver. Therefore, I must make this a priority. I can tell you that it does make a difference in the feeling in our home on the days we get it done.
5. Have dinner conversations no matter who spills milk, slurps their soup, or tips over their chair. You can get it going by saying, "Guess what I saw today," or "Do you know what my boss did," or "Hey, did anyone have anything fun happen today?" Coming back from your fifth trip to the kitchen to get something for someone – smile and say, "Guess who I saw today," you know what to do. : )
This can be a challenge. In our home, we can eat a whole meal and not say a word. Having a conversation is something that both Don and I must think about for it to happen. Recently, I got a deck of cards with questions on them. Picking one out of the deck is helpful. LOL
Listen, I am practicing these tips just like you will have to do. It never gets easy because there is so much to manage in a family. But from experience, on the ground, 'right now' experience, I can promise you it is worth the effort and will go a long way in cementing your family relationships.
Don't allow management to override your relationships!