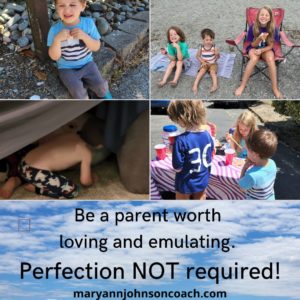 I was not a perfect parent! Of course, you know that because there are no perfect parents, any more than perfect people. However, it shocks me when I see a poor behavior from my parenting days that has crept into my grandparenting days. Being with children is like being under a microscope, where your strengths and weaknesses are enlarged for you to view.
That is why being a parent can be rough some days…because you are always under that microscope. It eases up a bit when you become a grandparent because you don't have children 24-7, and when you do have them for longer periods, say overnight, well, you can hold it together. It's when you have them for more than a few days that the microscope turns back on. That happened to me this month. I went to Washington to help one of my daughters for eight days, to give her mini-breaks, and to love on my grands.
A NOT Perfect Grandparent
My Washington grands are all under ten. They have friends in the neighborhood who match those ages. On some days we would have five or six kids. They can make a lot of noise. : ) I had to work at remaining calm and patient with the noise and the resulting chaos. You know the kind, chalk all over the patio and not in the bucket; water toys on the lawn, not in the pool or even close to it, scooters lying on the lawn, towels dropped on the ground and not hung up on the landing, and so forth.
Meals were somewhat challenging also. I recall that two of my boys wouldn't eat anything green or red. Augh! My grands have their own picky way of eating. But the final meal was awesome. I lined up all the leftovers on the counter and said, "Pick what you want." Then I added carrots or cucumbers depending on the child. It was much more enjoyable than being fussed that no one wanted to eat the same food
A 'Really NOT Perfect' Grandparent
I remind myself that I grew up in a far different time than my grands are growing up in. No one talked to kids, they just told us what to do. No one ever explored our feelings and what was causing us to behave in a certain way. I can find myself back in that parenting place. After all, it is familiar. What that looks like is me holding up my hand, and saying, "We aren't going to discuss it further. You know what to do," in my 'strict' voice. Not loud or angry, just absolutely firm.
This isn't how I grandparent most of the time. But when I'm tired, hungry, or sleep deprived, well… It happened with one of my grands in Seattle. Elliott went to his room upset with me. I told his mom what happened, how he had responded, and how I responded. Kate went to talk with him. He said, "It makes me scared when grandma uses her strict voice." Oh my gosh. Not how I want them to remember me. But I am still not perfect, even after seventy-two years of getting rid of the garbage and learning new skills.
Later, we were all outside and Elliott was riding his scooter. As he coasted to a stop I said, "Do you want to talk about it." He said, "No." I waited and then I used a helpful skill – mini-conversations. As he coasted down the drive and stopped by me again, I said something about scooters in my day. He was intrigued. As he coasted by me a third time, I asked him a question about his scooter. He answered me. The next pass I asked a question about scooters and school. He was even more animated in his response. The next coast down the drive, he asked me a question. I felt the energy change. I was forgiven for not being perfect, for being strict. We hugged at bedtime and had our goodnight talk. All was well.
So, what is the point of sharing these experiences that cast me in a less than stellar light? I am not perfect, and neither are you. I am not always as fun as I would like to be. Sometimes I forget to be the grownup. Sometimes I forget to take breaks and I get too tired. Often, I forget to ask for help with the load. The point is that you will be working on becoming a better parent and grandparent your whole life!
Not Being Perfect Doesn't Erase the GREAT!
I had interesting bedtime talks with these three little people. I made a huge difference in my daughter's workload and home. I was great to do chores with. I made them short, quick, and fun. Tessa and I shared quite a few laughs. Elliott, Gus, and I took some great walks. We chatted as we went. I baked with them. I drew chalk pictures with them. We waded in the ocean and collected shells. I solved problems. I laughed with their friends. I sat through the new Minion movie and laughed at what they thought was funny. I helped set up 2 lemonade stands, one for boys and one for girls. I hunted for treasures with Gus. I helped build a fort and cheered them on as they played. I served snacks. : ) I made sure they were safe, fed, dressed and cleaned, hugged and kissed.
Each morning, regardless of the good or bad of the day before, my grands gave me hugs and kisses. We are friends. They think I am a great grandparent. I am not a failure as a grandmother to them despite my occasional strictness, my annoyance, or tiredness. I am a grandmother doing my best and for them, it is enough.
For a week in August and again in September, I will be with other grands while their mom has two surgeries. Most of it will be wonderful but we may have a moment because I am not perfect. But they will love me, and I will focus on the successes.
Parenting, as I said, is like being under a microscope, seeing all your strengths and weaknesses. Unfortunately, we tend to focus on our weaknesses and forget about our strengths.
I have a lot of strengths and I no longer beat myself up over my weaknesses but instead remember that anything can be changed. I am still alive and that means there is time for growth and that while I am working on whatever isn't quite right yet, I need to celebrate what is. And so do you!!
Doing that one small thing, celebrating your successes and growth, will ultimately move you forward –
Not toward being a perfect parent, but a parent worth loving and emulating.