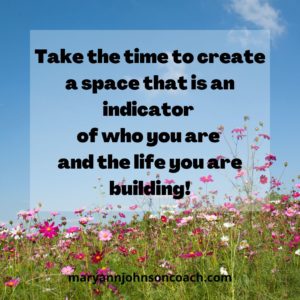 Recently, I was sitting at my desk in the corner of my bedroom. My husband was sitting on the bed watching me. Then he said, "Looking at you in your corner is an indication of your life."
That was an interesting comment. I asked, "In what way?" He said, "It shows your willingness to change and grow. Most people don't have a corner like that."
That short conversation was thought-provoking. The fact is I have been challenged this summer in many ways. Caregiving two adults, full-time, has its ups and downs. Living in a four-generation home and caring for four kids, one with severe cerebral palsy has its perks and pits. You all know what I mean because as moms, you are caregiving a bunch of people, both adults, and kids. : )
At seventy-two I need hormone replacement, and this year, from February until now, they have been incorrect. I have been on a roller coaster of emotion, tears, anger, and brain fog that would down a jet! You all know what that is like. Some of you are pregnant. Now, that does stuff to your hormones. Some of you suffer from depression. Some of you are pre or post-menopausal. Need I say more?
I have thought on and off this summer, "I hope I live to see the fall." Yes, it has been that hard some days and, in fact, some weeks. You are probably commiserating with me because, I dare say, you have been here in one way or another.
So how have I managed this year? By paying attention to that corner Don mentioned and a couple of other places in my home. What I have in these spaces keeps me upright when my world isn't as settled as I want it to be.
My Office Corner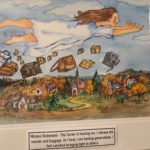 My office corner is one of those places. Let's look at what is on the walls. I have a beautiful painting of me shedding baggage. It was a dream I had decades ago, and a cousin painted it for me. I am a seeker, a learner, and a changer, just like Don said. I always have been. This dream came at a hard time in my life and was given as a gift to remind me that I could heal, grow, change, and impact others for good.
I have thoughts and quotes that I read when I enter my office corner that are uplifting and challenging.
Here are a few:
My Happiness Commandments
• Be a Pollyanna
• Clean the ditch-remove garbage thinking
• Let go of suffering
We all need to believe that what we desire in righteousness can someday, someway, somehow be ours. Jeffery R Holland
What is the great cause of Christ? It is to believe in Him, Love as He loved, and do as He did.
God's prosperity is the power to press forward despite the problems of life.
Intelligence isn't in you; it exists around you, and you are to connect with it. Answers don't have to be in your mind. You don't have to be able to recall everything you read. You just trust that you are an intelligence and answers, and information will flow to you. When you begin pondering something and start talking about it, information flows in.
You can't wait until life stops being hard to be happy. Aldrin Manimtim
I will not leave you comfortless. I will come to you. John 14:18
I have so much to do today, I'll need to spend another hour on my knees. Martin Luther
What I wrote to remind me of my current mission, to help me have clarity when days are hard – My CLARITY – It won't be what you would usually think. I live in a four-generation household filled with active children and those who are ill. I am also a published author, teacher, and coach. I post something enjoyable or meaningful daily on Facebook for the parents I write for. I write and publish an article each week, which always elicits comments of hope from my readers. My published book is fabulous. The time will come when I will promote it, speak, and teach on the content again. I have more amazing books in files on my computer that will wait patiently for me to write them. But for now – I am caring for my mother, my ill husband, and helping my daughter care for her 16-year-old with cerebral palsy. This is my path, my mission for now, and my time to serve and patiently wait. It is enough for me.
There are more quotes, but this will give you an idea of where I want my focus to be each day, how I want to think, and who I want to be.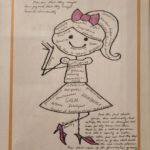 I have my 'Who I Am' poster. Two decades ago, I wasn't sure who I was. So, I picked a picture of a girl, nothing like me at the time. She was happy, bright, and smiling. Then I free-wrote inside her body what came into my mind. For over a year, I would stand in front of this 'me' and recite all the wonderful ways of being that are mine. It was life-changing!
I have a chart I made from reading my core spiritual cannon. I love it! It reminds me of who God is, what He is like, and His promises to me. I am proud of that chart. It took some real thought and work. I enjoy reminding myself about my relationship with God and Christ.
Books
There is a stack of books on the desk, those I most want to read soon. In my bathroom, by my bed, and on the corner of my table are three I am currently reading. I LOVE reading but I have very little reading time, so I have become creative. I read only a few paragraphs at a time, and I still read many books a year. I have written a lot about this.
My Vision Wall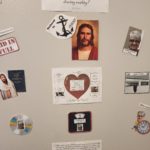 On the wall, by the side of my bed, I have my goals and dreams. They used to be things like a home, car, or vacation. Now, for the most part, they are how I want to be. But there are still a few things. I want to make a CD. I am determined to get that done this year. I want to give away 20 pounds of weight and free up energy. (How we phrase a thing matters LOL) I want to be debt-free. These are a few of the dreams I have posted on my wall. They are the last thing I see each night as I turn out the light.
My Morning Routine Basket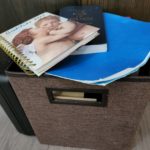 I have a basket by my dining table. In it are my gratitude journal, my daily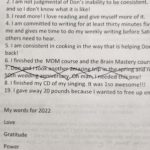 affirmations folder, and my core spiritual cannon. I write 3 things I am grateful for every day, I read in my spiritual cannon, and I recite my affirmations. Do I get it done every day? I wish I could say yes but, on a day when I have to get Maggie, my granddaughter up, feed and dress her, brush her teeth and hair, and give her meds, I might not. But I work to get to it even if it is just before bed. If I don't get to it, I do it the next day.
What these indicators accomplish
Does having these spaces of positive thought, goals, and dreams around me stop the bad days? NO! This morning was VERY hard. I cried for a few minutes, and I am NOT a crier! I wondered If I would be able to say anything of value in the article I had yet to write.
But here is what these indicators of my life accomplish – they remind me of who I am and the life I am building. They remind me that I matter, that I am strong, that I am not alone, and that I can do great things.
I am not perfect. I have bad days. I occasionally leave important things till the last minute. I get angry and must apologize. I become weary. I am just a mother and grandmother doing my best, but my husband was right, you can tell about my life and me by looking at the thoughts and practices with which I have surrounded myself.
Do the work
Today, I want you to look for the indicators in your home of who you are and how you are growing. If you have them celebrate and then keep using them. If you don't have spaces that remind you who you are and who you want to be, create some. If you see a quote that moves you, write it out and tape it over your sink or on the bathroom mirror. Begin to surround yourself with how and what you want to be. Let God and the universe know your intention to become more.
If I spoke about a practice that intrigues you, write to me, and I will share how it is done so you can incorporate the practice into your life. If you have a question, ask it. I didn't heal my wounds and grow to where I am in a vacuum, and you can't either.
Take the time to create a space that is an indicator of who you are
and the life you are building!