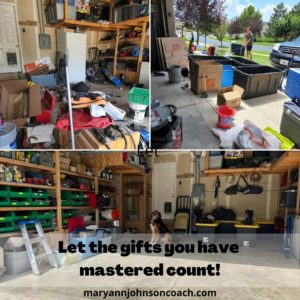 Yesterday, after an hour's drive, I spent the day helping a friend clean and organize her garage. Wow, it was a hot day, punctuated by a downpour, in the afternoon. I got to work with her sons which was a treat. They did good. : )
At one point, my friend asked me if I ever got tired of being called on to clean and organize other people's messes. Fair question. She felt bad for asking me to help her. But I responded with this. "Would you feel bad asking if I played the flute? Would you ask me to play at a funeral, a wedding, or in a parade? Would you be hesitant to ask? No, because it would be my talent. What I do is no less a talent, and I am glad to share it when possible. What I do isn't any less valuable, just less showy. So, when asked, I use my talent to clean and organize."
I have thought a lot about this conversation. Here it is in a nutshell. I am excellent at three things that make me a superior organizer and cleaner: consistency, focus, and a sense of order. I can't take any credit for these three things. I was born with them. I know you will want to argue this point, but I have lived in my skin for over seven decades. I was this way as a small child. I was born with these gifts. I can't take credit.
Here is what I can take credit for.
I practiced every day, for decades. Sometimes I did better than others but over time, I became a master. I can take credit for that.
That is how talents are. We have a natural propensity for something – fishing, dance, playing an instrument, comedy, gymnastics, football, cleaning and organizing, planning, listening to another's grief, gardening, cooking, caring for the old or ill, connecting with children, the list is endless. Some take this natural gift, and they use it regularly, they practice, and they become masters. Others don't and although they have a gift, they don't become masters.
Case in point
I was a very talented dancer. I thought about going to Europe to study. I read books about dance, and I danced my little heart out. One of my teachers said I was gifted, and I was. I could have pursued this goal. However, I discovered that as good as I was, it wasn't the thing I valued most. So, I let it go and I'm glad I did. In dancing's place, I have a family of seven accomplished children. I have a marriage that is filled with love after 51 hard and sometimes brutal years. I have learned much about charity, humility, and a generousness of spirit. It has been these other things that I pursued that have led me here, to who I am today.
What natural gift have you honed? Look closely. If you think you have let your life slip away and that you haven't pursued your dreams, look again. What gift have you perfected over the years that serves you and others and feels more valuable than what you let go of? Celebrate that! Stop feeling like a failure.
I am a success. I change people's lives; not in a way I thought I might, decades ago, but in the way that has lifted me and others, that has changed me and deepened my soul.
Let the gifts that you have devoted a lifetime to perfecting count!