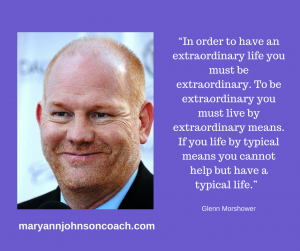 In 2011 I had the extraordinary opportunity to interview Glen Morshower – Agent Aaron Pierce, from the Fox hit "24. I had attended an event he spoke at and I was riveted by his humor, wisdom and pure joy in living. So I plucked up my courage and asked him for an interview that I could share with the mothers and fathers I work with. He said he would be glad to and gave me his phone number. I never called.
I thought about calling often. I would look at his card, smile in remembrance of his exuberance and then put the card down.
Finally, one day as I thought about tossing the card in the trash, I plucked up my courage again and called. I left a message on his machine reminding him who I was and what I wanted. I didn't expect a call back. He's famous after all and a busy man.
The phone rang a short time later. Imagine my surprise to hear "Hi Mary, its Glenn." It took me a moment to figure out Glenn who. "Oh my gosh, I can't believe you called me back." And that was how the following delightful hour began.
Glenn is an amazing individual. He has a zest for life that's infectious. He was fun to talk with and I had to write fast and furiously. (I do not know shorthand) I made every effort to gather as much as I could to share with you. Over the next few weeks I will be sharing what I learned. I know you will enjoy it as much as I did.
Mary Ann – Is there anything from your parenting which you regret?
Glenn – "I can honestly say that I loved it all! It has been the best role I have ever played. Now that my children are grown I miss holding them and tucking them in.
Here's why I have no regrets in my parenting.
"I learned early on that there is a purpose to the gifts we are given in life, even those experiences that are painful and are rarely viewed as gifts. My experiences were a gift and taught me character and gave me something to transcend.
I developed an awareness about life that I consider heaven's gift to me. I became wide awake. I learned compassion and gained understanding and those are the things that I brought to my parenting.
There are two things that those who cross our path can give to us.
• There are those give us a clear road map of how to live our life. They model excellent behavior and we should embrace the experience.
• There are those who will clearly model how not to live life. Instead of choosing what you want, choose instead the consequences you want. Make consequence-based choices. This leads to a healthier, happier life.
As adults, we need to be careful not to use "victim speak".
Making excuses for our bad behavior or blaming circumstances for our bad behavior is unhealthy. Take the responsibility for your choices and make them consequence based."
The first thing I learned from Glenn –
Glenn chose love and tenderness which he found effortlessly flowed to his children because he decided to give them what he wanted. He made a decision.
The most poignant portion of his answer to the question I had asked was this: In giving what he wanted he found personal healing.
And isn't that what we all really know is true – that what we give we get back in abundance. Glenn gave love instead of hurt.
Next week Glen shares what he felt was the best thing he did for his children. Be sure and join me because it is tremendous.
Glenn Morshower is regarded as one of the busiest character actors in Hollywood. Best known for his role as Aaron Pierce on the FOX hit series 24, Glenn has a hugely successful acting career spanning 35 years. He and his high school sweetheart Carolyn married in 1978 and have two grown children.
"The Extra Mile" is a series of performances that are written and performed by Glenn Morshower. The program is a combination of motivational speaking, storytelling, dramatic and comedic performance, acting instruction, and life coaching. Thousands, including a good number of celebrities, have attended these events across the US. You can learn more about it here.
Why not share Glenn Morshower and his joy in life by clicking on the buttons below.