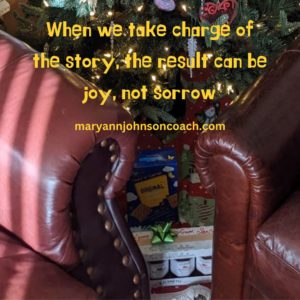 Jams and Grahams – a Caregivers Story of Personal Growth
Last week I shared a tremendous story of how my sister maintained her sense of value and happiness and was able to problem-solve effectively during a very stressful experience. Today I want to share one more that is equally amazing. This happened on Christmas day, 2022, so I wanted to share it before we were too far into the new year.
My sister Rozanne's husband has had two strokes. They have upended their lives. Some days can be very challenging. As she said, "Since the second stroke, it has been six months of 'adding in and letting go,' of various expectations, for both of us."
Christmas was not the same. There were no gifts under the tree they had purchased for each other. It wasn't something her husband was capable of, and she had been busy taking care of Christmas for her grown family and others she loves and cares about.
Nevertheless, we want to carry on with traditions, so on Christmas morning Rozanne placed a bow on a box of jam that she had purchased for Daryl. He loves jam. She chose not to wrap the box, only adding a bow. At this challenging time, she had been practicing letting go of what had seemed important in the past but that she now knows is unimportant. After all, since her husband's stroke what was necessary and important had changed a lot.
The box of jam looked lonely sitting there. Then she remembered Daryl had asked his son, Kenny, to buy a box of graham crackers for her, because he knows she loves them. They were in the kitchen cupboard. She went to the kitchen and retrieved the box of crackers and placed them under the tree next to the jam. Into her mind came these words, 'Jams and Grahams,' a Caregivers' Story of Personal Growth. As a full-time caregiver, I can relate to my sister's experience!
You see, life isn't static. It changes. Sometimes the change is exciting and pleasurable. Sometimes it requires that we manage our story and in turn how we choose to feel.
The Rest of the Story
My sister could have mourned the changes that Christmas morning, but instead she took charge of the story, and the result was joy, not sorrow. Let me share the rest of the story and you will see what I mean.
Daryl was happy to see two gifts under the tree. He took his bottles of jam and put them in hiding. : ) As my sister walked to the kitchen to put her graham crackers back in the cupboard she noticed that Daryl had taken the bow from his jam package and placed it on her cracker box. My sister said, "The picture in my mind of that sweet gesture, will remain in my thoughts, for the rest of my life."
This year, choose to suffer less. Choose to remain in control of your stories. Write them in your mind in a way that lifts you, no matter what happens. You are 100% in control of your response to whatever comes your way. You can't control everything that happens or how others behave, but you can control your response.
Here's to a 'Character Building' New Year full of personal growth.