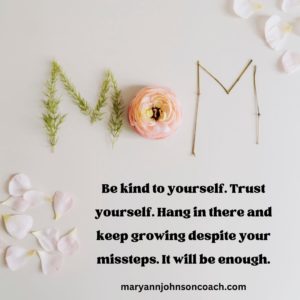 Here is how the conversation with my daughter Kate on pride vs. pridefulness ended. If you are out of the loop, refer to the Sept. 10th and Sept. 17th articles at https://www.maryannjohnsoncoach.com.
Duality in Life and Parenting
I told Kate, "I'm proud of myself that I figured this out as I became an adult. Thank you for telling me. I never would have thought of such a thing. I always felt like such a fearful person. That is what your siblings saw. But by the time I was forty, I had worked out a lot of garbage. So, this is like a confirmation that the work I did was valuable. It wasn't easy. There were no classes, no internet, no place to go for help except to friends. I had to figure it out by being honest with myself, and by pondering and praying a lot. It took me years. I am amazed that I figured it out. That I healed and grew. Thank you. I love you."
I was sorry that my older children had grown up with a frightened, fearful woman, who did not value herself. I told Kate that. She replied, "You know Mom, just because it took you time to learn and grow doesn't negate the great mom you were and this important message you gave me."
Then Kate mentioned the word duality. It was new to me. I know dual means two, but I hadn't heard much about duality. Here she was telling me that in parenting it matters.
What is duality? Well, two things can be true at once even if they are contradictory. You could be fearful at 40 and still exhibit confidence that you didn't even realize. This can be helpful in relationships with others and with us.
Some Examples
In my 40s' I thought – I either have it all together or I don't. I either show confidence in everything or nothing." I felt this was true. But the truth was this – I had fears and insecurities in many areas of my life but great confidence in others.
Sharing the message of duality is important in parenting because it can help us keep our story about how we are doing on a more positive plane, and it goes a long way to assisting us in speaking kinder and more truthfully to ourselves.
Instead of, "I am such a terrible mom. I just can't keep my cool." we might say, "I struggle to keep my cool, but I am working on it, and I am great at nighttime talks. It will even out If I just keep working on it."
Instead of, "I am so lame. I still have so much to work on," we could tell ourselves "I have so much to work on, but my kids can depend on me being at their events. They can trust me."
The Onion Principle
In 2022 I sought counseling for myself for the first time in my life. Not mentoring, I have done a ton of that but honest-to-goodness counseling. I am 73. I should have it all worked out right? But the reality is that we are like an onion. You work on a layer at a time. That is why duality exists. You took off a layer but there may be another layer to work on.
If there are two sides to a coin, metaphorically speaking, there's a duality. Peace and war, love and hate, up and down, and black and white are dualities. Duality is experienced every day.
You will succeed in some ways and fail in others. You will have one thing worked out and be a hot mess somewhere else. It's OK. You can be both. We shouldn't focus only on where we are not yet strong. It is wise to acknowledge both our strengths and weaknesses. As we do, we send a powerful message to our children that they can do the same. This will hold them in good stead as they become adults and work out their baggage. Good parenting isn't about being perfect, knowing it all, and having all our junk cleaned up. It is instead, doing the best we can, growing and changing, and sending the message to our children that they also have strengths and weaknesses, and it's OK. It is about allowing ourselves and them to feel pride in hard work and accomplishment even if there are things that are not yet in order.
So, as I have said many times – Be kind to yourself. Trust yourself. Hang in there and keep growing despite your missteps. It will be enough.