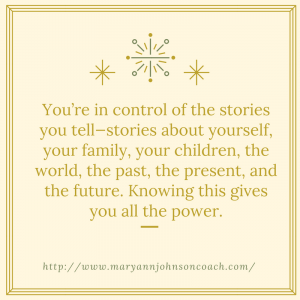 I keep thinking that I'll switch topics from the power of controlling our story and response to another parenting topic but every day provides a new and powerful example of just what it looks like to control how we think and act.
Stories of real-life examples are impactful in helping us relate to principles in a way that allows us to get clarity on how to live them better. There's value in 'seeing' a principle at work because it extends our knowledge of the principle and knowledge is power when it comes to personal change.
Here is an example from this week.
When I was writing the book Becoming a Present Parent I found myself constantly distracted and it was hard to make headway. So I pondered what I could do to find more consistent time to write. My most clear and compelling thought was to get up at four in the morning which would give me three uninterrupted hours. It was one of the most challenging and rewarding things I have ever set out to do. For over six months I got up early six days a week and wrote. It was exhilarating to see the book come together.
That was over 1 ½ years ago and a recent move. I have got to confess that I fell off that wagon and I've struggled to get back on. I've been making an effort to go back to my early morning routine because I have some studying to do that is kicking my rear and I need more quiet, focused time.
Each day since I determined to get up at four a.m. I have awakened to the alarm and then changed the time to 5:30 or 6. Of course, I want to get up, I know I should get up but when it comes to getting up I have an argument with myself and I lose. Here's the story I've been telling myself about the situation: I'm just rebellious. I know I should get up but I just don't want to. I'm being a lazy lump!"
On Monday I told my daughter how I was feeling. She replied, "Well mom, maybe you're just being charitable to yourself. We've just moved, have been renovating every day and you are tired. Maybe you're just listening to your body and taking care of yourself." Wow, that felt a lot better than the story I'd been telling myself.
On Wednesday I helped my 95-year-old friend in her yard. It was laborious, to say the least. My back was sore and so were my legs. I felt very weary. In fact, I went to bed at 8:30.
Now, from 8:30 to 4:30 is eight hours, the amount of time I feel I need and want to sleep each night. But when the alarm went off I was still TIRED. I wanted to lie there and rest a bit more. So I did. The difference was this: I thought it over and made a decision. I didn't argue with myself or feel like a lazy lump. I just decided to give myself an extra hour of sleep.
I know I need to get up at 4:00. I feel very strongly about that and I will. But while I'm getting back into the traces, so to speak, I'm going to be kinder to myself. I'm going to be more generous with the story I tell myself about the process I have to go through to make it happen.
Remember last week? I shared the idea that when we think positively about any given situation it increases our ability to come up with options for moving forward. With this in mind, I know that as I remain positive, continue in my efforts to accomplish a challenging goal and don't quit, I will succeed more quickly.
The story we tell ourselves about ourselves, others or situations impacts how we feel and then respond. Getting control over our story and the ensuing response gives us greater power over our lives. It's worth the effort!
If you want to begin taking control of your story, then I want to help you. I have an exercise that I want to share with you, FREE. It's a simple PDF which will walk you through a 30-day exercise that will help you see patterns in your negative thoughts and will give you clarity on what you need to work on first. If you're interested then click here. It will be available for download for one week.
I'd like to know what you're struggling with right now and how changing your story could help you have a better outcome. Please leave a comment. I will respond. : )
Here's to more joy,
Mary Ann
P.S. You can learn more about controlling your thoughts and emotions for better family relationships in my new book Becoming a Present Parent, Connecting With Your Children in Five Minutes or Less. You can also receive a chapter from the book on Touchpoints, creating points of connection rather than having points of contention, FREE by visiting becomingapresentparent.com It can be life-changing for your family. I promise!
Want to know more about Present Parenting? –