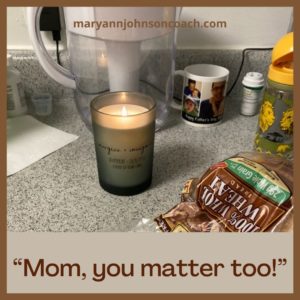 When I was sixty-three Don and I lived in a two-bedroom apartment. Jodie and her family came to live with us while they waited for their home to sell and another one to come into their lives. I had forgotten this event until I was reminded while reading an old article I had written. It was hysterical and not a much different story than what my life looks like now, full-time.
Here is a snippet:
"Tonight, I cooked dinner with a baby riding on my hip and a three-year-old helping me brown onions and hamburger on the stove for "jelly" sauce (spaghetti sauce). It was a bit cumbersome trying to keep a three-year-old out of harm's way while allowing her to help and an almost one-year-old grabbing for everything he could reach.
I did this while trying not to step on anything that would send me crashing to the floor, seeing that the baby on my hip had emptied the utensil drawer, which is why I had him on my hip. I could hear the four year old making lots of noise from the living room. He was running his trucks through the maze he had made in a random pattern on practically every square inch of the living room floor. All's well here, back to the "jelly" sauce.
Meanwhile, the six-year-old was yelling for help with her iPad. Maggie has cerebral palsy and has a way of letting us all know when her iPad is not cooperating with her limited hand movement. Right now, she was letting me know…loudly.
"Jelly" sauce simmering, noodles boiling, and three-year-old slopping melted garlic butter on a tower of French bread while I helped Maggie with her iPad. I heard Mary say, oops, never a good sign. Seems as if some of the garlic butter has found its way down her chest and onto the fabric-covered chairs. No problem, just mixing with the strawberry ice cream drops from the night before.
Then I smelled scorched bread. Our garlic toast is going to be a bit crisper and darker than I had planned. I holler to the almost-four-year-old, "Jack go tell Grandpa that grandma needs him…NOW!"
I know you are laughing – not at me but with me. You have probably had your share of days just like this one! Back then we had Jodie and her family for a few months but since then our families have combined permanently. We are a four-generation home and trust me, even though the kids are older, we have many days just like the one I described above.
Parenting is no joke. It's a lot of work, time, and effort, and requires that we learn and practice new skills. I have experienced the good, the bad, and the ugly of parenting and I survived. Better than that our children survived all that we didn't know how to do and all the mistakes we made. I'm sure you sometimes wonder if you will survive and if your kids will.
A text of great worth!
I received a text from a dear friend. We have mentored together on and off for several years. Every now and then I reach out to see how she is. Often, she will send me a random text letting me know how it's going. When times get rough, well, we work together again.
As I was saying, I got a text from her that I knew you would all LOVE because it is so how parenting is. I asked her if I could share.
My friend and I had been talking a few months before about taking care of ourselves in ways that are actually manageable when you have kids. She has three boys, five, two, and, a baby.
She sent a photo of her cluttered counter. A candle was burning in the center of the mess. These were her words – 'I thought you might appreciate this picture. I am home-bound today with a sick child and no car. I got very little sleep But I am still taking care of me. The candle is lit, despite all the clutter. Lol This is life."
This is life for moms and dads. But Bethany is in the process of finding ways to nourish herself when there isn't a way to leave 'parenting' behind for a lunch date, a nap, or even a walk.
Self -Care is a skill you can learn
This is a vital skill to learn and practice and it is a skill. Anyone can take care of themselves better. I know because I have had to do this. It hasn't gotten any easier at seventy-two. I have to keep practicing but I am far better at it than when I was thirty! Yesterday when I sat down to write this article my twelve-year-old granddaughter decided to sew something for her hamsters. Over the next hour and a half, she came into my office at least five times needing help. This is what living with children is like. So how do you manage life with children and take care of yourself?
You're going to spend far more time with your children than you're going to spend without them, so it's imperative to learn how to self-care while you're in the thick of parenting. It's simple, it's doable, and it takes small amounts of time and virtually no money; but it can and will pay huge dividends. Self-care can be as simple and plain as having a cup of herbal tea while you read to your children. It might be taking a few deep breaths while soothing a screaming child. You could turn on your favorite music and dance in the living room with your kids. Add laughter!
Self-care can be taking a walk with your children, and pushing a stroller, to take the edge off the day. Sitting in the swing and watching your children play can give you fresh air and a breather from all you feel pressed to do. Go to the bathroom more often if that's what will buy you a few moments alone. When you're on the edge of losing your temper, getting irritable, or feeling resentful, ask yourself what you need to stay in control. Pay attention to yourself.
Do something that feels nurturing to you. Give yourself space to get it together. When you pay attention to how you're feeling, to what's happening in your body, that's self-care. This can be done while you're in the thick of parenting. On this day, for Bethany, it was lighting a candle just to say,
"I matter too!"