Self-care is crucial for parents because it helps them maintain calm for longer periods of time. Self-care facilitates patience and staves off taking our frustrations out on our children. Self-care helps us remain freer of resentment, exhaustion, or feeling depleted. It keeps us healthier. Self-care helps us tune into the joy and satisfaction of having children, even during overly busy or chaotic days. Self-care benefits not only us but also our whole family. It's an investment in our family relationships, rather than a selfish indulgence.
Here are some tips to help you begin thinking about how you can do more self-care right where you are – in the thick of parenting.
1. Make it simple and doable – Self-care can be as simple and plain as having a cup of herb tea while you read to your children. It might be taking some deep breaths while soothing a screaming child. You could turn on your favorite music and dance in the living room with your kids. Add laughter!
2. Pay attention to yourself – When you feel like you are on the edge of losing your temper, getting irritable or feeling resentful ask yourself what you need to stay in control. I can still vividly recall what that moment felt like when I was going to stop being the adult. It was almost always when I had pushed myself for too long or was too tired. What I needed was to just STOP. In those younger years, I didn't stop and the result was inevitable. If you find yourself in that place, STOP. Stop working. Sit down. Hug a child. Breathe deeply. Get a drink of water. Walk out to the yard. Do something that will feel nurturing to you.
3. Take care of your physical self – Get more sleep. Go to bed a bit earlier even if it means you don't get that alone time you try to snatch after midnight! Don't get on the computer after 10 pm. Really, this will absolutely help you get to bed earlier! Eat better. Don't let lunch be the crusts off of your kid's sandwiches. Don't eat over the sink. Sit down for goodness sake and eat. It only takes five minutes! Exercise. Learn the difference between mom walks and kid walks and take a healthy measure of both weekly. Think and talk nicely to and about yourself. You would rarely speak to others, even those who are messing up, the way you talk to yourself. Pay attention to what you say and how you say it to yourself and then take the time to re-frame what you say into something more positive, supportive, and true.
4. Smell the roses – Stop rushing through the day in order to get your "list" taken care of. Join in your children's laughter. Smell their hair and skin. Get good at random touches and mini-conversations. Sit on the lawn and listens to your children's chatter. Take a moment off, even if it is only 5 minutes. It will be enough!
Taking care of yourself does not make you selfish. It shows that you care about yourself and your family relationships. Being kind to yourself in everyday life is one of the best things you can do. Life will become lighter and your relationships will most likely improve. You will feel happier overall. Your self-esteem will go up. You will be a better parent.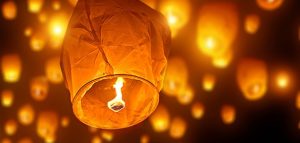 AN EMPTY LANTERN PROVIDES NO LIGHT. SELF-CARE IS THE FUEL THAT ALLOWS YOUR LIGHT TO SHINE BRIGHTLY. PIPER LARSEN
How do you care for yourself in the midst of a busy and chaotic day at home? Please share.
Here's to more joy,
Mary Ann
GREAT NEWS!!!!!! Just in time for the holiday season. On November 21 I am giving away 5 copies of Becoming A Present Parent via a Goodreads Giveaway. So on November 21 hop on over and enter. You may just be a winner. : )
P.S. You can learn more about the difference between the 1% principle and the 100% devil in my new book Becoming a Present Parent, Connecting With Your Children in Five Minutes or Less. Knowing the difference will help you let it be enough. You can also receive a chapter from the book on Touchpoints, creating points of connection rather than having points of contention, FREE by visiting becomingapresentparent.com It can be life-changing for your family. I promise!
If you like this post, please share it with your community.