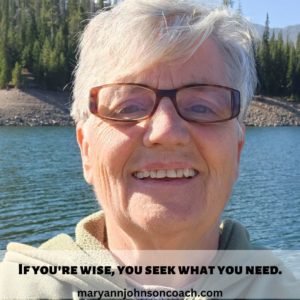 Years ago, I spoke in a church meeting. I had a thoughtful presentation ready. As I sat on the stand waiting my turn, I had a clear thought, "Mention that you were sexually abused as a child." I was horrified and replied in my mind to that still, small voice, "I don't want to." The thought came again, and I replied, "When you tell people stuff like this, they look at you differently, they treat you differently." Again, a third time I had the same thought. I sat there resisting. I had no intention of sharing that bit of information even though it would fit in with the topic I had chosen to speak on.
When I stood to speak, I reached the place where the information would fit perfectly and be applicable. I did as the voice had suggested. I worried for the rest of the meeting. These were people that I saw weekly and whom I spent time with. How would this impact those relationships?
As we adjourned the meeting, a woman stopped me at the door. She had tears in her eyes. She said, "Thank you for sharing what you did. I have been struggling and have felt so broken because of my experience. But I know you, and you live a good life. You seem healthy and whole. I realized today that if you can heal, I can heal." I was grateful I had listened to that still, small voice.
Today's article is like that experience. In fact, it has lain partially written in a file for over a month. I wondered if I would ever share the contents. When I opened my article file this week, I saw the title, opened it, and began writing. I worried for a few days as I wrote and rewrote. However, if this helps even one mom parent better, with more presence and confidence, then that is all I need.
My Story
I lived much of my life thinking if it was to be, it was up to me. That is, in part, because I was the oldest of nine, my dad was an over-the-road salesman and was gone a lot, and my mom was emotionally distant because of her childhood sexual abuse.
That is one of the reasons I married my husband. He felt like a safe place, I could trust him, and I knew in my heart he would be there for me. After only a few dates, I told him about a health condition I had, a kid thing, easily treated. My cousins all suffered the same condition but none of our parents ever took notice, even though they knew about it – pinworms.
At eighteen, I was still suffering. I hadn't been allowed to make many decisions for myself, and if I did, found myself in trouble. In my final year of high school, I bought my first deodorant. Up until then, we had one deodorant for the whole family. I got a lecture from my dad about my extravagance. Consequently, it never occurred to me to take the initiative and find out how to get rid of pinworms.
Imagine telling your new boyfriend that. Don truly was my safe place. He immediately drove me to the pharmacy and spoke to the pharmacist who sold us a small box of purple pills and in a couple of weeks, I was worm free.
The other complication to healing my worm problem was boundaries and the fear of being in trouble. When you aren't allowed to make decisions, you grow up lacking boundaries. I began working on boundaries when my neighbor, a registered nurse, brought me a pamphlet on anger management. I was shocked and began looking at my life, my responses, and the past. I prayed about my situation, and resources began to appear – books, articles, a friend who had conquered some of my issues, classes, and some counseling.
Imagine raising seven kids if you felt you were on your own and no one was going to help you, and you lacked boundaries and were always afraid of being in trouble, but that is where I began my parenting life. During the next fifty years, I learned that people cared and that I could ask for help.
After a great deal of work, I developed boundaries. I stopped being afraid of getting in trouble. I'll never forget the day I heard the wail of a police car behind me. Normally, this would have sent my heart racing and my forehead sweating. However, on this day I pulled over without any rush of emotion. As I realized what was happening, a huge smile spread over my face. That policeman was probably confused by the overly happy woman he had just stopped. It was one of the most exhilarating moments of my life. I realized I was not afraid. My boundaries are darn good at this point, and they get better all the time.
During these years of personal healing and acquiring better skills, I was tempted to feel like a failure, a broken person, unworthy. However, I had numerous experiences with that still, small voice that assured me I was enough, I would get better, and all would be well. Looking back, I am grateful for prayer and a power greater than myself that helped me resist whipping myself, calling myself names, etc. even when deeper layers of the same lessons had to be learned, and the skills practiced.
One of the most challenging things as a parent, actually for any adult, is realizing you need help and then being willing to honestly seek the resources you need without condemning yourself or being afraid of not looking perfect to others.
What I Need Now
At seventy-two, I realize I need help and improved skills in this new place I find myself.
I am a full-time caregiver. I care for my mom who has dementia. My husband has many health challenges and needs help. I assist my daughter with her sixteen-year-old who has severe cerebral palsy.
It's like parenting in some ways but in others it is different. It's hard watching someone die and that is what I have been doing for years. However, my husband has turned a corner, and we have hope. I think he will be here a while longer. Now, instead of watching him die, I am watching him learn to make personal commitments and practice the skill of consistency.
It is hard watching someone you love deteriorate. However, my mom is also doing better despite her dementia.
Even with these weight-lifting events, it is still stressful. Did you know that 30% of caregivers die before those they are caring for? Some studies show the deaths are higher. Illness that doesn't lead to death is rampant – depression and auto-immune diseases are high on the list.
Because of this, I have had to do what I have done in the past – look at my life, be honest, and determine what help and skills I need now. I have had to stop ignoring the fact that I don't have everything I need, I don't know everything necessary, and I am not always doing what I know.
I sleep and eat very well and get plenty of water. But I struggle with resentment and occasionally anger. I feel frustrated often. I know I am not managing my stress as well as I need to even though I have been mentoring other moms on that very thing for well over a decade. I realize that I need help managing my story and doing what I know how to do to stay emotionally and physically well. Taking control of your words, thoughts, and the resulting stories are vital to a healthy life.
In November, I will do a short stint of counseling to get these things in order. I didn't want to accept that I needed help. I sure didn't want to tell all of you because I am supposed to have it all together, right? Even after I made the decision, I drug my feet. I had second thoughts. I'm ok. I'm doing all that needs to be done. I can manage. I know how to do this.
Fortunately, I had a short conversation with a woman I admire at church. I was brave, and the topic came up. I told her I had decided not to move forward in that direction. She replied that every few years she does a short stint of counseling. My friend told me, "It makes my life work better."
I took heart, got real, managed my boundaries, and made the call. I'm glad I did. I will have a less stressful winter season. : )
Needing mentoring, counseling, a break, help with anger management, or any number of other resources doesn't mean you are a failure, broken, a bad mom, no matter how often in your life new stuff comes up. It means you are ready for support and new lessons. It means you are prepared to grow.
So, take heart and go for it! Be your own best friend. Talk to yourself kindly. Be willing to be honest and open, and accept the resources that come. Practice what you learn. You will be a better, more present parent for it.
If you're wise, you seek what you need.