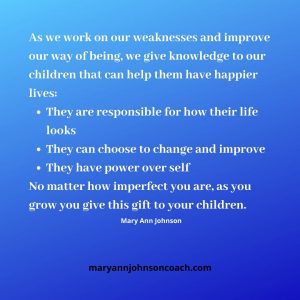 I came from a family of complainers. I can still hear my grandmother complaining to my grandfather about all kinds of things. I can hear my aunts and their complaints. After all, we used to hide under the kitchen table, which had a cloth that reached to the floor and listen in on their private conversations. I, in turn, became a complainer. When I listen to my sisters and cousins, I hear the echoes of those long dead and their complaints. It's a family tradition, of sorts.
I recently visited with a friend who spent a great deal of time putting herself down. After each remark, she would laugh as if it was a joke. But here's what I know, we mean what we say even if we try to pass it off as a joke. What comes out of our mouths is an indicator of our inner belief.
I know a man who has difficulty walking. When he's going anywhere, you can hear him say, "I always find the perfect parking spot." It amazes me how often he does find the perfect spot. He expects good and often that's exactly what he gets.
When we talk about preparing our kids for the real world we often think in terms of how well they manage their private space (bedroom), how able they are to stay clean and care for their belongings, if they stay on task and get homework done or other chores, and how well they make, save, and spend money.
It's useful to think about our way of being and what we may be passing along to our children.
Do we manage our stories about ourselves and others? Do we look for the bright side in tough situations? Are we grateful even when we must forego or wait for something we want? Do we complain? Do we problem-solve well? What about our personal boundaries or our own self-management?
We don't do this inventory so that we can beat ourselves up over our weaknesses. We do it because as we work on our weaknesses and improve our way of being, we pass along one of the most important things we can give our children. We show by example that they are 100% responsible for how their life looks and feels. We show them by example that they can change; they can improve and when they do everything else improves.
As parents, one of the greatest gifts we can pass on to our children is being someone they can learn from and be inspired by. We can bequeath them power over self.
Taking an inventory of our way of being is useful because it will help us improve ourselves. As we make changes, we teach our children that change is possible and necessary. We pass along life skills that make for a more pleasant and successful life.
Ask the important question – What do I want to bequeath to my children?
If you like this post and it would enlighten a friend pass it on using the social share buttons.