The other day when I went out to water the garden,
I had an interesting thing happen that reminded me that sometimes, we can be blind to what is right in front of us.
The backyard hose is attached to a faucet that uses groundwater. Then the hose snakes across the lawn, over a small fence, and into the garden where it connects to another faucet that waters the garden. When I water the garden, I do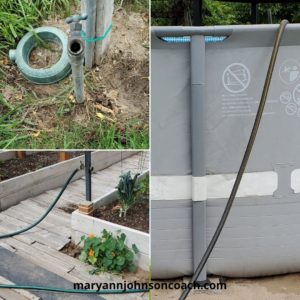 the same thing almost every day. First, I walk out to the back faucet and turn on the water. Then I go through the garden gate and turn on the second faucet which lets water into the garden.
On this day, Doug had unhooked the groundwater hose the day before to fill the swimming pool. He had connected it to the house faucet so that city water would be in the pool. I knew he was doing this. I saw the hose hanging over the side of the pool. Yet, I went over to the faucet, turned it on, and got a face full of water. What! I could see the hose wasn't connected, but my brain did not switch gears from what I do almost every day to what was happening this day.
How can that even happen?
But this kind of thing does happen in everyone's life. There are times when we don't see what is right in front of us. We may behave in unhealthy or damaging ways to our family or ourselves and not even know it. We do what we have always done.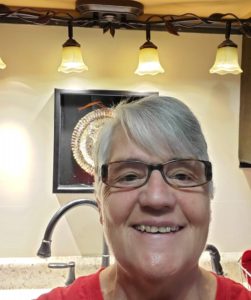 When we moved with Jodie's family this last time, we had to build a kitchen for my family, where a storage room had been. Everyone tried to talk me out of the light I choose to go over the kitchen sink. After all, it was a bathroom fixture. I didn't care, I loved how it looked, and it was so illuminating. Every time I use that light, I am amazed at how much better I can see. The odd thing is that I don't always use this extra light. Sometimes I will be washing potatoes or doing dishes and think, "I have enough light." And I do, sort of. Then I will have a change of heart and flip the switch that is right in front of me, and voila! I can see so much better. There are other times when I know that I need more light, and I hurriedly flip the switch. I am always shocked at how much better I can see and how much more efficiently I can do whatever job I am doing because the details are more apparent.
This happens in life, in parenting. Wouldn't it be nice to have all the information and knowledge we need no matter what came up? But we don't. Often it takes time for us to determine that we lack the knowledge we need to do a better job of whatever it is. It can take a great deal of time before we realize that something we are doing may be harmful or counterproductive. For example, it took me almost ten years to understand that raging wasn't a great way to manage problems and another ten to find the resources and support I needed, the light, to make a permanent change.
Often, when we realize that we have a lack of knowledge or skill, we beat ourselves up. When we find that our behavior is harmful, we feel tremendous guilt and shame. That is as foolish as me berating myself because I didn't turn on my sink light right away or because I didn't 'see' that the hose had been disconnected. Beating ourselves up and wallowing in shame and guilt for not having needed knowledge and resources is counterproductive. Instead, we should search for whatever resource will help turn on the light and make the details for change clearer.
'Seeing' Clearly Can Make ALL the Difference!
In my life, there have been times when I have said, "I can see fine." I would keep moving forward and struggling because the truth was, the hose was unhooked, but I didn't see it. Sometimes we cannot see what is right there in plain sight. We need help. It isn't that we are inadequate, or stupid, or uncaring. We lack the information we need. Eventually, I would reach out for help via a friend, a book, or other resources. Sometimes it would be a class. Then the details became more evident, I made changes, and life got better in that one thing.
When I finally understood that I should stop yelling I didn't know how. I couldn't just stop. I needed to 'see' what was causing me to rage and how I could make a change. The first resource came in the form of a neighbor who offered me a pamphlet on anger management. That was very embarrassing but was the first step in changing my life and the lives of my children and husband.
Now, when I realize that I have a weakness or am erring somehow, I rejoice. I do not allow guilt to crowd in. I do not wallow in shame. I do not beat myself up! After all, I can't change what I cannot see. When I do finally 'see,' I reach out. I look for the switch I need so I will have more light. I begin with prayer. I ask for help, and resources always come.
When you find yourself in the dark or semi-dark, STOP feeling like a failure. Instead, look for the switch, which is never too far away, and flip on the light. If you find yourself with a face full of water, so to speak, look for the hose and get it connected.
We do not need to be sprayed in the face over and over again. We do not need to work in darkness where we cannot see the details. Light can be ours, and it will lead us to change and growth. Really!!

Help a friend to 'see' more clearly.
Share the light. : )