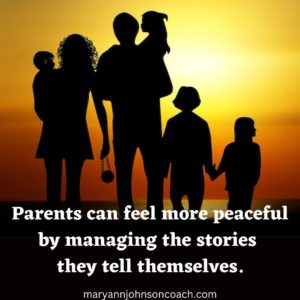 In the fall of 2012, I had an experience at a friend's home that caused me to pause and think about how I felt as I mothered my family, and I shared those feelings with my friend. I believed every word that I said to her. Every word!
Guess what? I listened to the video I made about that exchange, and I was shocked! Why? Because I needed my own advice!
You see, I learned to stop being at war with parenting, finally! But as a full-time caregiver, I have to be honest, I am often at war again. I hadn't realized this until I listened to myself on that old video. I am currently revamping how I feel when I get up in the morning and what I know the day will be like. I am revamping how I feel about going to the extra effort to cook for my husband's health. I am reviewing how I feel about the effort it takes to get my mom to drink two large glasses of water every day. I am rewriting my story about caring on and off for four live-in grands, one with CP. : )
You learn from trial and error, from a good book, class, or a friend. You implement what you have learned, and it makes a difference in your life. But here is the rub, often we must relearn old lessons.
I hope you get something valuable from what I knew and lived in 2012. I hope you will implement what you can in 2023, as I am going to do. Parent on!
How Do I Find Peace as a Parent?
"Doesn't this just bug you? You just can't win!" That was what a friend said to me one day when I was helping her clean her house. It was summer, and the house was full of children. I was mopping the kitchen floor as small feet ran nimbly across, hoping I didn't see.
I have thought a lot about that question and how I feel about it. The answer, for me, is this, "I am not at war with my children. I am here to serve."
How do I find peace as a parent – I work on the stories I tell myself.
The power of a story is amazing. The stories we tell ourselves about our lives are the most powerful. Our stories generate feelings and expectations and can bring us joy, sorrow, or anger. We can write a story of war or service and peace. How terrible to get up every morning and go to war! But to get up and serve?
Enjoy this video on the difference between waging war and giving service.
You can watch it
HERE.