There is a valuable principle that if we understand it, can change our lives and that of our family – that consistency in small things, over time, brings big results.
But most of us, when faced with growth or change in ourselves or in our family look for a silver bullet. We want one big effort, one new system, one big push to be all that's needed. But the idea of a silver bullet is a myth. We accept this myth because the truth of small steps over time seems daunting.
Why would we rather do one big thing to change our lives? Although the big thing may take a massive effort on our part, if we gave the effort, then the work would be done. But the truth is we have to decide what we want and then follow through—over and over and over and over . . . ! There is no one and done.
In seventh grade, I took a sewing class. I made a plaid skirt and it was a disaster. But I was unfazed. I took sewing in eighth grade and again in ninth. I never made a single item that was wearable. I couldn't seem to understand the directions even when they were explained to me. I couldn't understand the machine. But I REALLY wanted to sew. So my mother signed me up for a class at the local sewing center the next summer. The results were the same.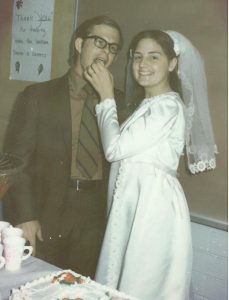 When I was a senior in high school I took a final sewing class. I picked out some darling pink and brown striped material for an outfit and went to work knowing that it was going to be fabulous. When I put it on the crotch was at my knees, the zipper zipped up the inside and the facing was on the outside. I had done my very best and my best stunk!
When I was twenty years old I became engaged. I was the oldest child of nine children and so I determined that I would make my wedding dress. When I came home with real satin, beads, and lace my mother looked like she was going to cry.
I set to work determined to be successful and it appeared that I might be until I had sewed my first two seams. They were done incorrectly. As I picked out the seams I realized that on satin, every pinhole shows and it doesn't stop showing, ever. I knew I was in big trouble!
In my moment of need, I asked my Higher Power, God, for help. I reminded him that I had made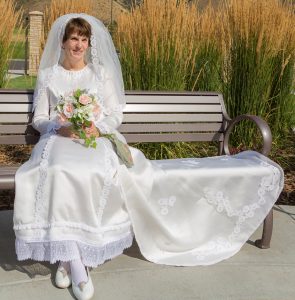 absolutely every effort to learn to sew. I had asked for help from the experts in my life. I had put in the time. I had practiced repeatedly. I asked God to help me remember everything I had learned. I asked that I would understand the directions fully and that I wouldn't make any more mistakes. And guess what, I didn't. I sewed that dress without having to pick out another seam. I knew what to do and I did it well. The dress was simple but beautiful. In fact, my cousin was married in that almost 50-year-old dress this fall.
When I was in 10th grade I wanted to sing in the school choir. I loved singing so I tried out and I made the cut. Here's what the conductor didn't know; I knew nothing about music. I couldn't read music, didn't even know the name of the notes. I didn't know what pitch accompanied each note. I couldn't always hear the notes. If I didn't sit next to someone who really could follow the music I was lost and just had to mouth the words. But I loved to sing. So I stuck it out for two years until we moved. I didn't get any better.
As an adult, I sang in every choir, in every church group, in every town we lived in. I never did get any better at reading music.
By my sixties, I had done all I could to learn to read music. But I still struggled so I did what I do. I went in prayer to my Higher Power, God, and I reminded him that I had spent almost fifty years practicing and working to learn how to read music. I asked him to help me understand.
About a year later I noticed something amazing. I seemed to be able to follow the music. I knew the pitch for each note. In fact, women who were struggling to learn a part would stand next to me and follow my lead. It was absolutely astounding!
Sometimes it takes years and even a lifetime to learn how to do some things well. Parenting is one of those things.
It took me well over fifty years to learn to read music and almost ten to learn to sew. In all that time I didn't berate myself. I didn't feel humiliated or embarrassed because I couldn't do it independently, without a lot of help. I kept asking for help from many sources, classes, people, books. I didn't feel like a failure and I never quit. I just kept singing and sewing.
Most things that we eventually master take lots of practice and time. But we cannot become masters if we berate ourselves, if we feel like failures and if we quit. There are few things where this applies as well and consistently as it does in parenting.
Here are the simple steps that I took consistently over time in order to learn to read music and to sew:
• I desired a new skill
• I learned all I could from multiple sources
• I practiced
• I ask for help from people and my Higher power
• I was consistent in my efforts
• I was kind to myself and kept trying even when it seemed as if I was failing
• I did not quit for as long as it took
Real growth and change come from learning to move toward our goals and desires one step at a time, consistently, for as long as it takes. Having the family you want will take time. Becoming a Present Parent takes time. Raising successful children takes time. It requires accepting the principle that small and simple things done consistently over time bring big results. You have to keep learning, practicing, failing and trying again. And it never hurts to ask your Higher Power for help to understand what you and your family need.
It takes time and practice to make lasting change and to grow as a person or as a family. We must commit to it. We need to consistently do the work. We have to believe we can accomplish our heart's desire. In fact, it has to be our heart's desire.
Doing simple things, consistently over time, is what will ultimately give us the success we seek as individuals and as families.
What do you think? Has this principle made a difference for you or do you think it would when it comes to your parenting efforts? Leave a comment and I will respond. : )
Here's to more joy,
Mary Ann
P.S. You can learn more about ways to connect with children and youth in my new book Becoming a Present Parent, Connecting With Your Children in Five Minutes or Less. You can also receive a chapter from the book on Touchpoints, creating points of connection rather than having points of contention, FREE by visiting becomingapresentparent.com It can be life-changing for your family. I promise!
What is Present Parenting? –