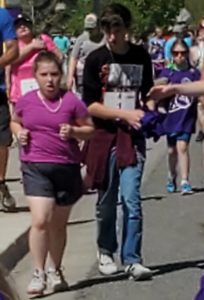 My granddaughter joined a group called Girls on the Run. She was excited to learn how to run. Because she hadn't done this before Matilda was a bit apprehensive, so her big brother ran the race with her. Ya gotta love big brothers who care! She had a wonderful experience and wanted to support the group. She sent me an online catalog. Part of the proceeds would go to the group. As a dutiful grandparent, I looked it over.
There wasn't a single thing I needed or wanted. I am a minimalist by nature and experience. I have what I need and nothing more. Not only wasn't there a single item I needed or wanted but they were all pricy, and I am frugal by nature. What was I going to do? Well, there was one gadget I had seen in a few of my friends and siblings' kitchens. I knew what it was for. It was used to break up sausage and hamburger while cooking.
In my kitchen, I grab the burger or sausage and mash it into bits in my hands as it falls into the pan. This works for me. But I had to buy something, and this was the cheapest item. I love my granddaughter, so I ordered it.
It sat in my utensil container for weeks, unused. Then one day I noticed that I hadn't gotten my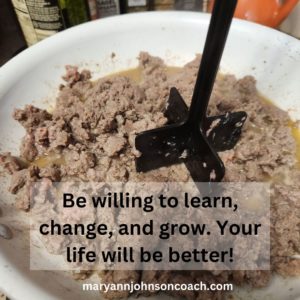 hamburger bits as small as I wanted them for a particular dish. I grabbed the meat chopper, because it was close, and cut up the partially cooked chunks. Hmmm, that was easy even though the meat was hot and partially cooked. I could have gotten the job done with a spoon, but it would have taken more time.
Since then, I have begun using the meat chopper more often. It is fast, I don't have to wash my hands, and I can chop as I cook. I have decided I like this tool. I mean, I can manage the old way, it works, but this works better.
As I was making spaghetti sauce this week, I thought about how finally experimenting with the meat chopper is like the process of growth and change. We learn to do things a certain way. It's how our mom or dad did it. It's how our extended family did it. It seems to work. Then someone introduces us to a thought or idea, that suggests that whatever it is, can be done in a cleaner, easier, more successful way. There may even be a suggestion that what we think is working really isn't, and we need to make a change. That can feel intimidating.
Do you hang back? I mean, you thought things were OK. Even if you knew they weren't working all that well, you might feel unsure about your ability to make a change. Maybe the thought that what you have been doing, that isn't working, makes you mad, and you want to turn your back on the new idea or suggestion. Been there, done that! It took me a long time to learn that even when something seems to be working it might work better managed another way and that if something isn't working, you really can make a change.
Here is my Point:
We can get stuck in how we approach problems, and health issues, manage ourselves and relationships, discipline children, or chop cooking meat. We can be resistant to experimenting with something new. But often, if we open ourselves up to new thoughts, ideas, ways of being, and resources, we can learn to manage better.
I can't begin to tell you all the resources I have taken advantage of in the past 40 years. Here is a very abbreviated list of some things I have changed over the years because I finally began experimenting with new thoughts and ideas.
I now mash my meat faster, cleaner, and more safely when it is cooking. LOL
I listened to a friend who taught me how to manage when my kids were not doing what I wanted. Over time, with her continued advice and support, I changed the relationship I had with my children.
When my neighbor, who was a nurse, gave me a pamphlet on anger management I was shocked. But her concern and the ideas she presented stuck and over time I did get control of my anger. I stopped raging and yelling.
I took a couple of classes to learn to manage my money stories, the ones I got while growing up. This information has changed many things. The work isn't fully done, but I feel more at ease with money.
I had some serious reservations about anything outside of traditional medicine. I was totally in a box about it. However, a time came when I finally climbed out of the box and saw a homeopathic doctor. WOW! She was able to crack some health issues for me that had caused me to suffer for years.
After having it come to me three times, I tried energy healing which seemed like wowo to me. I was able to heal from some childhood trauma and begin to regain boundaries. It wasn't something I entered into lightly. I did considerable knee time in order to choose the right practitioner and remain safe. It was a short stint of work, but it was so important in my life.
After having a particular book on energy types come around three times, I finally read it. I had been totally uninterested because for over a decade I had heard about energy types at business meetings and I wasn't all that impressed with the information. I was grateful that I finally listened to my inner voice about this particular book. It answered the question as to why I sometimes felt like two people in the same body. It also helped me appreciate my husband more.
After some years of resistance, I read two books on emotional healing, a thing that I didn't put much stock into. They were written by women with very different spiritual outlooks. However, both were pivotal in my learning to communicate with my body, and it has made a difference in my health. I love my body and we now communicate. : )
I grew up in a family and an extended

family of complainers

. It was what everyone did. It was normal. But eventually, I heard from others that I admired, that complaining wasn't an innocent pastime and caused problems in life. Well, I wasn't ever going to be able to change that! But, eventually, I decided I could change. I read a fabulous book and I have made changes. I am not perfect at this skill yet, but I am getting darn good.
Not everything that has come my way has been the right thing for me. I had to learn how to discern when to accept a new resource, idea, or thought. That is a skill that took time to learn. It isn't wise to read every book, go to every class, listen to every friend, or accept that something you are doing is wrong on the say-so of another person. So how can you know what to try and what to walk away from?
Tips for Discernment:
1. When confronted with a new idea, thought, tool, class, book, or another resource, I ask myself if there is really an issue it might address better than how I manage now. I look honestly and deeply at the situation. I ask myself hard questions and give myself honest feedback. It can be painful. This is, in itself, a skill that must be practiced. But over time you can get better at being honest with yourself.
2. If I think there might be some efficacy to experimenting, I counsel with my Higher Power to get questions answered and fears allayed. Then I decide to move forward. Since I'm not perfect at hearing the Spirit or my own inner voice, I may decide to walk away and then have the same information resurface again. If something comes my way three times, then I really do take notice and put more effort into learning about it and making a decision.
3. After I have made a decision, I take that decision, in prayer, to the Lord, and I ask him if what I have decided to do is going to be good for me and if now is the time.
4. If I have good feelings after that prayer, I go for it. Sometimes I feel moved to wait. I have had times when I have been told, "Not now." Then later, sometimes years later, I am told to go for it. The truth is, no matter how good the information may be, you have to be ready to receive it. Occasionally, I know it is not for me, ever, no matter how good it is.
Let me share some examples:
A. I considered energy healing dangerous and dark. However, it kept coming up. I went through the process above sure that the answer not to become involved was correct. I got the opposite response to my prayer, and I was shocked. I was led to a safe and knowledgeable practitioner and did a short stint of work with her. I was able to clear up a situation with my dad who had been dead for over a decade. So freeing.
B. In the early 70's I had three children and was a wreck. I didn't know at the time that I was suffering from severe postpartum depression. I thought I was just a horrible person. One of my dearest friends suggested I read a parenting book. It was a New York Times bestseller and it changed many things for the better in her family.
I wasn't as familiar with the process I have just outlined but I did pray. I knew clearly that reading this book was a bad idea for me. I didn't know why, I just knew I wasn't to read it. It wasn't until a few decades later that I read the book. I was ready, but I could see how damaging it would have been for me back then, despite the great ideas it contained. I would have had my 'badness' confirmed.
Sometimes there is only one thing out of a whole class, book, doctor's appointment, counseling or mentoring session, conversation with another trusted adult, etc. that you need, but that one thing has an impact that was worth whatever time or money it cost.
In the mid-eighties, I took the class Parenting with Love and Logic. I had so much baggage at that time that only one thing stayed with me. That one thing helped me manage our family during the drug years. It made ALL the difference when dealing with kids who were not manageable.
Other times, the entire resource can be life-altering, and is well worth your time and/or money.
My final words:
We need to hang on to what is working. There is always more than one way to do something right. We also need to be open to broadening our knowledge base. We need to jettison the fear of change. We need to be willing to grow. We need to trust ourselves that we can change and then be willing to experiment with new ideas and thoughts. We need to be discerning in how to move forward.
Be willing to learn, change, and grow. Your life will be better!