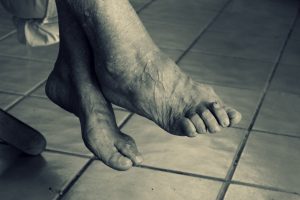 I was helping an older woman take a shower. She wasn't able to stand so she sat. She wasn't able to wash and so I lathered up the washcloth and helped her out. This was the mother of a dear friend. I had been serving her and her husband for quite some time but bathing his wife was his job. However, on this day he had another obligation. So I was filling in.
When I turned off the water I got a fluffy towel and began to dry her body. When I reached her feet I carefully dried between her toes. I was unprepared for her abrupt response.
"Oh, you dried between my toes, how wonderful!" I looked up and asked, "Doesn't your husband dry between your toes." She replied, "No, he doesn't."
Here is what I thought in my mind. "Well, that old coot. He should dry between his wife's toes. He dries his own toes and he should dry hers. He is just being lazy and in too big of a hurry." I thought he was doing just a tad less than a loving husband should do.
This experience took place well over 25 years ago. But I always remembered it because I love drying between my toes. Wet toes are gross toes.
Recently, Don and I had a conversation about this very subject. I know, I know, who talks about toes. But it came up in conversation when I was putting lotion on my feet one evening. I mentioned how much I like having my feet dried, especially between my toes. Then I told him the story of my friends and how inconsiderate the husband was of his wife. I said, "After all everyone dries between their toes and he should have done that for his wife."
Don looked quizzically at me and there was a long pause. Finally, he said, "Mary, I never dry between my toes." And at that moment the light bulb went on for me.
Not everyone dries between their toes. Maybe my friend's husband didn't dry between his toes and if so it would never have occurred to him to dry between his wife's toes. The poor old coot was finally off the hook after more than 25 years.
I had misjudged the situation and I had held a negative thought about him all this time.
Why does this matter?
• Because negative thoughts that we hold about another person are unhealthy in our own body.
• Because energetically I was periodically zapping that old coot whenever I remembered the story that I held in my heart about him.
• Because I judged wrongly.
And there is the crux of the matter. More often than not we judge wrongly because we just don't have enough information. This is important as we work to control our own negative thinking. There are a number of ways to control the story we tell ourselves about others, their motive, and our circumstances. Here is one of the number one ways:
Decide to think the best of others
When we have conflict in our relationships whether it's with our child, a neighbor, our spouse, our boss, the checker at the grocery store, or even ourselves, our story is usually at the heart of the problem.
In a wonderful article by Ron McMillan, in an online magazine, he told the story of a 16-year-old girl and her father. Because of the story the father was telling himself about his daughter's behavior he was challenged to respond well and it damaged their relationship. This is what McMillan had to say –
"The key to overcoming the natural man's tendency to assume the worst about others' motives is not to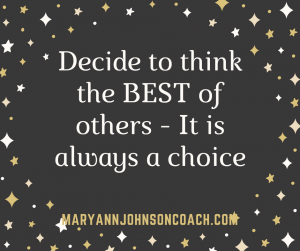 polish our apology skills nor learn to control our anger and frustration. Rather, the key to overcoming this destructive chain of events is to question our story.
'Examining the negative story we tell ourselves . . . causes us to consider alternate explanations for … apparently hurtful behavior.
'To accomplish this, ask yourself one question: "Why would a reasonable, rational and decent person do this?" Or, if this is too unwieldy, ask, "Why would a decent person act this way?" (McMillan, "Master Your Stories and You Master Your Life")
It isn't what happens that makes us mad it's the story we tell ourselves about what happened that makes us mad.
It wasn't that my friend didn't get her toes dried that made me feel irritated with her husband it was the story I told myself about why he didn't dry her toes.
When we decide to think the best of others, we can manage our thoughts and the resulting story more effectively. This will help us have better relationships with our family and more happiness in life.
By the way, you might be interested to know that a few weeks after my conversation with Don, as we were sitting together on a quiet evening, he looked at me and said, "I thought you would like to know, I dried between my toes.
OK, do you dry between your toes. Inquiring minds want to know. : )
GROUP MENTORING
I will be hosting a four-week GROUP mentoring session and you're all invited. If you really want to take your parenting and family happiness up a notch then this is something to consider.
Calls will be held bi-weekly on Thursdays. They will be recorded for later playback. Each call will consist of training on a personal growth as a parent topic and then will have a Q&A. Calls will last from 1hour to 1 ½ hours depending on the Q&A.
I can help you experience less resentment; enjoy being with your children more, have more connected relationships, less stress, less overwhelm, and greater inner peace. I can help you become more of the person and parent you really want to be.
"I so much from you…I wish you knew…the difference you are making. It really feels like deep, sustainable changes. I am enjoying more happiness…I've done plenty of mentoring/classes/energy work/ self-help, etc., and my husband told me a few months ago that this was the best I'd ever spent." Stefanie Miller
You can learn more about writing better mental stories in my new book Becoming a Present Parent, Connecting With Your Children in Five Minutes or Less. Knowing the difference will help you let it be enough. You can also receive a chapter from the book on Touchpoints, creating points of connection rather than having points of contention, FREE by visiting becomingapresentparent.com It can be life-changing for your family. I promise!