When you fall in love and marry, there's no way to know what's in store. No way! You can't know till you get there.
Don and I were deeply and passionately in love over fifty years ago. We raised seven kids, and they are great people, but it wasn't easy. We had some significant bumps in our marital bliss road. It shakes you up a bit. But we weathered those years, and with a dollop of joy, laughter, and forgiveness, we all came out OK. Don and I were still intact as a couple and we still deeply and passionately loved each other.
The years passed, and the things that you can't know till you get there sneaked up on us – financial worries, adult kids and their issues, aging, health, energy differences, stress. They all took their toll. One night I was grieving a bit because we're not the same. Our relationship cannot be the same. Sometimes it feels like two people who care about each other living independently in the same house, sort of like roommates. I talked to God about it because I want to remain deeply and passionately in love with this man even if we're here together for 60 or 70 years. This isn't the first time I've been in this place and gone to God for help, and I suspect it won't be the last time. Then a miracle happened.
I got an Echo dot three years ago. I tried everything I knew how to do, but I couldn't get it to work. It sat in a cupboard. This week my sister came, we got it out, and she tried to get it going. No luck. The next morning there it was on the counter, my daughter saw it, and after an hour of figuring out the kinks, it worked.
As we ate breakfast, we listened to the music of our time- Neil Diamond, John Denver, The Mama's and the Papas, Sonny and Cher, Creedence Clearwater Revival, The Monkeys, Barbra Streisand. I was having a hard time getting stuff done because I kept stopping to dance. We laughed a lot. Smiles just seemed to happen over nothing. During lunch, Don and I gazed across the table at each other. I sang the lyrics, and he cracked old jokes. It was fun.
Later, as I was cutting kale for the dehydrator, he gathered me up, and we danced around the kitchen for a short moment, as Don's ability to move is compromised. Wow! That felt so wonderful. We haven't been able to dance for some time. Then I returned to washing kale. As I worked, I thought about Don, how funny he is. How handsome he is. What a great question asker and problem solver. An all-around good guy. A keeper, as we used to say.
Then in a moment, I was overcome with such a feeling of love I began weeping. It's all still there; deep and passionate love. It will always be there, but sometimes it disappears inside life, illness, work, stress. But if we focus and ask God for a small miracle, it resurfaces to save us. God is good. He loves Don and me, and we love each other. Such a gift. Such a blessing. Such a life!
Is That the End of the Story?
I know you think this is the end of the story, but this is where it gets real! You probably think it was the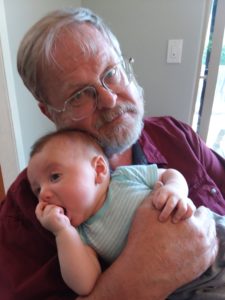 music and the dancing that brought the spark to the surface. But it wasn't. Remember that talk I had with God? I didn't just complain about loss, age, passing time, etc. I asked what I could do to feel 'in love.' Not only "I care" or "I love you," but 'in love." If you've been there, then you know what I am talking about.
The thought that came to my mind was to look for every good thing I could see about this man I have spent over fifty years with and then tell him. I did that, many times because his gifts and good qualities aren't hard to find. But they are easy to take for granted and let pass by unappreciated.
The Great key.
With every kind word and compliment, my heart softened towards this man I care for and love. I changed. Not him and not our relationship. Me! When you add that kind of heart softening to a bit of music and a quick dance around the kitchen, well, you can't help but get magic.
When we look for the good, when we speak the good, when kindness is at the top of our mind, it makes all the difference. It doesn't matter if we are talking about a crazy day with kids or a day between two aging souls. The result is the same. Magic and miracles!
When you have children, there is no way to know what's in store. No way! You can't know till you get there. If you have a day that isn't going well with your family, give it a try. Pick the one person you're feeling the most annoyed or frustrated with or that you feel the most distant from. Look for every good thing and then mention it to them. I can just about guarantee that by the end of the day, your heart will swell with tenderness for this soul that only a few hours before was causing you grief.
Their behavior might not change, but you will. Your heart will soften. Your way of being with that one person will be kinder. You will see differently. It will make a difference.
It's all about gratitude. Gratitude is the great key to overcoming what is bugging you right now. I have this saying on my bedroom/office wall: "When you complain, you will remain. When you praise, you will be raised." I know this is true, as I experience it regularly. I experienced it this week in my kitchen while chopping kale. : ) You can experience it too, and practicing this little exercise will not only change you, but it will also improve your whole family. Give it a try.
Addendum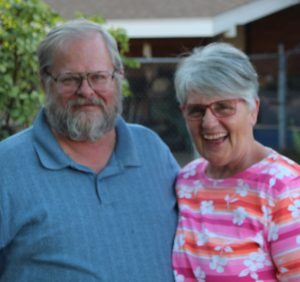 It has been a few days since the miracle and Don, and I are still connecting in small ways. We are talking more softly and listening more intently. Saturday afternoon, while our granddaughter Maggie watched Mother Goose Playhouse, we held hands and danced in place for just a moment. : ) If I keep focusing on his strengths and gifts and keep thanking him for them, it will last.
But life is busy, crazy, and sometimes overwhelming. We will probably find ourselves moving apart again, but when that happens, I will pull out the 'practice of gratitude for this one soul' and have another miracle.
Gratitude is a practice, and so it requires 'practice.' Practice it in your home and then let me know what differences it makes. : )
Give this article as a gift to someone else who needs a Gratitude Practice. : )