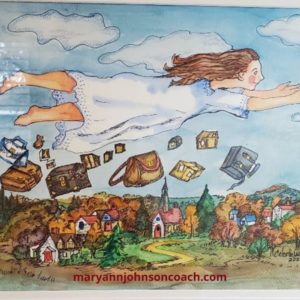 Recently I was at a funeral and an old friend from my high school days was there. We haven't seen each other for many years, but she reads what I post on Facebook.
We had a delightful time visiting, reminiscing, and then she said, with a sigh, "You are such a good grandma. You do so much with the kids, and you are always so upbeat and cheerful." Nice, right?
Wrong. I heard what my friend was saying, and I appreciated her words. But I also knew what she was thinking – "You are doing so much better than I am."
The Problem
That is the problem with social media. In a digital world, your neighbors multiply, and you can't see that, yes, they have a messy house too. They sometimes lose their tempers, have their own judgmental and irrational moments, feel down, and go to bed.
I have had to work to become cheerful and optimistic, to be grateful for hard times. It hasn't come easy. I have taken a ton of classes, read a boatload of books, and practiced my head off. I am beginning to be reasonably good at some of it.
I am just learning some things you may already know and do. On the other hand, I know and do some things you have yet to discover. You can't get out of childhood and youth without some baggage. It is what it is, no matter how great your family. Our job in life is not to compare ourselves with others. It isn't to try and reach some standard that society sets. It is to let go of our baggage, heal, become ourselves, and then help others do the same. That is my mission in life – to heal and help others do the same.
I have a painting on my wall made by my third cousin, Celestia Whitehead. It is me flying free as boxes, bags, and trunks fall to earth. It represents my work to shed baggage, heal, learn, and then share that growth and healing with others.
That is why my posts are upbeat, happy, and optimistic. It isn't because I am better than you, have less bad days, or am perfect in any way. I am just practicing and sharing what I have learned, and I am jettisoning baggage. That can't be accomplished by complaining and comparing.
If you think I am perfect, please think again.
My sink is filled with dishes. The dog peed on the clean laundry, and Don and I had a spat. Although I am going to be babysitting this afternoon, I do not have a craft prepared. However, I did my daughter's laundry, and I plan on serving a great dinner.
My writing and posting goals are to highlight each day's joy, growth, and opportunity, to feel gratitude. I want to share what I am learning because it may help you do the same. You may get a new perspective that will help you let go of some baggage of your own. You may learn something new, that when implemented, can be life-changing. As imperfect as I am, I am working on my life's mission. : )

I'm not perfect, but I'm growing, and I am sharing that growth with you. Please let someone else in on the secret.