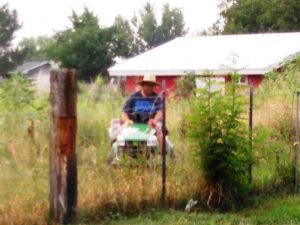 This spring my daughter moved to a new home. It's on one acre of land. For a city girl that's a lot of land. The plan is to have pot belly pigs and chickens but this summer the land is fallow. So the sunflowers and weeds have grown up as tall as a man in some places. It's a veritable fortress of green and gold. The kids don't venture into it because not only is it tall it's full of stickers.
However, their dad has a new mini-tractor which he LOVES to use. This is one perk of having an acre of land when you're a city boy! You get a new toy. He uses it to mow the lawn (it has an attachment) and recently he has been using it to pull the kids through the weed forest. It has a wagon. What a GREAT mini-tractor!
Yesterday, after church, Doug hooked up the wagon and filled it with the kids and off they went. It was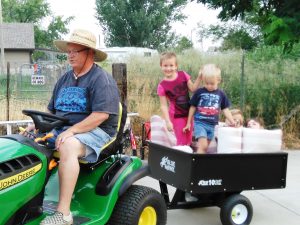 hysterical watching and listening to them as they plowed through the verdant growth of the back pasture. The kids loved it and they will not forget the fun time they are having with their dad.
Think back to your favorite memories as a child. What are they? Who or what are the most distinct elements of those memories?
My children are grown adults, aged twenty-seven to forty-five. Recently, I asked them what their fondest memories were from childhood. Here are a few responses:
Jenny—"Playing with the big jar of buttons!"
Marie—"I remember you used a fridge box and turned it into a little store. I remember Seth being the clerk inside the box and us buying things. I also remember loving to look at your sticker books. I remember the night we pretended we didn't have electricity and camping in the backyard."
Barry—"I loved how much food we had on Thanksgiving and how tasty it was. I loved eating the tops of the cakes you cut off when baking. Canning, sewing, and cross-country skiing to school were all enjoyable for me! I loved all the camping that we did and sitting in the dark with the Christmas lights on in the living room."
Seth—"I loved New Year's Eve and the cheese and meat tray that we ate while sitting on the floor watching a movie. I remember sitting on the front porch when it rained and smelling the rain and the lilacs. I remember our walks together and stopping by that beautiful yard, smelling the flowers.
Jodie—"I loved going to the park for the Fourth of July and eating watermelon. My most cherished memories are of the Thanksgiving and Christmas season. I loved all of the little traditions we had, from the way we decorated, to making gingerbread houses, to what we ate."
Kate—"I remember you and me sitting under the table reading a chapter of Katie John together. She painted her face with lipstick on picture day and it wouldn't come off. We laughed and laughed together. I remember gardening with you and finding that HUGE spider. I remember you sitting with me while I wrote that tough poem for school. I loved you teaching us to make snow candy, homemade noodles, sugar eggs, pillows filled with milkweed fluff, and quilting.
Andrew—"I remember dad letting me sit on his lap and drive when I went on business trips with him. I also remember working with him in the crawl space. I don't think either of us actually liked going down there, but we did like working together."
Can you see that the most memorable memories of my children cost very little, and didn't take tons of time or preparation? It's also interesting to note that the majority of these happy and pleasant memories are of events that happened in the course of daily living.
As parents, we spend a great deal of time worrying about whether we're measuring up, and whether we're doing anything that our children will remember with fondness. And because we worry about this we tend to complicate things, create more work for ourselves and even spend money that isn't necessary.
So when you begin to wonder if you're doing anything in your home to create memories for your children that matter it's well to remember that in the lasting memory department less is truly MORE.
Feel free to share your children's favorite memories in the comments section. I'd love to hear them and asking your children to share can be eye-opening. : )
Here's to more joy,
Mary Ann