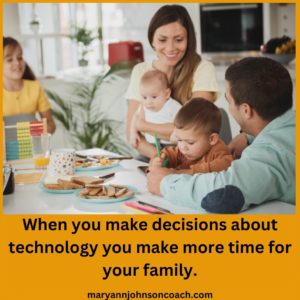 I like Kerry Patterson. He is a great writer and from my era, so I relate to everything he writes. Back in September 2012, Kerry wrote an article about unplugging from the workplace, the difficulty and the benefits. I saw amazing parallels for a family. In the ensuing eleven years, I have seen what Kerry shared become even more challenging.
Kerry talked about the nuclear tests that America engaged in 1951, and all the craziness that went along with that. Students were sent flying to the floor to cover the backs of their necks in case of a nuclear attack from the Soviet Union. They saw American soldiers in newsreels, dressed in green fatigues, toting rifles, and holding their helmets tight to their heads, walking resolutely into a cloud of nuclear dust as the latest blast rolled across the desert. It was all craziness because in 1951 we all knew about radiation, the danger, and yet the tests went on. Kerry then asked the question "What similarly insane things are we doing today?" What modern inventions have we wholly embraced, which appear to have made our lives better, but are slowly killing us? In short, what "nuclear walk" are we taking today?
Kerry and I agree on one crazy thing that is happening – our inability to unplug! Let me give you an example that I witnessed back in 2012 and still see happening today. When I first moved to Utah, I lived on the second floor of a two-story apartment building. Below us lived a wonderful family with two daughters. In front of their apartment was a large hedge that hid their patio from view. As I came up the walk one day, I saw Lisa and Patrick's heads above the hedge. I saw no children. I called out to them, "Hey are you guys having a date?" They both looked up and answered "yes". As I rounded the hedge to the stairway, I saw that they were playing separate games on their individual cell phones but…they were on a date.
I have mentored moms who had a hard time gathering their families together. Reading as a family was out. Watching a movie together was a struggle. Meals together were rare. They struggled to find time to be present and listen to their children. When I had these moms track how they used their time they were amazed at how much of it they spent answering emails, checking Facebook, Instagram, and Twitter, and dealing with other social networking sites, as well as online games they played. There were texts to respond to, videos from friends, and a plethora of things to Google. There were podcasts and audiobooks to listen to. None of these activities were bad but the time used led to a sense of dissatisfaction in their performance as mothers. They couldn't seem to keep up. This applied to the dads I worked with as well. They not only had the social networking issues their wives had, but they also brought work home with them on laptops and cell phones. These good parents then wondered why they couldn't connect more regularly with their children or avoid becoming angry and frustrated with them.
After our tracking exercise, I would ask "What would happen if you unplugged occasionally? What if you turned the cell phones off just during dinner? What if you didn't check your email or Facebook until the afternoon? Would disconnecting for even an hour make your life better?" They answered yes, but I could hear the worry in their voices. They didn't want to be out of the loop and miss something. And frankly, for some, being thus engaged felt better than doing all the jobs that parents face every day. But what would happen if we unplugged for even an hour a day? Would it make a difference in our feelings of satisfaction, in our health, in our ability to focus on the connection we want in our family? The answer is a resounding YES.
Here is a fact that Kerry shared:
Every time you stop your current task to take a text, etc., or deal with an interruption, and then return, you place the original task from short- to long-term memory, put the new job into short-term memory, and then reverse the entire process to get back on task. Completing this conceptual lifting dozens of times a day creates stress, which can lead to distress and all its attendant health problems.
Frequent interruptions can lead to feelings of dissatisfaction. Instead of working continuously for periods of an hour or more on a task that's challenging and solvable, we purposely interrupt our flow, add stress, and make our job as a parent far less doable or enjoyable. Take listening to a fretting child or trying to soothe an ill youngster for example.
When we use our time to stay digitally connected, we often extend our day beyond healthy limits. Instead of going to bed at 10, we go at midnight because we want to finish those chores that we didn't get done earlier. This leads to a lack of energy and eventual grouchiness and dissatisfaction with our children and life.
I worked with a mom who played three online games daily and was a prolific Facebook reader and writer. Often her Facebook messages said things like "I just can't keep up" or "I am too busy, and my kids are so messy!" She had too many tech interruptions and let too much time pass in these activities which left her always feeling rushed and out of sorts. This didn't help her parent well.
With the release of each innovation, there's much to think about. As we invent and embrace new devices, we may not know the toll they're taking on our mental, emotional, and physical health. What can we do?
Take control of how you spend your time.
Take control of your outside interruptions.
Make the use of technology part of your family dialogue.
When will you, your spouse, or the kids be on the computer? How much TV will any of you watch? What family times call for silencing cell phones? How many Wii or other electronic games will you play?
As Kerry suggests, "Talk openly about the two-edged sword of innovation". Decide how and when you want to be connected and where and when you want to be interrupted. Make it a choice, not the natural extension of embracing what appears to be a helpful tool. And remember, it's not an all-or-nothing proposition. You're not required to take a vow of digital celibacy. You don't have to chuck your devices and neither do your kids; you just need to control them, so they don't control you.
Have a plan and then work your plan.
I know a mom who realized that checking her computer first thing in the morning was messing up her day. She decided to turn the computer OFF each evening and then NOT turn it on again until after 12 P.M. This one thing made a world of difference. She felt more productive in the A.M. and was able to help her kids get going on their day. When you make decisions about technology you make more time for your family.
Managing technology with children especially youth, can be daunting. There are dozens of books out there on the subject because it is tough. But what if you decided to turn off all phones during one meal each day? What if computers and phones were silenced just one evening a week for one hour while you held a family council on what was coming up that week? Or what if once a month you had a family movie night and phones were not allowed? Challenging I know, but even one small thing that opens space for family conversation is valuable and will make a difference.
What is one small thing you are willing and ready to talk to your family about? What is one small change you will make?
Decide as a family and then do it!