Recently, while at a friend's home, she talked to me about the challenge of managing all the stuff in her home. Now let me clearly state that her home is clean and orderly. She isn't having a problem with clutter or mess. But she has accumulated a lot of stuff over the years.
She has been working to clean out cupboards and closets and storage areas in her home. It has taken years because so much has been allowed to accumulate and then stored in boxes, on shelves, and in storage bins.
I got permission to take some photos of what I'm talking about. It's all neatly organized but it fills so much space in her home and mind and it is draining.
In a book titled Life at Home in the Twenty-First Century, researchers at UCLA observed 32 middle-class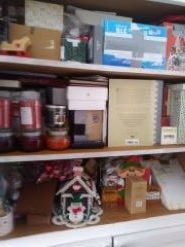 Los Angeles families and found all the mothers' stress hormones spiked during the time they spent dealing with their household paraphernalia (Arnold, et al, Life at Home in the Twenty-First Century).
I'm suggesting that we generally accumulate and hang on to too much stuff, which must be maintained, managed, cleaned, organized, kept safe, stored, repaired, safeguarded . . . it all requires our mental energy, physical energy and our time. This is energy and time we could be using to enjoy our family, doing things together that bring us happiness.
As my friend has sorted through her closets and cupboards her constant refrain has been, "I'm not sure why I even kept this."
Why do we accumulate and then store so much stuff?
Here are some reasons and you might see yourself here. If so, consider overcoming whatever has you in the purchase and store cycle and cut yourself free. It is worth it because keeping it simple = greater presence in all our relationships, including the one with ourselves.
1. We bought it and we don't want to waste our money
When I had been married twenty years and had a large family my father in law gave us some camping equipment. He had stored it since his boys left home, a couple of decades. Guess what, none of it was any good. It had deteriorated. That money went to waste in the end.
2. We may need it later
While I was raising my children, I stored clothes they had outgrown, a few more pricey toys, and baby supplies. This was wise because from 1972 to 1990 we had babies coming and children growing, but then it stopped.
I didn't need any of it later. I never had another baby. My kids never wanted it for their new babies.
So, if you're not using it, find someone who can.
3. It all has memories—It's part of who I am
We all have mementos that fill our hearts with joy when we look at them. However, lots of our cherished stuff is just that, stuff.
When my grandparents died, my dad got a lot of stuff. When my dad died, I got the stuff. Recently, I've been going through all this stuff and sending it to those to whom it belongs. I sent cards written in a childlike script to the adults who had written them. I returned letters, pictures, and so forth.
People were glad to see what they had said and made all those years ago. A few will hang on to the items. Others enjoyed seeing it again for a few days and then let it go. After all, those memories are in their minds and hearts, and they take up far less space there.
4. It was a gift; I must keep it
In our family, we've come to a consensus concerning this. We've decided, as a group, to be re-gifters. I know you may think this is tacky, but it has served us well. If we get it, and we can't use it, we re-gift it. The person who gets it can do the same. No one has any
hurt feelings. We're all about simplifying our lives, and it's working out well!
5. I like to buy stuff
Recently the husband of one of my clients told me they were adding an addition to their home. He said they needed more closet space. After all, he confessed, he had 28 golf shirts. Let me say as crazy as this sounds it isn't the exception. We're a consuming society. We frankly buy too much stuff!
The Self-Storage Association reports that Americans spend 24 billion dollars each year to store their stuff in self-storage units. The National Association of Professional Organizers reports that organizing consultants and products have grown into a one-billion-dollar industry (Johnson, "The Real Cost of Your Shopping Habits").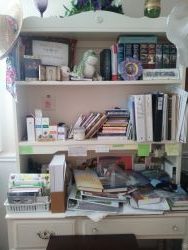 Here's what helps me buy less stuff and get rid of the excess stuff I already have – I continually picture myself strapped to my belongings via energy threads attached to my shoulders. That does it for me. I want to be free.
So, stop buying, no matter how attractive or interesting it is. If you can't stop buying, do what my friend Laurie does. If you buy a new blouse give one away. If you buy a knickknack, give one away. If you purchase a new hammer or drill, give the old one away.
It's working for her and it has worked for me. It will work for you and you will find yourself feeling far less burdened. Cut yourself free from too much stuff and regain all the energy you expend. You'll be glad you did.
Your shares are the best compliment : )