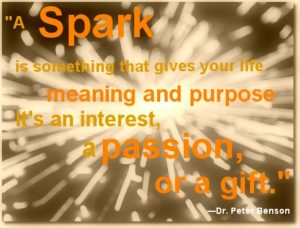 In our district, kids are going back to school only two days a week. WHAT!! That will leave a lot of parents with kids who want to do something fun and connect, as well as learn. Here is something that will help you out! : )
I began teaching and speaking over a decade ago. I focused on a learning tool that, at that time, was called The Closet. The printer said he loved my Closet Mastery Course but had to look inside because he wondered if I was training people to come out of the Closet. It also seemed odd to call this tool The Closet and then tell people they can use a box, a bag, or any old container that they would like – or even no container. So, the name was changed to The Spark Station.
When I began teaching this tool, my audience was almost exclusively homeschooling parents. The Spark Station initially helped kids want to learn so that the homeschool process would be less stressful. However, over the years, I realized what a fantastic, fun, and engaging tool it was for connection. My message morphed and eventually became a book, Becoming a Present Parent: How to Connect With Your Children In five Minutes or Less.
The Spark Station has lived beyond homeschool because
it's a beautiful way to 'play' and connect with kids. This is a boon for adults like me, who are a little play adverse.
Years ago, I created a 13-audio course about the Spark Station. This year I have offered the entire thing to all my readers FREE. It is in its original homeschool format, but all principles, rules of engagement, and outcomes apply broadly across the parenting spectrum. Over the next few months, I will create a multi-part series of articles on the Spark Station to help you use it in your home. It's WONDERFUL, FUN, and EXCITING for kids! It is useful for toddlers, children, and teens.
The Spark Station – Part 1 What is The Spark Station
I used to say, "So what is the definition of the Spark Station? Simply put, it is a space where parents have put items that they think will inspire their children to explore further and learn." Then I had a mom tell me she was on audio five before she finally understood what The Spark Station was.
Now I say it differently. The Spark Station is a tool you can create. It can be an actual closet or a box, a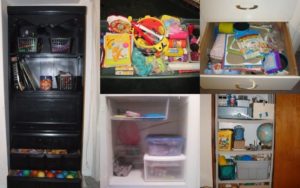 dresser, or any other place you can put new items to share with your children. It's not the same as a storage space where you keep your learning materials, books, and craft items. Its purpose is to create a time and place when your children will be exposed to new and exciting ideas or be able to engage in things that already interest them, and where parents connect with their kids. It's a time and space where both adults and kids can share what they feel joy or passion in, and what interests them, their SPARKS. I'll share information on how powerful SPARKS can be.
You can use the Spark Station at a set time each week, say on a Sunday afternoon. You can also use it anytime you feel like it. You can use it as part of your school day if you homeschool. Dad can use it to connect after long days at work. However, it is not to be used by children alone because you want your own time. It's important to remember that it is a connection tool and that can't happen if you are occupied elsewhere. Another important thing is that when kids use it alone, it turns into a mess quickly, and then no one uses it. This is one of the five critical rules which I will cover in another article.
What I want to accomplish here is to encourage you to begin listening to the FREE course. If you don't have time for a 13-audio course, then view this one audio. It will give you enough information to determine if this is something you want to have in your 'connection' arsenal. Or you can read each installment of the series of articles titles Spark Station Basics as they are published.
I'll end today with some pictures of Spark Stations. You will see how diverse they are and how fun they look. : ) You will notice that they are large and small, fancy and simple, for little kids and big kids. They are all different!
But before I show the pictures, here is a letter from a mom who took the leap and gave it a shot.
"The Spark Station and The Spark Station Mastery Course really work! I just had to share my experience with all of you. I finished lesson 5 of the Spark Station Mastery Course yesterday. I went through my home to see what I could find. I cleaned out the entertainment center (that is what we are using for our Spark Station). I was excited but nervous.
'I found sand in the garage that I forgot we had, rice, material, art supplies, wooden blocks, Lincoln Logs, math wrap-ups, and the list goes on. I filled totes with the items I wanted to start with. The kids saw me doing this and were anxious to know when they could use all that cool stuff.
'I dyed the sand; I dyed the rice, and I put the stuff in the Spark Station this morning. We did our devotional, and then we talked about how the Spark Station would work. I was really nervous.
'The kids immediately went to the fabric and wanted to make capes. Unfortunately, the pieces we had were rather small, so we talked about using those pieces for other things and talked about how much fabric we will need to make a cape (it will appear in the Spark Station soon).
'Then they found the colored sand, mason jars, and lids that I had in there. They used the funnel in the box to help pour sand into the jars and make beautiful designs with different colored layers of sand. While the older three were working with the sand, I pulled out the rice tub and set it up on a blanket. I had spoons, cups, bowls, etc. in with the rice. I just let it sit there, and as soon as my 18-month-old saw it, he was occupied until The older kids went to play with him when they finished.
'When they bored with the rice, my older son pulled out the art box. He found cupcake liners in the box. Immediately the girls wanted some too. They asked me what they could use them for, and I told them anything they wanted. They seemed unsure; I told them I could see making a pretty flower. My son immediately said he wasn't going to make a flower; he thought his would make a great head for a lion. They glued their cupcake liners to the paper and used the chalk in the box to draw the rest of their pictures.
'I just sat there and grinned the entire time. I couldn't believe how easy it was. Why was I so afraid of this, it's not scary, it's incredible? I now have a…tool at my fingertips that gives me the perfect way to my kids. I can't wait for tomorrow, and neither can my children." Stacey S.
Please take a look at The Spark Station Mastery Course; it's FREE.
Does your family have a good way to connect and do you use it consistently?
How would it impact your family if you added this one thing – consistent family play for connection?
Focus on what ties you together and your family can never fall apart. family.lovetoknow.com