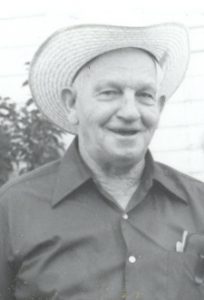 My Grandpa Ted Cazier was the best grandpa ever! He wasn't always soft and cuddly. Sometimes he could get annoyed. He made you work and expected you to do a good job.
But if you needed anything he would help you out, always. If you wanted black licorice he would have some in his pocket, always. If you were hungry he had food and would share it, always. If you really needed a smile or a hug you could depend that he would give you one even if he was annoyed, always.
What made him the BEST grandpa ever was that you could depend on him because he was consistent!
A few years ago I asked my friend Darrell Newbold to write out his thoughts about being the best grandpa ever.
"You can be a pa, but to be a grandpa is something special! It has been said, "Fathers get promoted to grandfathers." I think that you need to earn the position of grandfather.
I can remember time spent with my grandpas. One was easy going, had love in his eyes, and shared a chocolate whenever I went to his house. My other grandpa was rough and could be strict…But as I got older I would spend Saturday's horseback riding with him. I was 18 and he was 80. Those are good times to remember.
Those are the kind of times I want my grand-kids to think back on. I will sit at the piano and start to play and have all the kids trying to sit next to me on one little bench or at a family outing all trying to get into the same photo. Those are really special times! We all need to stop and think about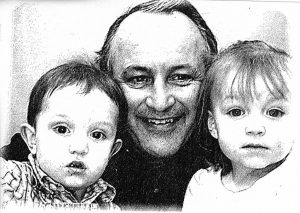 what is important in life. I think the family is!
I'm trying to share special times with my grandkids so that they can get to know me so that if they need me they will come and have a talk or get a hug or receive the help needed.
They all like a sleepover at our house. Just the other day my wife was telling me not to squirt the can of whipped cream into the grandkids mouths, when they all yelled out, "You're the best grandpa ever!"
Here is why Darrell is the best grandpa ever. It isn't really the whipped cream. He takes this job of being a grandparent seriously and he works at it. He wants to be the best! His grandkids know that he will hear what they have to say, always. They know that when the family gathers together he will be there with smiles and hugs, always. They know he has whipped cream in a can, always. They can depend on him because he wants to be the best grandpa in the world and works at it.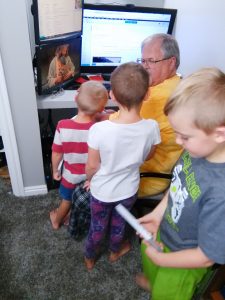 My husband Don is the BEST grandpa ever. I think so and so do his 13 grandchildren. They know that if they need something they can ask and he will do whatever he can to help them out, always. They know he has a listening ear and treats, always. They know he will stop working and look them in the eye and let them tell him what is happening, even if the story is long, always. They can depend on Don because he is available.
Tips To Be The 'BEST' Grandpa Ever!
The BEST grandfathers have many different temperaments. As Darrel said, some are easy going and some are rough and strict. Some work a lot like my grandpa Ted. Others are home a lot like Grandpa Don. None of that matters. Here is what does matter if you want to be the best grandpa or for that matter grandma, in the world:
Be consistent
Take the job seriously and do the work
Be available or in other words, BE PRESENT!
Celebrate this Grandparents Day by taking the time to connect with your grandchildren whether they are near or far.
Your 'shares' and 'comments' are the best compliments. Thank you!