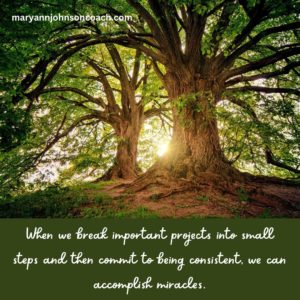 Four years ago, I wrote an article detailing how I cleared a field by myself in a nine-month period with a hoe and a rake. It was arduous, sort of like growing a baby. : ) The purpose of the article, was to demonstrate that we can accomplish very challenging things if we understand the principle of taking small steps with consistency. I also shared what I learned in those nine months.
My life seems filled with opportunities to prove to myself, repeatedly, that consistency in small things really can accomplish BIG things, things we thought we couldn't do.
Last year, I thought I should help some neighbors with their yard. Really! Don't I have enough to do? But it was a clear thought, so I decided to give it a go. My friends have serious health challenges, and they need help. So, I began.
Not long after I began weeding the flower beds, a member of my church congregation walked by. He shared that over the years, groups had come from the church to help, and he and his wife had helped. Then he said, "It will look the same in a month." But I knew that I had made a commitment and that I had a plan to help me get this work done and keep it done. I smiled and replied, "Not this year."
I knew I could clear these flower beds and put the yard in order because two years before I had cleared the field. This wasn't going to be nearly as hard. I also knew that because I understand the principle that small things done consistently really can make a difference, I would be able to do the job. This applies to clearing a field by hand, keeping a neighbor or your own yard in order, keeping your home in order, relationships, growing a baby, anything.
This Year Feels Intimidating!
I want to do some cleaning and organizing projects this year, but it feels intimidating. I want to do my regular spring cleaning, you know, cleaning out cupboards, under beds, oven, refrigerator, drawers, and bookshelves. I have made a list of all the projects. Then there are the outside projects. I want to sort my stuff and minimize it. I need to reorder the garage and clean out my shed. I have a garden and flower beds.
Add to this the fact, that I am helping my daughter and her family and caring for Don and my mom. I also write a post every day and publish one article a week. Yeah, it is a lot of stuff, and with that stuff, I need to find time for myself to think, read, and rest. You can see why it might feel intimidating. But I want to do these things. They will make me happy. Yup, work and organizing makes me happy. LOL
Last year I experimented with small steps and consistency when it came to all the projects I needed and wanted to do. Of course, when you begin a large project, it can take extra time. The field, in the beginning, took 3-4 hours a day, six days a week. But once it was in order, the time went down significantly. I give it 30 min a day in the early spring, but by mid-June, I am down to 15 minutes every other day. My neighbor's yard takes 30 minutes a day until mid-June, then it is 15 minutes every other day. In fact, just this week, I decided to go once a week, work on the garden, and then visit for half an hour. Just once a week. That is still consistent and will be enough. Can you see how consistency can pare a thing down over time and make it manageable?
Spring cleaning last year was a challenge. I knew I wouldn't be able to do the whole kitchen in a day. This is how I used to manage. I had the energy and put other important things, like kids and events, on hold. I don't do that anymore. I know that if I break a job into smaller bites and am willing to consistently give time to those small bites, then whatever it is will get done without sacrificing family or self.
This is something I have had to learn the hard way. I am a finisher by nature, and I want to finish. No small bites for me. Just get it done! BUT I know from experience that finishing works better, in a busy life, if we break the thing into small steps and then give consistent effort. Do I still struggle to live this? Absolutely! After all, I am a finisher, and that hasn't changed, but I have grown wiser. This wisdom helps me get just as much done, over time, without sacrificing important things like self and family.
How It Looks Now
Back to last year's spring cleaning. Let's look at the kitchen. I would assign myself 1-3 cupboards in the kitchen, depending on the day. Another day would be the oven or two shelves in the fridge, etc. It took me two months to finish the kitchen. As I said, in the old days I would have knocked it all out in one eight-to-ten-hour day.
Then I moved on to the bookshelves, the bathroom, the bedrooms, etc. Over the summer, I got it all done. I can't call it spring cleaning anymore. Hmmm, a better term would be Maintaining Order Over the Long Haul. LOL
Here is what this week looked like as I began my Maintain Order regime:
Monday – Clean one bottom cupboard the on west wall in the kitchen.
Tuesday – Clean the turnstile and lime away the shower.
Wednesday – One kitchen drawer and one bedroom drawer.
You get the drift. Does this feel irritatingly bothersome and slow? I get it. But along with these simple steps, I fix three meals, manage another person's meds, bathe another person twice a week, help with Maggie and my other grands when Jodie is working, do laundry, sweep, and vacuum, water the garden, deadhead the flowers, get the mail, buy groceries…you get it because this is what a moms life looks like. So, when we have a big project, we must find a way to fit it in and still do all the other things that are required.
It's Not Just About Spring Cleaning
Spring cleaning isn't the only thing I am talking about. What if your relationship with one of your kids is strained? What are the small daily steps you can take while still doing all the other things moms do?
What about a mini conversation as you drive them to track practice? Your child may only mumble a few words, but over the summer, it will count. Maybe you decide to give a random touch three times a day. What about sitting at a meal together regularly despite everyone's busy-ness?
There is work to do to keep relationships in order, be a PTA president, teach a class at church, maintain a friendship, or any of the other 'things' that come along while still maintaining home and family relationships. To add something we want to do, like spring cleaning or training for a marathon, LOL and not inadvertently subtracting the things that matter most, such as relationships and self-care, it is vital to understand:
•Breaking big projects, of whatever kind, into small bites or steps helps them get done without sacrificing anything important.
•Consistency in doing the steps or bites we have determined will and does make ALL the difference.
When we break important projects into small steps and then commit to being consistent,
we can accomplish miracles.