A Very Bright Chicken!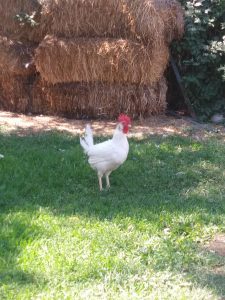 We have chickens, free-range chickens. That means they are never locked in the coop. That has its advantages and disadvantages!
•It feels like country even in the city
•They poop on your patio and steps
•Breakfast can always include eggs
•It takes a hunt to get those breakfast eggs
•There are fewer bugs everywhere
•Ripe garden tomatoes might not make it into the house!
You see the last thing on the list- Ripe garden tomatoes might not make it into the house! That has been happening to me all summer. In fact, I have been picking my tomatoes when they are still slightly orange with a bit of green. It's annoying because the reason to plant tomatoes is that you want ripe from the vine tomatoes.
I've been watching for the culprit who's getting into the garden. Today I found her out! She is the mangiest chicken in the flock. She's missing feathers on her neck and on her behind. She's skinny and scraggly. You wouldn't think much of her. However, you would be wrong! She is smarter than the average chicken despite her looks.
This morning I discovered her in my garden and I shooed her out. Then, because I can't figure out how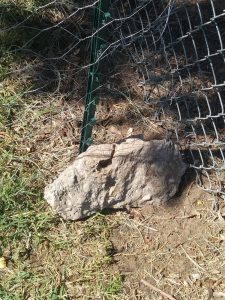 she gets in I watched her. Within minutes I saw her scoot under the fence at the corner where it connects to our neighbor's fence. I shooed her back out. Then I placed a large rock in front of the low spot.
These low spots are actually created by the chickens themselves. They love taking dirt baths. Over time they can create quite an indention.
That's what has happened around the perimeter of my garden. When I discovered this I placed cinder blocks in every indention I knew about. That's why I couldn't figure out how Scraggy Hen got in this morning.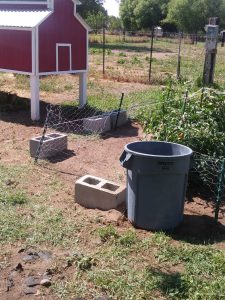 After I blocked her newest entrance I watched her pace from one end of the garden to the other looking for a way in. I could feel her frustration as she paced back and forth trying this and that.
Although I felt for her plight what I felt, even more, was the desire for a ripe red tomato out of my own garden so I turned my gaze away and I went back to my cleaning. The next time I looked her way she was in the garden! How did she do that!!
I shooed her out and then I watched some more. For just a few minutes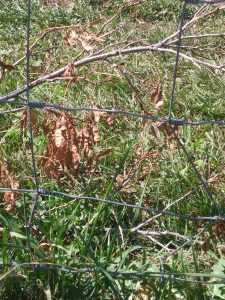 she went back to pacing the fence line, then she veered to the left towards the pasture fence. The fence at the back of the garden is also the fence to the back pasture. It's made of far different wire than our chicken wire garden fence.
This fencing is meant to keep out cows and sheep, not chickens. Scraggy Hen looked along that piece of fence line until she found a place where the wires were just a bit more open and through them she went. Now she was in the pasture and she headed for the section that is at the back of the garden, where she searched until she found a larger opening. Voila, in the garden again!
What Do Chickens Have To Do With Families?
Now, this post isn't about hens and gardens or even ripe tomatoes. It's about the challenge we have to work out a solution when something that used to work stops working for our family or family relationships.
Scraggy Hen had been getting into my garden the same way all summer, under the fence. She had a routine going. Get in, eat all the tomato you can and get out before Mean Lady shoos you out. Then today it stopped working. Scraggy Hen paced up and down along the fence line for a long time. She would finally wander away and then eventually come back and pace some more. It was frustrating to watch and if chickens feel then Scraggy Hen was frustrated. She just kept checking the same old spots but they were blocked and she couldn't get through anymore.
That can happen in family relationships and family systems; what used to work stops working and then we mentally pace. We keep trying to do it the old way. We feel frustrated, angry, annoyed, sad, victimized and any number of other human responses.
Back to Scraggy Hen. She got tired of pacing that fence line. She wanted ripe, red tomatoes for breakfast. She had had them before and wanted them again. So she checked out a new fence line and got through. Back into ripe, red tomato heaven!
For Better Solutions Get Out of The Box
What Scraggy Hen did was get out of the box. She stopped thinking in the same old familiar pattern and tried something different. She stopped being frustrated and feeling victimized. She took control of her response and began to think outside of the box. When nothing was going right she went left, literally.
Scraggy Hen was used to getting into the garden a specific way. When that way stopped working she had to find a new way. She had to leave the comfort zone of what she knew and try something else.
There are books written about how to become an out of the box thinker, to find better solutions. But here are some simple steps to begin practicing now.
.
•Stop accepting victimhood and begin taking control of your responses.
When things aren't going well it's easy to feel like a victim of other people, even our kids. However, we are always in control of our response and when we believe and live as if that is true, it goes a long way in helping us manage even unmanageable situations and come up with better or new solutions
Repeat to yourself every time you feel that someone is doing something to you – I am not a victim!
•Leave your comfort zone
We all have ways that we have always done things or think that they should be done. It's easier to follow the status quo but families who thrive keep changing whatever needs to be changed. They aren't afraid to try doing something in a new way. In every family, everything is an experiment. Some work and some don't and it's OK. Try another experiment!
•Challenge your assumptions (stories)
Often when things stop working or go awry we assume it's the other person's fault. However, as we remain in control of our response to what doesn't feel right we can also begin looking at our own motives, desires, and stories. What is fueling our feelings and our actions?
•Ask yourself searching questions
For example – instead of blaming your kids for not doing their chores ask yourself questions about how you are when you're attempting to get them to do their chores. Are you present? Are your boundaries good? How do you feel about chores and what energy are you bringing? How is your consistency? Are you allowing yourself to feel like a victim? Why? When we ask ourselves searching questions about what is happening or not happening we can often make slight changes in our own behavior that can right a sinking ship or help us find a new ship altogether.
• Step out of your shoes and step into that of your spouse and children
It's easy to get stuck in our own heads and in our own feelings. But when we step out of our shoes and into someone else's we get a better idea of what's driving another person's behavior. For example, I had a friend who's 13-year-old would not talk to her. It made her feel like a bad mom, that her daughter was mad at her or that she didn't love her. She kept trying to get her daughter to talk to her. It only widened the gap.
Finally, this mom stepped out of her shoes and into those of her daughter. She decided that being 13 was probably a tough place to be and that what her daughter might need was a consistent connection, not words. She spent 3-5 minutes sitting on the edge of her daughter's bed each night in the dark, in silence. She gently laid her hand on the bed next to her daughter's arm. After a few weeks, her daughter began opening up. This mom stepped out of the box in her thinking.
•Don't Take The Need for New Solutions Personally
Life is full of ups and downs. We can ride these waves of change better when we're open to exploring different options and trying new experiments. Don't take the need to change personally. Don't make it about how you are doing as a parent. Just try a new experiment.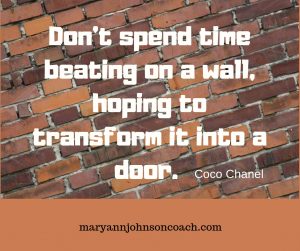 Your shares are the best compliment. : )