Many years ago, I had a friend ask me if it made me mad that someone would undo what I had just cleaned up. I must admit that is exactly how I lived many years of my parenting life. I was at war with dirt, disorder, laundry, and frankly, my family. But all that changed the day that I had an epiphany. I realized that I wasn't at war at all. I had signed up to serve, to minister to my husband and my children. That small shift in the story that I had been telling myself changed everything. It didn't change the workload. It didn't change the messes or the frustrations. What it did change was my ability to deal with the load, the messes, and the frustrations.

What Is Ministering and What Does It Look Like
Ministering is being aware of and attending to the needs of another person. When we minister, we watch over, lift, and strengthen those around us. Doesn't a family seem like the perfect place to minister most effectively?
I've never forgotten a short video I saw as I was beginning to make this mental shift from war to ministering. It was of a very influential man who was hurrying to get to a meeting that he would be leading. As he headed down the staircase his one-year-old daughter was climbing up. He stopped to pick her up and hug her.
He discovered that she had a messy diaper. He knew that his wife was in the kitchen with their other children trying to get them fed and off to school. He faced a dilemma. After all, he was going to a meeting and he was in charge. But here was his sweet daughter in need and his wife was occupied. He could have engaged in a mental battle. He could have felt irritated that his daughter was messy, that his wife wasn't taking care of it; that he, in his suit, probably should. But he didn't go to war. As he realized the need his face softened, he gave his daughter a smile and a squeeze and he headed back up the stairs. He diapered his daughter, washed his hands and then headed out to his meeting.
In a family the ways we can love and minister to one another are limitless. I find that I need the help of a power beyond myself to keep my thoughts on ministering and not at war. I need help to know what's needed because what is needed by one may not work for another. It's been my experience that as we commit to being flexible, as we ponder real needs, as we make the effort to know another person, as we consider how best to love and serve, we can know how to minister better.
Six simple ways to minister to your children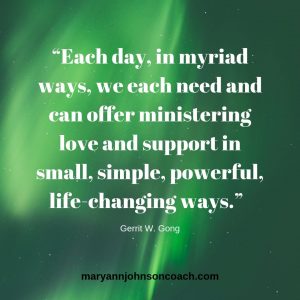 •Don't criticize – Listen, support, ask questions and teach gently. We all make mistakes. We all have moments of poor judgment.
•Don't talk poorly about each other. Words are powerful in moving us to emotion. We want to feel good about our children, so we need to refrain from using words that are negative even when we're frustrated or stressed.
•Refrain from judging – We can't always know why a person behaves as they do, chooses one action over another or disappoints us. Rather than jumping to a judgment listen, ask questions, choose to think the best.
•Smile more – It's amazing to me that we must be reminded of this, but we do.
•Listen, Listen, Listen – Those who are the most influential in this world listen more than they talk. They're interested in others' ideas and thoughts. They feel they can learn from anyone and so they do. When we listen it's easier to think the best, criticize less, refrain from judging and so on.
•Touch – I am a champion of random touch. We shouldn't need to be reminded of the power of a touch, but we do. I work on reaching out and patting a shoulder or giving a hug. It doesn't come naturally to me. Maybe it doesn't to you. But with practice, we can do better.
All those years ago, when I changed my story from war to ministering, I made a short video. I hope you'll watch it. You will find it helpful.
Here's to families and the opportunity to minister.
Share some of the ways that you keep from going to war with your family.