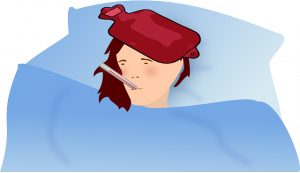 The flu season is here! So are the cold season and the pneumonia season. A few Sundays ago I stopped at a neighbor's home to drop something off. We chatted at the door for a few minutes and guess what came up? You guessed it – how many people are sick.
As I was leaving my neighbor said, "Be careful and don't get sick." I replied, "I won't. I never get sick." Her immediate and emphatic reply was, "Don't say that. You'll jinx yourself!"
I've been thinking about that and here is what I know for sure – Our voice is the most powerful voice in the world, for us. What we say out loud to ourselves over and over again is what our mind and body begin to believe. I repeat whenever possible, all winter long, "I never get sick." And you know what, I rarely do get sick.
Recently, I was at an event with almost 500 other people. Of course how much illness there was in the city came up a few times. In one particular conversation, one of the staff said, "Well I'm impervious. I never get sick." I believed him because what we say to ourselves is really powerful.
You've all heard this old saying or something like it, "What you say is what you get." It's true.
If you talk negatively about your children you will see them in a negative light no matter what they're actually doing. If you say "My kids are driving me nuts," they'll drive you nuts. If you say "I can't stand my kids today," or "My kids are so sloppy, messy, noisy, naughty, and so on," that's what you'll get.
If you speak unkindly about yourself you're going to feel bad about yourself. If you talk negatively about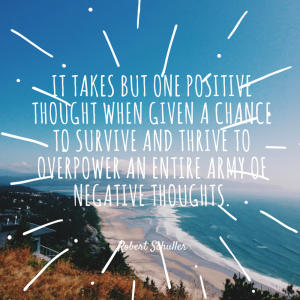 your circumstances and possibilities the outcome will be more negative than you would like. "I'm bald so I look older." "My hips, thighs, tummy, whatever, is too fat." "I have so many wrinkles." "I am not a fun mom/dad." "People just don't like me." "Nothing goes my way." "Life is so hard." "I'm just no good at math." "I can't seem to hang on to a dollar." "My families too poor, there's no way I can go to college." "I could never learn to do that."
Many of you may have a difficult time accepting that we draw to ourselves the things we focus on and say to ourselves. I used to have trouble believing it myself. In fact, the thought that is was all my responsibility made me so mad! But I couldn't shake this new idea and over time I came to know the truth of it.
If we want better outcomes, we need to watch our words. Say what you want, not what you don't want.
Here are some steps to help you generate more positive outcomes in your life:
Take responsibility and stop blaming
Decide to think the best of others
Choose words wisely
Practice thinking and speaking in more positive terms, no matter how the situation looks.
Don't stop practicing no matter how long it takes to see results.
There are others but these will get you started.
Know how we really jinx ourselves? We do it when we talk negatively about ourselves, our lives, our circumstances, our possibilities and the people we come in contact with. If you want better outcomes, if you want to be happier, if you want life to feel and be better then begin confessing what you want.
"I never get sick!"
??? Feedback, please. Are you where I was some years ago. Does this make you mad? Or have you moved along this path far enough to have experienced what I am talking about? Let's talk about it.
P.S. You can learn more about taking control of your self-talk in my new book Becoming a Present Parent, Connecting With Your Children in Five Minutes or Less. Knowing the difference will help you let it be enough. You can also receive a chapter from the book on Touchpoints, creating points of connection rather than having points of contention, FREE by visiting becomingapresentparent.com It can be life-changing for your family. I promise!