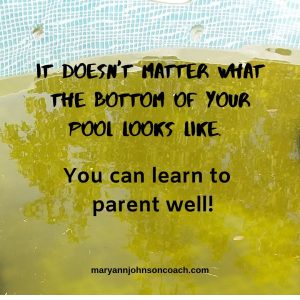 This summer my grandchildren spent hours with their friends in the pool in our back yard. Sadly, the weather cooled and so the pool was drained for the winter. Due to the placement of the drains three inches of water remained in the pool. Time passed.
One morning as I went into my office, I investigated the pool. There were three inches of green, algae-filled water. I thought, "Man, this is going to be a project to clean."
I returned to the office and completed my morning routine. Then I sat down at my computer to begin writing. Into my mind came a clear thought – "You need to clean the pool." WHAT! I had a full day of writing. But it was a clear, good thought so I got up and left the office. As I stood on the patio, I wondered how I was going to remove gallons of water from the pool bottom.
I decided to sweep a 5-gallon bucket through the water, lift it and pour it over the side. This worked. However, that was a lot of stooping, sweeping, rising and tossing. I persevered. After an hour and a half, I had to stop for an appointment. I thought, "I'm done for the day."
When I finished my appointment, I headed for the office but again had the thought that I needed to clean the pool. I rolled up my pants, got my crocks and resumed the work. Eventually, my daughter who was on a break came out and said, "Mom, you don't have to do this. It's not your job." I assured her that I knew I was supposed to clean the pool. She suggested that I use the shop vac. What a great idea!
The shop vac sucked up the water well, but it was far too heavy for me to hoist and dump over the side. Even only a quarter full it was too heavy. I returned to bailing with the 5-gallon bucket.
I could see that I was making progress, but it was labor-intensive and taking a long time. If any fathers are reading, please don't stop because this scenario is so stupid. I know it! : )
Eventually, I decided that I could use the shop vac, suck up the water, and then bail water from the vac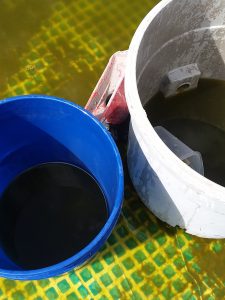 and throw it over the side. Each load of water in the shop vac was three buckets to dump. I know it doesn't seem like much of an improvement, but it was. It felt easier even if it wasn't faster.
When my daughter had another break, she came out to help. By then I was almost done. Jodie sucked up water while I swept the algae and sand to the center of the pool. Then she and I together would hoist the vac and dump it. We did about 5 dumps. She returned to her work and I did the final sweep and vacuumed up the residue that was left.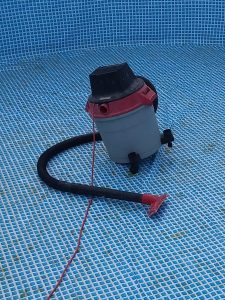 It was done and it looked fabulous. When I began the job, it was intimidating. After all, I'm 69, it was a lot of work and took a lot of time. I didn't know if I could do it. But I was determined. I did what I could with what I had and as I went along my resources and support improved and I was able to finish the job.
I know that a couple of men could have done it in half the time. If I had had better tools the whole job would have been faster and easier. But I only had what I had. I could do it or not.
The Point of the Story
It's a perfect example of parenting, my parenting. When I began, I had a pool of green scummy water to deal with that came from my growing up. I had a wonderful family, but like all families there was stuff. And my stuff had lain dormant for a long time. It was as nasty as that pool water.
Parenting for me was laborious because I lacked skills, had few resources and very little support. Don and I married and moved far away from family and friends. As the years passed, I tried different things. I learned new skills, found resources. Things got better.
Sometimes, I would look at how we were coming along, and it felt like looking at that pool job. It was hard. It was long. Frankly, I didn't know if I could hold out to the end. But Don and I did. We actively parented for 39 years.
How Did It Turn Out?
As some of you know we had kids struggle with drugs, alcohol, dropping out of school and identity issues. It was tough. Our kids are all over thirty now and many are in their late forties. They're smart, loyal, loving, kind, generous people. They can be trusted to do what is right.
I read a wonderful book, That We May Be One, by Tom Christopherson. His family had their share of trials, but his parents determined their success by how connected and bonded the family was. I have chosen to do the same.
My children talk to each other often. They gather at our family reunion regularly. This week one of my children found themselves in an unexpected financial bind. The word went out to the family and in less than 24 hours it was resolved with all of us pulling together.
It doesn't matter what the water in the bottom of your pool looks like. It doesn't matter how inefficient your tools and resources. If you will do what you know is right consistently, better tools and resources will come. You'll get better. If you're determined to parent as well as you can, to connect your family, to increase your skills and access the resources you need, then you'll be successful. When you stay the course, no matter what you lack, what you need will show up. Simple things, done consistently over time, make all the difference.
If you relate to this article please share it with others. They will thank you for it. 🙂