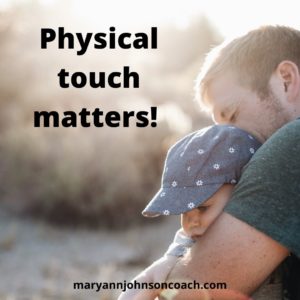 I have a friend, Ann, who has taught children with special needs for 16 years. I have been in her classroom, and she is terrific. But this year, she retired, and her kids miss her.
We were talking recently about her retirement. 2020 was tough because they could not touch the kids because of Covid. Remember that these are special needs kids, and there was no hugging, no touching, no patting backs, or rubbing shoulders. No sitting by the kids, no connection. WOW! She said that by mid-year, her class was chaos. There were more tantrums, arguments, and problems than she had experienced in her fifteen previous years.
Then she made an executive decision. She decided that she would touch the kids. She would wear a mask, but she would physically connect. Guess what happened? Within two weeks, the chaos and problems were 95% better.
Did you catch that number, a 95% reduction in tantrums and chaos? We all need a physical connection. It doesn't matter if we are special needs, spouses, friends, neighbors; it doesn't matter. We need a physical connection with our world and the people in it. I have known for years, and I have taught that parents need to touch their kids more often, and it can be done without adding time to your day. I call it RANDOM TOUCH.
Currently, I am getting some re-education in this powerful concept myself. My mom has Alzheimer's and lives with me. Recently her dog, Little Girl, died after being mom's companion for seventeen years. Mom was in a funk. In talking with a friend, I was reminded about random touch and that it might be a valuable tool in helping my mom. So, I have been testing it out. I shouldn't have been surprised by the outcome.
I love my mom, and she loves me, but she isn't a touchy-feely person, and neither am I. I don't recall being hugged or snuggled as a kid. As a parent, I had to remind myself constantly to touch my kids. I wasn't always successful. In fact, I still must remind myself to hug my kids, grands, and friends. But I know how much it matters, and I am better at it.
I can see that my mom is responding to the increased touching. My mother is calmer; we have better conversations; she gets dressed earlier and turns on her light. Hugging my mom more has softened me; I am more tender. Does that sound like something that might be useful with any of your kids?
I want to emphasize that touching your children matters when they're small; it matters, even more, when they're a youth, and it will continue to matter when they're adults.
Random touch – what is it, and what does it look like
Random touches are just that, random. They don't require any reason for the touch or hug. They happen whenever you're close to your child.
Here are a few examples of what a random touch looks like in real life:
• If you see your child sitting on the couch, at the table, on their bed, or anywhere, stop, sit close to them, stay for 20–30 seconds, squeeze a knee or give a quick hug, and go on your way. No need to say a word.
• When you go into your child's room to wake them up, hug them. Don't stand in the hall and yell, "Get up." Instead, go in; give a gentle shake to the shoulder and a hug. Say, "Hey, buddy. It's time to get up." It will take a few more seconds than yelling from the hall but remember to stay out of management mode and build your relationship instead.
• As you walk through a room or down the hall and see one of your children, look them in the eye and smile. Touch them on their back, arm, or shoulder as they pass by. Don't say anything; just give a squeeze or a pat. You can do this a dozen times a day and use up only a few minutes.
• When you're moving from one room to another (as you go through your day) and see one of your children, make a slight detour. Grab your child and tickle them for a few moments, just long enough to get a little tussle going. Then gently punch a shoulder or tousle a head and move on.
• Hold your child's hand when you're walking together or keep your hand on their back or shoulder for a few moments at a time.
• Rub your child's back while sitting in church, in the doctor's waiting room, and so on.
Random touches are an effective tool for connecting in astounding ways with your children. Random touch helps reduce the need for discipline, opens pathways to short conversations, melts stony hearts, and bonds children to parents. I want you to understand how powerful this one skill can be in changing the dynamics of your family. It's easy to do, takes only moments, and practically shouts "You matter" to your child. It was shouting that to my mom, and it shouted 'you matter' to my friend's classroom of special needs kids.
Respect their boundaries if you have a child or youth who doesn't like to be touched. Remember that I was a bit touch adverse, but I still wanted to connect in meaningful ways, and so do your children. Experiment to find out what is acceptable to your child. For example, a teen may not want to be hugged but may allow you to rub their back.
Experiment with random touch and I know you will be
amazed at the result!