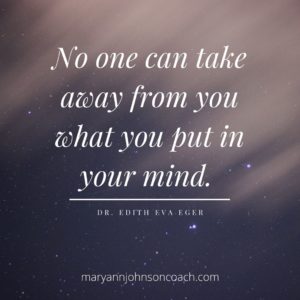 I recently finished reading The Choice. The author, Dr. Edith Eva Eger, spent part of her teen years in Auschwitz. She shares things she learned while there, after she left, and while working as a psychiatrist with other trauma victims. It was gut-wrenching and not a pretty read. I had to endure a bit of foul language. It went with the territory.
I could relate to many things she shared, as I have also experienced trauma. I could affirm many of the healing tools she spoke about because I have used them.
One that has made ALL the difference for me in the latter part of my life is encompassed in a phrase Edith's mother shared all the time and which Edith carried into the concentration camp – "No one can take away from you what you put in your mind."
I know from my own experience that this is true. We can choose our story no matter what is happening. We can choose to forgive. We can choose to love. We can decide how to respond. We can think negative thoughts or positive. We can choose. Our ability to choose what goes into our minds is the greatest gift we have been given on this earth. It makes ALL the difference.
We don't need to be dealing with trauma for this to be true. It is true every day, in every situation. It is true as we deal with friends, family, and even enemies. It is true in abundance and scarcity. It is true in sickness and health. It is always true. What we think about and how we frame it determines our lives, whether we are growing or dying, whether we are happy or dissatisfied, whether we are contributing or not.
You change your story by controlling your thoughts. You manage your emotions by controlling your narrative. When you do this, you take more positive actions, and you get better results.
Tips for Better Thought Management
Here are some tips to begin to master your thoughts and hence, your responses. I have been using these tools for the last fifteen years, and I can promise that it will change your life if you use them.
TIP 1—Take responsibility and stop blaming
Blame is an indicator there's a problem with our way of being or how we perceive what's happening, or in other words, our thoughts.
TIP 2—Decide to think the best of others
The key to overcoming the natural man's tendency to assume the worst about others' motives is not to polish our apology skills nor learn to control our anger and frustration. Rather, the key to overcoming this destructive behavior is to question our story. Examining the negative story we tell ourselves . . . causes us to consider alternate explanations for their apparently hurtful behavior. To accomplish this, ask yourself one question: "Why would a reasonable, rational, and decent person do this?" Or, if this is too unwieldy, ask, "Why would a decent person act this way?" (McMillan, "Master Your Stories and You Master Your Life")
TIP 3—Choose words wisely
Dr. Wayne Dyer has said, "What's in you is what comes out" ("Why the Inside Matters"). It's true! Pay attention to the words you say in frustration, sorrow, and anger; you'll get a good idea of what you're holding onto in your subconscious mind.
TIP 4—Keep practicing
Managing your thoughts and putting good things in your mind is something you need to do daily. There isn't a point when you're so good at it that you can stop working on it. Negative thoughts will come, and they'll need to be managed.
Dr. Eger was able to survive the concentration camp because she controlled her thoughts. She held on to the good and let go of the bad. She remembered the joy and dismissed the pain. It all took time. Some took a lot of time, but as she persisted, she was able to heal.
Thoughts and the resulting stories are powerful in determining our happiness level. When my granddaughter,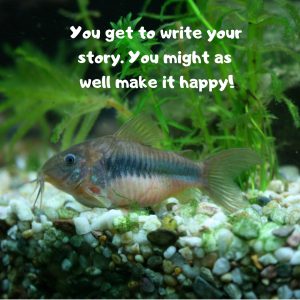 Mary, was six, she loved to watch the fish in our tank. We have a very sleek, silver catfish that swims fast and erratically whenever anyone stands in front of the tank. I believe the fish does this out of fear or because it has been disturbed.
One day Mary asked me, "Do you know why this fish swims so fast when I'm looking at him?" I replied, "No, why?" She responded with, "Because he likes me!" Like all of us, Mary gets to write the story, and her story makes her happy. And for all I know, her story may be as valid as mine.
You can find more tips and some amazing true stories in Chapter Five of my book Becoming A Present Parent: Connecting with Your Children in Five Minutes or Less. It is worth the read!