I have a field that I keep weed-free.
I have been doing this now for two years. I have learned many things while toiling in the field. This week, two experiences gelled for me that I believe will be highly meaningful to some of you. Because I want you to get the full import of what I am attempting to share, I will take the time and words needed. Thank you for bearing with me.
I have been able to keep this field cleared on my own with just a hoe. I go there six days a week for 15 to 30 minutes. I have carved the field into sections in my mind, and I do one area each day. But, here is something I have noticed. No matter how careful I am in each section, I miss weeds!
Since the field is weedless dirt, I can see where I have walked in each section. Often, right next to a footprint, there will be a weed or a small group of weeds. This is a consistent phenomenon. How does it happen? I scan the whole area around me before I take the next step. But no matter how careful and methodical I am, it happens every day! I have thought a lot about that.
Here is what came to me this week – focus and light.
You can only focus on one thing at a time. Then you shift your focus to the next place and so on. You cannot focus on the entire section, or even the whole area right around you, just one spot at a time.
Here is something else. When I walk out to the field, I hoe weeds as I move to the section I intend to work. There is lots of dirt, and those tiny green seedlings are clear. I can see them, and I hoe them up as I go. But the odd thing is that as I make my way back from the section I just finished, I see weeds I missed. What! In this case, it is an issue of light—the light matters regarding what weeds I can see. Depending on the direction of the light, I can see certain plants but not others. It happens every day. Like focus, it determines what seedlings I see and what seedlings I miss.
This focus and light issue happens in parenting. We can see a problem that needs resolving, and we give it all we've got. Then later, we realize that there was another issue just as vital, if not more so, and we missed it. It can cause us grief because if we were being good parents how could we miss something so important.
Let me give you a real-life example so that you understand what I am sharing with you.
There was a time when four of our oldest five were struggling in school and with drugs. It was bleak. I was a focused, good mother. I spent enormous amounts of time trying to help these kids, keeping them alive, finding them services, attending counseling, etc. It has been decades since then. They are in their forties and fifties, have worthwhile lives, contribute. I believe they are reasonably happy.
But in my effort to focus on what seemed so important, vital even, I missed the pain of my two youngest children. I was there physically; we had meals on the table, I attended concerts and football games. I loved them and made sure they were safe. But I wasn't emotionally available to them. It was all going to the four I was keeping alive.
These two youngest are now in their thirties. They also have worthwhile lives; they contribute, they seem reasonably happy. But I know they are still dealing with the pain of feeling abandoned, unseen. This was never my intention. I thought I was getting all the weeds, but I missed some despite my careful scanning of the area.
And then there was the issue of light (knowledge). My resources were limited, my information was lacking, and I couldn't see what I couldn't see. As I have moved forward, I have gained more knowledge. I can clearly see what would have worked better for the four than what I was doing. I also know how I could have helped those younger two, so they felt seen and heard.
I have been tempted to allow myself to feel like a bad mom, a failure. The truth is that for a long time, I did allow that. Then I gained more knowledge, light, and I STOPPED!
Thursday, this whole issue of focus and light was brought home to me even more. I wasn't weeding a section of a vast field. Nothing was overwhelming in what I was weeding. I was working the strip between the sidewalk and the road. It is about 3 feet wide and 12 feet long and gravel-covered. Those weeds stick out like sore thumbs. You can quickly scan from one side to the other with each step. When I got to the end, I was feeling good. I was sure I had gotten every weed. But on the way back, right where I began, I found two weeds that I had missed.
Then I weeded a strip down the side of our driveway. It is only 1 foot wide. Easy peasy, right? And besides that, I was weeding on my hands and knees. But you know what, as I reviewed my work, I still found a couple of weeds I had missed.
Our focus and knowledge aren't ever going to be perfect. Despite our best efforts, we can and will miss things that matter. If we could see them, we would do something about them but we don't see them. What can we do when this happens, and our children are wounded because we are human and imperfect? It isn't helpful to berate ourselves. Guilt is not an emotion. It is a state of internal condemnation. It damages and does not enlighten. Some call this state shame.
When we find ourselves lacking in our parenting skills there are better ways to respond. Here is what I have learned after many decades.
• Speak kindly to yourself despite your failure. Forgive yourself for not being perfect, for lacking the knowledge you needed, for not seeing every need.
• Be honest and take responsibility for what you missed. You did miss it. Avoid blaming anyone or anything else. Your honesty will help you see clearly so that you can move forward.
• Increase your knowledge so you can make whatever repairs you can.
• Remember that your kids came with an empty bag. You have added something to it even though you didn't want to or plan to. Know that the cleaning out of their bag will help them become the people they are meant to be.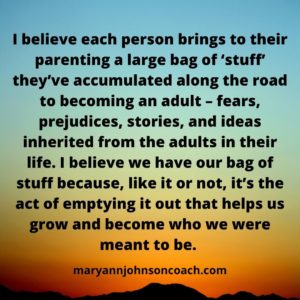 As for my two youngest, they have some work to do. It is their work. But I am here to support them. I pray so that I can know how to do that in the best way. Often, I am counseled by the Spirit to step back and leave them to their work. At other times I am guided to reach out.
They will do what my five oldest have done and are still doing. These older ones are emptying out their bags, and they are growing into amazing men and women. I've seen it. You will see it. If you never give up on your family, if you don't berate yourself for being imperfect, if you keep growing and learning, increasing your light and knowledge, then you will see what I have seen. You are a good person and parent. You are doing your best, and as you improve your best, it will be enough!
Let parents you care about know that they can do this despite being imperfect!