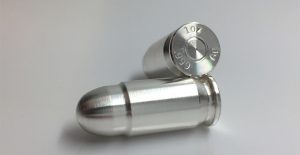 Simple things done consistently over time are what bring the changes that matter in our lives. Often we look for a silver bullet but time, increased understanding and practice are what are required for lasting change. Here is an example.
The 1% Principle
I learned about the 1% principle way back in 2011. It basically states that when you work on the one most important change you need to make it exponentially expands that change for good in your life – it affects not only the 1% you were focusing on but all the rest of your life as well. That sounded really important to me and even true.
But it wasn't until the fall of 2013 that I put it to the test.
I wanted to flow into 2014 gracefully and make needed changes. So I began taking that desire to the Lord (my chosen source for information) and asking him for some guidance. I phrased it this way, "What is the one action step I could take in 2014 that would make the most significant change for good in my life?"
You will notice I asked for an "action" step and only one of them. Remember the 1% principle.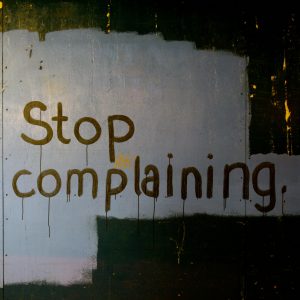 God must have wanted to see how serious I was about the question because I prayed that same prayer every day for three months! Then one night I knew the answer – stop complaining!
That response shocked me because I certainly wasn't a complaining person. However, over the next few weeks, as I watched myself, I found that I did a fair amount of complaining.
• Can't you put your socks in the hamper?
• This meat is so tough.
• I can't believe the city decided to fix the road now!
• Stop being so noisy.
I worked on this one thing for the next couple of years but eventually, I went back to my knees because I didn't feel that I was making much progress. This time the response came immediately and was just as shocking. Be grateful! I have worked on that for three years now. I have used gratitude journals, better prayers, more service, and I have become more grateful and I do complain a bit less.
But this year I felt the need to understand this whole complaining thing better. I recall a conversation I had with a friend not too long after I was counseled to stop complaining. She said, "You're not a complainer. Everyone says stuff like that. It's just talk."
Words are Powerful!
One of the topics that always comes up with families I work with is how powerful that 'talk' or our words and thoughts are. They carry enormous weight. I understand that subject well and I have used a number of exercises over the years to get a handle on my own words and thoughts. In fact, there's a whole chapter on the topic in my book Becoming a Present Parent.
So although I am aware of when I complain and work to keep on top of my thoughts and the words I use I still felt that something was missing because I still complain. There seemed to be a gap in my understanding that if understood would radically assist me to complain less and be more grateful.
I have to take a short detour here in the narrative. At the same time I began working on complaining less I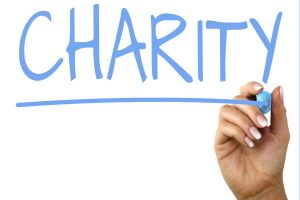 made a serious decision to become a more charitable person, less judgmental. That has been a work in progress too. Here is how they're connected.
Last week I was sitting in my office pondering what I knew about complaining, thoughts and words and how they affect our lives. In that moment a light bulb went on in my brain. Complaining was more than just being bugged about something or someone.
Complaining is actually any negative thought we have. Any negative thought. And in that same moment I came to understand that when you are having a negative thought, even before the thought becomes words or action, you step back from charity. You cannot be negative and charitable at the same moment any more than you can experience fear and faith at the same time.
I have been embracing this new information for a week now and it has radically changed what I allow into my mind and out of my mouth. It's a simple concept but it isn't always easy to implement. Entertaining negative thoughts and speaking complaining words are as my friend said, "What everyone does." It is a bad habit!
What You Get if You do the Work
But here is what can change in your family and life when you change the habit of entertaining negative thoughts and speaking negative words:
• You get better and more inspiration. You cannot hear God (your Higher Power) when you are listening to the negative
• Your relationship with yourself will improve. You cannot be charitable to yourself and your weaknesses when you use unkind words about yourself.
• When you truly love and accept yourself, warts and all, you will love your family better. You will be more charitable when someone messes up.
• Your family relationships will improve. You cannot be charitable, teach effectively or build up those you love when you hold negative thoughts about them or their actions or speak negatively to them.
• You will be a more effective example and teacher. Children learn better when there is less yelling, tension or judgment.
• You will yell less. If you hold negative thoughts and emotions long enough the complaining words will come out and spill onto others, despite your best intentions
• You will grow as a person. The process of learning to control your thoughts, words, and stories will teach you new things and elevate your way of being. That is what happened to me last week.
• You will be more charitable and less judgmental
• You will feel more gratitude, even for the hard things, because you will recognize them as opportunities for growth.
I have been working to lessen my own complaining for five years. Yet just last week I got another part of the puzzle and it's exciting.
Sometimes we equate the time it takes to make a significant change in our lives with failure; "If we were really any good we would have gotten a handle on this by now."
But that's a lie. Simple things done consistently over time (whatever amount of time is required) is what bring changes that matter and adjust our lives for the better. I have been working on becoming a more grateful, non-complaining, charitable person for five years and I just had a new lesson. Thank goodness time spent does not equal failure. It equals eventual success no matter what it is we're working on.
So don't get discouraged. Just keep working on whatever is your 1%. When you don't quit, change is guaranteed.
• It took me eight years to learn to sew well.
• It took me over fifty years of singing to be able to read music.
• It took me ten years to stop raging and yelling.
Simple things done consistently over time are what bring the changes that matter in our lives. Don't Quit!
Want a clearer view of what change in real life looks like and tips to make changes that stick?
If you like this post and it would enlighten a friend pass it on using the social share buttons.