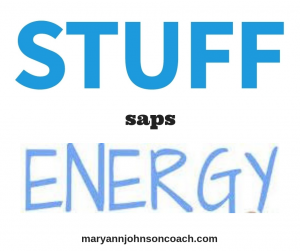 Stuff! Stuff! Stuff!
I lived in Montana in the same house for over twenty-one years with a husband and seven children. I bet you can imagine the amount of stuff we accumulated!
We frequently had to reorganize the garage. One whole end of the garage was a special room dedicated to storing stuff. In the house hours of time went into cleaning out closets, drawers, and toy boxes. I can recall the time required to sort, launder, store, and fold all of the clothes and bedding we managed to accumulate.
Eventually, we decided to move to Utah. I was ready! I began cleaning out the house. I held numerous garage sales. I wanted to let it all go. My husband felt stressed when he left for work because he wasn't there to monitor what was being sold. He was worried about what we were going to have to replace.
Here's what happened. After over thirty years of living together and raising seven children, we pared it all down to one small U-haul and a van. Would you be surprised to know that in all the years since we haven't replaced a single item?
More Stuff!
" …We invest a great deal in the acquisition of stuff. Companies bombard us with slick, relentless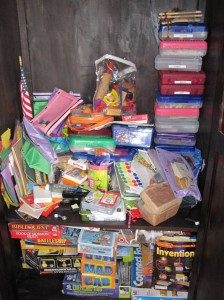 propaganda as to why we must have their stuff, and we judge an individual's success by their stuff's sheer quantity and supposed quality… Stuff beyond our basic needs does not liberate. Consider the overall investment of your time. You have to shop for stuff. You have to clean, maintain, and organize stuff. You lose stuff. You look for stuff. You polish stuff, secure it against theft, trip over it, recharge it, upgrade it, accessorize it, pack it, move it, unpack it, insure it, fix it, and eventually sell, trash, or bequeath it. Stuff has no use beyond this life, and it takes a lot from us." -Shawn Miller
If you're having a hard time keeping your home clean you probably have too much stuff. If your dishes are always piled up you probably have too many dishes. If your kid's rooms are a disaster they probably have too many toys, too many gadgets, and too many clothes.
Stuff is Energy Draining!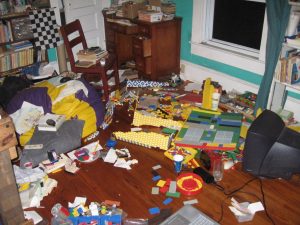 Each item we own requires some of our energy. The more belongings we have, the more emotional energy, as well as physical energy, is needed to maintain it. I want you to visualize something.
Close your eyes and imagine you have threads of energy attached to your shoulders and these threads connect to every item you have in your possession. Every item—each dish, cup, and pan; pictures in the photo album, CDs, and hammer; each nail, sock, book, pile of papers, sweater, car, guitar pick, and even your computer files. It's one energy thread per item.
Now envision wherever you go you energetically drag all your possessions with you. You drag them via the connecting threads of emotional energy. How much are you dragging?
What if you eliminated a quarter of your belongings? How much lighter would you feel? Would you even miss any of the things you discarded or gave away? Through my experience, the answer is surprising: not really.
I have a very wealthy friend; she could buy just about anything. Her home is lovely, not cluttered or crowded. There isn't a plethora of stuff. She gave me a perfectly beautiful blouse one day and I asked her why she was giving it away. She replied, "I have a rule. If I buy something new I have to give something away." Wow, really wise woman!
In last weeks article, I talked about a principle which allows us a great deal of freedom – keep things simple. Getting rid of stuff is a way to simplify your life, to free yourself and Autumn is a perfect time.