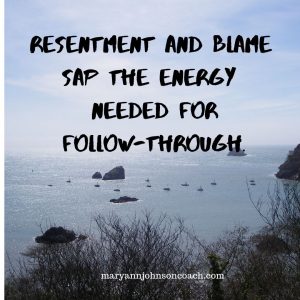 Recently, I taught a class on consistency. I have taught this topic many times and have written about it often. I gave the class some tips on how to work toward being more consistent. However, this year I added a new tip that I have learned the hard way over the last couple of years. It applies to more than just remaining consistent. It applies to every change we want to make or promise we want to keep.
It's a challenge to commit to something new or to make a change. But when we resent and blame others it saps the energy needed for follow-through. When we're mired in resentment and blame it undermines our personal growth and success.
A Real-Life Example
I get up early and my husband sleeps in. He's retired and doesn't need to get up early, so he doesn't.
I, on the other hand, have decided through experimentation that when I get up earlier my life feels better. I accomplish more, which matters to me. So, I made a commitment to get up at 5am. I sometimes felt resentful that Don slept in. I felt resentful that he could stay up later.
Often when I woke up, I wanted to sleep longer, and I had to force myself out of bed. I would look at my husband and feel resentment that I had to toe the line, do this hard thing and he didn't. How unfair. When I let myself tell that story it became very hard to get out of bed and stay out.
If I did go back to bed, when I got up, I would feel terrible because I hadn't kept my promise to myself. So, I would blame Don. After all, if he wasn't in bed I would have gotten up. It was his fault. "Why can't he get up early too and then it would be easier for me."
This type of thing happens at work, with our kids, in relationships, all the time. It can derail our desire to eat well, keep up with our home management chores, connect with our children, lose weight, exercise, and the list goes on. When we let blame and resentment color our personal commitments, whatever they are, we will have a harder time keeping them.
Here's the deal. It's my commitment to get up early because of the things I want in my life. Don never made this commitment. No one makes me go to bed early. No one makes me get up. I can change my promise to myself at any time. It's all up to me. That's the true story!
There are many ways to maintain control over resentment and blame. Here are three.
Three Tips To Manage Blame and Resentment
• Stop and examine your story. What are you telling yourself? Is it true? If not, what is true. In this case, Don hasn't made the commitment, I have. Whether I do it or not isn't about Don, it's about me.
• Release blame and resentment. These two emotions sap the energy required to stay the course. If you feel them know that there is something in your story that needs to be examined. Do an honest evaluation. Then let them go.
• Revaluate your commitment. Does it need to be adjusted so it feels manageable? In this case, mine did need an adjustment. I opened my window of 'get up time' from 5 am to between 5 am and 6 am. It felt less restrictive. I also gave myself a day off. On Sunday I let myself sleep in until 8 if I want to. I often don't but I know that I can.
• Don't quit. Whether you keep your promise to yourself, your personal commitment is all about you. So, when you feel like quitting, don't. Keep going. If you fall off the wagon get back on as soon as you can. Manage your story. This is about you and what you want in your life.
Your shares are appreciated. Thank you!