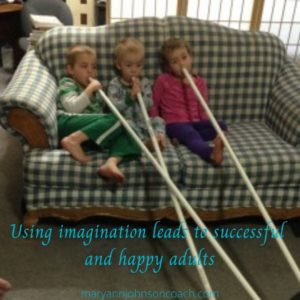 What use is a good imagination?
It might surprise you to know that when child development experts talk about "critical thinking skills" and "creative problem-solving abilities," they refer to the imagination. That is what our imagination helps us to do. For human beings to have well-developed imaginations, you provide children with opportunities to exercise their imaginations. This practice happens best when children PLAY. In fact, some child development experts believe it is the only place that it happens. Play is also the place where executive functioning is developed in children. Executive functioning is a must to become a fully developed, successful adult.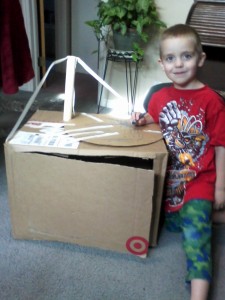 A good question you, as parents, might ask yourselves is, "Are you providing your children enough opportunities for this type of play." It is a good question because organized sports, music lessons, dance lessons, karate lessons don't count. Playing board games with the family doesn't count and doing just about anything on the computer doesn't count. TV doesn't count and playing video games doesn't count. These things don't count because, in the case of organized sports or lessons, etc., children are not free to use their imaginations and creativity. In the rest, they are watching someone else's creativity and imagination.
In my mentoring, this comes up because it is a problem for parents. They don't want their kids to waste time. They don't want wasted materials. They don't want messes. But these are the things that go into imaginative play, playing with paints, play dough, costumes, glue, and crayons—making a mess. Exploring the woods, splashing in a puddle, wondering how a caterpillar inches by, or pretending to be a tiger, stalking in the jungle are ways to increase a child's imagination. These types of play use time, resources and often create a mess.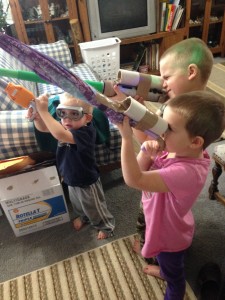 In today's world, there is a push to make sure that our children are prepared for life, go to college, get a good job. Often parents think that if they give their children too much free time, they are wasting their opportunities to prepare. Even though this thought comes from the best of intentions, it is not helpful for children. Children need time and space to develop their creative imaginations free from adult agendas. So even if your children complain, "I'm bored! There's nothing to do!" please trust that if you leave them to figure it out for themselves, how to fill their time, their innate creativity will kick in, and their imaginations will soar!
When I was a child, my parents were not involved in managing our days. We had our chores to do and possibly homework, but when they were finished, we were free, and frankly, we made the most of it. We acted out all the fairy tales we knew. I served as a soldier, nurse, or bad guy in every war I had ever learned about. We made mud cakes and decorated them; we hand-stitched doll clothes; we painted and used clay. We made houses out of fall leaves, and we built innumerable forts out of snow. We had plenty of time for play.
This type of play is a challenge today because our children are growing up in a digital world. They will carry that world in their pockets. But with your help, they can be taught while small, to play and use their imaginations. The first five years of a child's life are the most suitable time. Here are five tips to help you help your young child use their imagination.
Five Tips to Strengthen Imagination
1. Help your child to activate their imagination. Engage in their play. If they bring you something they have drawn or made, ask them about it, pretend-play with them.
2. Ask thoughtful questions. I especially like this at mealtimes. I wonder what would… What if…
3. Make time for imaginative thinking and play. Make sure there is plenty of free and unstructured time to think, explore and pursue interests and ideas. There is evidence that playing outdoors and in nature stimulates imagination and learning. In addition, some quiet time alone can help children to plan and work through an idea.
4. Encourage different experiences. Read together. Make up stories in the car or at dinner. Visit museums, botanical gardens, parks, etc.
5. Show your playful side and imagination. I have written about this a lot. What you model for your kids is what they will copy. So even if play isn't your thing, choose to be silly, to pretend on occasion, and to let your hair down.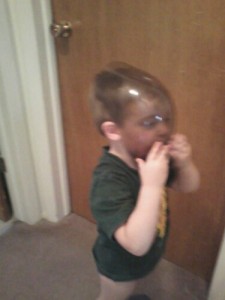 If your children are older than five, all is not lost. Have you seen the car commercial where the parents look back at their children and ask, "Do you still have bars?" while they are using their phones. At some point, the kids reply, "No, nothing." And there it is. Get your kids away from all that is digital. Go camping, boating, have screen-free time in your day, put phones away during meals, and ask questions or make up a story with each person taking a turn to add to the plot. With some thought, you can help your older children to imagine.
I recall a family meeting my daughter had with her older kids. All the phones were turned off. The tv was off. No one called on Alexa for anything. They each had poster paper and a stack of old magazines and photos printed off the computer. They talked about what they would like to have happen in their family in the next three years. Where would they like to go, who would they like to see, what did they want to do. Then they used markers, scissors, and glue to create what that would look like for them. They had a great evening, and it used their imaginations.
If you want your children to go to college, have a good job, be successful and happy adults, then encourage them to play and use their imagination!
Let's help kids use their imaginations and share the value of doing so with others!