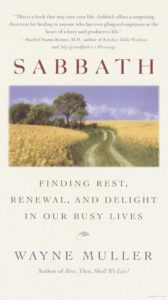 I am so glad to be back. I have missed you all. I loved the break, but I missed sharing my thoughts and ideas. : ) Here is something that happened to me during my vacation from writing.
My Vacation Experience
In 2022 I read a book titled Sabbath: Finding Rest, Renewal, and Delight in Our Busy Lives by Wayne Muller. I posted a review of it on Facebook on June 6, 2022. Before sharing my experience, I want to tell you about the book. It wasn't written by a person from my spiritual persuasion. He presented the Sabbath and all its parts from the perspective of many religions, some not even Christian. It was fascinating how many spiritual cultures recognize the need for space, thought, and rest. So don't be afraid to read the book even if you are not religious or don't profess any relationship to God. Read it with the perspective that you are going to learn something new about rest, slowing down, and making space. It wasn't written to convert but to enlighten.
I didn't need to read another book about the Sabbath. My spiritual culture teaches a lot about the Sabbath, and I have grown up knowing or thinking I knew about rest. However, this book taught the principles of the Sabbath in a way that was insightful and somewhat new to me. His take on rest was far different than I had ever thought of. I loved it when he said that if you sweep the floor, it will need to be swept again the next day, so not sweeping it for a day is OK. I know that, but do you have things you feel compelled to do? I do.
Here is what I loved about this book – it wasn't just about a day of worship. It was about how to manage a busy life. It was about renewal, gratitude, and rest. It was different and very helpful in changing my perspective.
Now for the honest part. After reading the book, I created a worksheet on how I could use all the beautiful concepts I learned. I picked one thing which I implemented and still do every day. Each night when I take my self-care shower, which I have been doing since I was sixteen, I light a candle. I pray for someone. Then I talk to God about my day. I have been doing this for almost a year, and it has been SO HELPFUL. It ends my day on a high note, no matter how the day has gone. But the list, with all the other great ideas, was stashed on my desk and forgotten.
Recently, while cleaning my desk, I ran across my notes from the book, the list. I was astounded because the ideas were so good! I couldn't believe that I had only intentionally implemented one thing. But then I, like you, get busy, and things fall by the wayside even when I don't want them to.
Here is my plan and I don't know why I didn't do it before. On the walls of my room, I have a plethora of fabulous quotes and instructions to myself that I look at often. By my bed are things I want to accomplish and some longer pieces of knowledge that I never want to forget. Some mornings and evenings I sit on the side of my bed and review this wonderful, faith-building, soul-lifting information. This page of notes should have had a home there, and now it does.
My list contains such helpful information that I decided to share my list with you just as I wrote it out after reading the book. Maybe it will encourage you to read Sabbath for yourself. Possibly you will implement some of these great ideas. Either way, I hope what moved me will be of value to you.
The List
REST
• Light a candle and pray- let the hurry of the world fall away.
• Pick one technology to not use on Sunday. Use the computer or phone only for Sunday
study.
• At your Sunday meal, take time to pray, plan, eat slowly, and enjoy.
• Take three mindful breaths whenever you move from one activity to another.
• Each day pray for the people around you.
• Choose a time to be still- don't speak.
RHYTHM
•Take a slow 30-minute walk, an amble. Linger at flowers, rocks, etc., and enjoy the
air and beauty. This is not about exercising.
•Meditate with your breathing, find the rhythm of your breath.
•Spend some time in silence, outdoors, when possible. Slow down.
•Pray in your heart multiple times a day – it is a portable Sabbath.
TIME
•Set aside time to play with Don.
•Say my affirmations, what I value, and the precepts that guide my life.
•Stand at the altar in our temple and pray with others.
•Seek out those you love when you lose your way.
•Be a Sabbath for another who is struggling.
HAPPINESS
•Focus on gratefulness.
•On the Sabbath morning, lie in bed and look at my vision wall.
•Do something simple and playful daily – walk, put flowers on the table, color, do a
puzzle, sing.
•Walk barefoot, slowly, on this holy ground. (Meaning our home)
WISDOM
•Trust God to help you in crisis.
•Watch for the help you receive. See it.
•Find time to sit, walk, meditate, pray, read, etc. in nature, the temple, at home, or
church.
•Let go of something. Choose one thing each week. Lessen your stuff.
•Shower with a candle, music, and perfume. (Remember, as a caretaker I only have 15 min. for
a shower. : ) You busy moms can do this.)
CONSECRATION
•Before Sunday, choose a quiet place. Pray. Say what you need to say out loud.
•On Sunday, don't seek, let what is be enough, and then pray in gratitude.
•Give something you love away to someone else who will love it.
ON SUNDAY
•Journal first thing in the morning, then pray and dress.
•Write letters of love.
•Connect with people.
TO END THE DAY
•At dinner, share the best part of the day and what you look forward to on the coming day or in the coming week. Burn a scented candle at dinner.
The sections came from the book. What to do came from me.
I pondered how I could make what the author taught in each section, work for me. For example, he suggested an altar, light a candle, and pray. In my spiritual culture, we do not use alters in our church buildings or our homes. But as I thought, I came up with the idea of lighting a candle during my nightly shower and praying for others and myself. It has worked wonderfully, no matter how out of the ordinary it may seem.
As I reread my list, I was surprised at how many things I have put in place unintentionally. I only implemented one thing with intention, the addition of a candle and prayer to my shower time, but so many others have become part of my days.
•Each day, I pray for the people around me.
•I say my affirmations daily.
•I pray with others in our temple.
•I am frequently a Sabbath for others who are struggling.
•I write in my gratitude journal daily.
•I walk barefoot in my home daily. Now I need to slow the pace. : )
•I trust God implicitly.
•I am watchful and grateful for the help that I see come.
•I shower with a perfumed candle. I sing after I pray while still in the shower.
•I write letters of love on Sunday.
•I have been connecting with people more than ever before. I set up calls ahead of time with
friends every few months and communicate via video, so connection really happens. I have to
plan ahead and schedule this connection because it isn't part of my natural energy. : )
I Have A Plan
This list is impressive to me, but as you can see there is more that needs to become part of what I do, part of me so that it happens as naturally as the list above. That can't happen in a day or a week. So, I have a plan.
I am going to pick one thing that I am not doing yet and do it daily or on Sunday, as the case may be, for one month. By then, it should be part of my system, and I won't need to think about it. It will just happen because it is part of what I do, like my nightly shower. : ) Then I will pick another thing. At this pace, it will take me a few years to make everything part of my life, but I am OK with that. I have learned that the time it takes to grow and increase in wisdom isn't important. Growing and increasing in wisdom is.
I hope that all of you will pick one thing. Maybe it will be to read the book and make your own list. It may be to adopt my list or part of it and begin implementing what matters to you. Just begin.