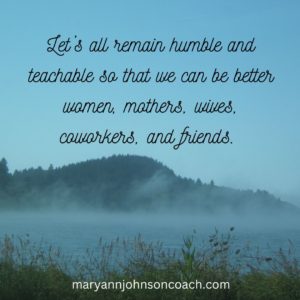 I want you to know that I am over the moon happy to write this post. It is, however, very transparent, humbling, and not cool if you are 'the expert'. : ) BUT it is so indicative of how we learn, grow, and have better, more meaningful lives!
I was a paid mentor for many years. I worked with moms on systems for their homes so their days would run better. I mentored them on how to connect with their kids more consistently and in less time. I have worked with amazing people, and I loved it. Most of them became friends.
How My Life Changed
Then my life changed. I became a full-time caretaker for 2 and a part-time caretaker for another. At some point, I realized I couldn't do it all. I gave up traveling, speaking, doing workshops, and other events. This happened a year and a half after my book was published.
The change wasn't easy. However, I still wrote an article each week and posted on Facebook once a day. And I was still mentoring. I loved this and was glad to be doing it. I got to meet wonderful people and I had a lot of experience I could share. However, as clients had their needs met and dropped off, I did not replace them because as my caregiving responsibilities grew, my mental and emotional bandwidth shrunk. LOL I met with my last client, for the last time, in early spring of 2022. Then a lull ensued.
In the fall, I had an old client reach out. She asked if I was still mentoring. I said I wasn't but that we were good friends, and I would love to talk with her. We informally visit on Marco Polo, and it's fun! She asks questions and if I have any thoughts, I share them. I can be real and transparent because I don't have to be the person she has hired who knows more than her. There is no pressure to perform. : )
Since then, I have reconnected with three other old clients who are good friends. I visit with them whenever one of us has something we want to talk about. One is way younger than I am. In fact, she and my youngest daughter were good friends. I have known her since she was a girl. Can I say how fun it has been talking with her over the last few years? She was in a big transition, and I was able to talk her through some of it. BUT and here is what this post is all about – today she talked me through something!!
You Never Know Where Learning Will Come From
That's right, a young mother, forty years my junior helped me out today. It all came about because she is a budding writer. We talk about how to write and the difficulties of managing it with a family. Recently we talked about the need to get up earlier. When I was writing my book, I had to get up at 4 a.m. for six months to make it happen.
This young mom has three little kids, the oldest in kindergarten. You can visualize what that's like most days. : ) Well, bless her heart and her desire to grow, she told me she has been getting up earlier, around six, so that she can get at least 30 min of writing in before the day explodes. She said when she does get up early and writes and later can't get back to her writing, she feels ok because she has done her 30 minutes.
This consistency in writing is on my Commitment sheet which I repeat daily. It goes like this – "I am committed to writing at least one hour a day, five days a week. This is therapeutic and fun for me. I lose fewer great thoughts that others need to hear." I shared this with my friend, and she decided that 30 minutes is what she could and would do.
We also talked about how it needs to be early in the morning because we have busy, chaotic days and by evening, even if there is time to write, well, we are tired. Not great for inspiring thoughts. : ) She said that it makes her feel like she is really caring for herself when she gets up earlier. That was odd to her because she often gets less sleep, but it still feels nurturing to keep this commitment to herself. She also said how cool it is to sit and realize that the whole house is hers, at least for thirty minutes. I can relate!
I felt so proud of her for following through because I know from experience this isn't easy. Here is where having a good friend who is doing what you want to do is so valuable. 2022 was hard for me. I shared with you that I finally went to three counseling sessions to get a story worked out. I was sabotaging myself and my writing. Read more about that HERE. I haven't yet unraveled why I would do this but knowing that I am the cause of my trouble has been very helpful. When I don't allow myself to write I do not blame my circumstances or those I care for. I am honest with myself.
My Friends Bravery Helped Me
Because I am not only helping my friend with her stuff but because we are friends I responded very honestly. I confessed my struggle to write. I told her how resistant I feel to getting up early even though I know I can. Many weeks I get up at 5:30 to get Maggie off to school. I was brutally honest about the story I am telling myself about why I don't want to get up. Even after I do get up, I don't sit and write. I have so many things to do and I allow myself to go to that sabotage place.
It was a bit uncomfortable to be so honest. After all, I gave her good advice which I used to get a book published but, well, I wanted to share real life. Here is the most wonderful thing. She was brave enough to give me a few thoughts that she had and some information she has learned that could help me. I LOVE her for it! And you know what, I will be listening to those Marco Polos again because she may have opened a door for me, that when I slip through will help me unwind this self-sabotage thing and get me back on track.
And there it is. No one knows it all. No one. We all need help from friends, good books, classes, etc. We all have things to learn. And just as the cement keeps resurfacing in my field, even things we thought we have fully resolved can come back and we must go to work again. That is the beauty of it all. There is never an end to learning.
I want to thank my friends, and there are quite a few of you out there, who write to me via text or email about something I have written. Often it is to tell me how it has helped you, but on occasion, it is to share something that will help me.
Let's all remain humble and teachable so that we can be better women, mothers, wives, coworkers, and friends. We do not have to be ashamed of this!
P.S. Today is April 28th. For the first school day in a week and a half, I didn't need to get Maggie up for school. When I am on deck, I get up at 5:30 or 5:45, depending on the day. Well, because of the encouragement of my friend and after pondering her counsel, I got up this morning at 6. I didn't want to, even though I know I am supposed to, and if I do, it will change my life. I know I will keep doing this because once I commit to myself, it's a done deal. Today was the day I committed and I did write!
If this young mom can take my counsel and do it, I can do it too. This is why we need to be teachable and open, it helps us commit and sometimes recommit.