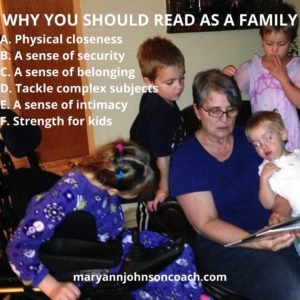 I am a BIG proponent of family reading because of its many benefits. When our kids were living at home, we read together. I wasn't consistent, but we did manage to do it often enough that one of my daughters would say years later, "Mom, it was so great how you always read to us." However, I wasn't prepared for the HUGE impact reading together has had on our household of three, all of us over seventy.
Some time back, I published an article called I've Got the Tone. For many years, I have had a tone in my voice of irritation, frustration, annoyance. Over the years, it became a habit. Since we have been reading together, about a year now, that tone has dissipated quite a bit. The truth is I feel less irritated, annoyed, and frustrated. The feeling in our home is one of more charity, less contention, and a greater desire to connect and be cooperative. I think reading together will directly impact our health.
Let me give you an example of what I mean. Don bought me a bag of veggie chips. I love veggie chips, but we don't buy them often. I made yummy sandwiches for lunch. I thought about getting the veggie chips, but I didn't. After the blessing, Don went into the garage where all the chips are kept and got some of the veggie chips for himself. When he came back to the table, I smiled and said, "Hey, I thought those were mine. You should have brought some for all of us"—end of conversation. However, the comment kept coming to my mind as I was reading to Don and my mom. My tone of voice had not been irritated, just matter of fact. But I worried that I might have made him feel bad.
So, I told him that what I had said wasn't kind, and I should have said, "Good idea," instead. He looked sheepish and replied, "I was trying to be sneaky." Don isn't supposed to have chips. I laughed and said, "Honey, you got them and then came back to the table with them. You aren't very sneaky." He replied, "I know; that's what my meds do to my thinking." I smiled and said, "I knew that's what was happening. That's why I should have said 'Great idea' instead of what I said." We both smiled. It was a totally different feeling from what would have happened a year ago. The feeling was conversational rather than confrontive, even when my first comments weren't as well thought out as they could have been. There was a sense of connection.
One of my warmest memories is of my mother reading to us. She didn't read to us often, but when she did, it was magical for me! As I think back on those reading moments with my mom, I know what made them so special. I knew my mom loved us. This same feeling of love and concern has come from the reading we have been doing in our family. I knew this was the case for kids, but I wasn't prepared for how impactful it would be for a family of adults. Reading together has established an intimate experience filled with feelings of warmth and belonging.
Most of my readers still have kids at home. It doesn't matter whether you have a bunch of littles or a group of teens. Both teens and littles like to read as a family. From Scholastic's Kids and Family Reading Report, we learn only 17 percent of parents of kids aged 9–11 read aloud to their children. Yet 83 percent of kids aged 6–17 say being read to is something they either loved or liked a lot (Scholastic Inc. and YouGov 2014). There are excellent reasons to read together.
WHY YOU SHOULD READ AS A FAMILY
A. Physical closeness—Reading aloud allows you and your children to achieve physical closeness. Small children enjoy sitting on your lap or draping themselves across your body. You may snuggle less with older children, but this is not a given. If you're open to having older children sit next to you or lay a head on your shoulder, the chances are it will happen often. That has been my experience.
B. A sense of security—Gathering together as a family and reading create a sense of security and safety—a feeling of 'all is right' with the world. When children feel secure and safe, they function better out in the world. Love is essential to a child, but feeling safe is crucial and often even more critical.
C. A sense of belonging—There's a sense of belonging which comes from everyone being in the same room, snuggling and listening to the same story, having a shared experience. This sense of belonging can be beneficial as our children begin to mature. They're trying to figure themselves out as well as figure out where they fit in the world. This process of personal growth can bring a sense of isolation. Reading as a family is one of the ways parents can create a sense of belonging.
D. A chance to tackle complex subjects—Reading as a family allows you to introduce difficult topics to your children and have safe discussions. I've read books to my children dealing with honesty, integrity, kindness, bullying, God, social issues, beliefs, and feelings. It made it possible to bring up ideas and thoughts I wanted my children to consider and ponder. It was a safe and comfortable way to experience essential life lessons.
E. A shared language and a sense of intimacy—When families read together, they often create a unique language. It can provide inside jokes. I read an article that described the experience of a family who loved the Mercy Watson books. In their family, they frequently heard the call at breakfast for "Mercy Watson toast, please!" (Johnson, "Why You Should Read Aloud to Older Kids") It is fun and bonding when families share a phrase from a good book that means something to all of them. It creates a sense of intimacy.
F. It can strengthen struggling children and youth—When one of my daughters was fifteen, she made unwise choices. She knew it, but she was struggling to make changes. At the time, the youngest two children read with me. We read in the middle of my bed before lights out. Although my daughter wasn't usually home, I noticed that when she was, she would come to my bedroom door, lean against it, and listen, no matter what the book was. This time together did not resolve her issues, and she had a tough road, but I'm confident it helped her stay connected to our family in a way that was vital to her eventual success. If you're struggling with any of your children, for any reason, the closeness generated by reading together can go a long way to keeping you connected while issues are worked out.
If you are hesitant to read as a family, give it a try. Be patient. In my book Becoming a Present Parent, chapter Four covers touchpoints. Touchpoint 7 is reading together. You can read that chapter free. Touchpoint 7 shares a real-life experience of a troubled family, how they made family reading work, and their eventual success. There is a section called Making Family Reading Work. With the tips found there, you can read together, and it can be successful.

Share the reasons that you read with your family. If you don't yet read as a family, why not?