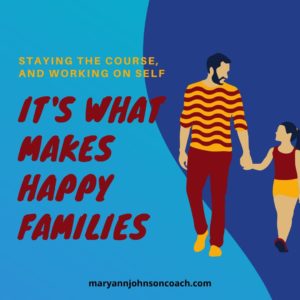 As I was raising our children, I made many mistakes. I was not gentle enough. I was a yeller. Sometimes I did not listen. I could be stern.
On my birthday this year, my children told me how much they loved our family and me. They reminded me how much their friends loved coming to our home. I have even heard from some of those friends, how much our family and our home meant to them. I was astonished, grateful, and heartened.
What My Kids Said
Here are some of their comments, paraphrased. I'm not sharing them so you think well of me but because I want to make a point about imperfect parenting.
"Mom, you are so wise and self-governed. I am grateful to you. Our friends wanted to come over for dinner and play because of the security you offered in our space." Jenny
"Mom, I want you to feel super loved. I wouldn't choose anyone else for my mother." Marie
"You're an amazing woman. The things you have accomplished are truly wonderful. I'm so proud to say you're my mom." Seth
Last night I was thinking about you quite a bit. I was thinking about our growing up. We had a lot of struggles and a bunch of kids. We kids never saw anything or understood how hard that was. Now we are adults, and we know it. And then you took in all the neighbor kids as well. It's just amazing. I appreciate what you did. You and dad were amazing, big time. Look what amazing kids we all are. It's from you guys." Andrew
"I get to talk to a lot of my friends about their families because they struggle and aren't connected. I have a hard time relating. We are connected, and I'm grateful we have such an amazing family. We do love and care about each other. We don't take that for granted." Jodie
Some of these comments came with tears as well as smiles. I was blown away!
It's easy to remember all the things you didn't do that you wish you had done. It is easy to remember all the wretched things you did that you wish you hadn't done. It's hard to know what your children are going to take away from the experience of being part of your family. Often, as I have discovered, it's better than you think.
Raising a Family Can Be the Best and Worst of Times
I have said that raising my family was "the best of times; it was the worst of times." These words from the Charles Dickens novel A Tale of Two Cities describe how I felt perfectly. In fact, in 1996, at the height of our family problems, that is what I wrote under our family photo.
I remember the fun we had: breakfast on the tailgate of our old pickup truck at the park, quiet conversations while weeding in the early dawn hours. We canned together, read as a family, and ate dinner, and talked. We had fun at bath time, during nighttime cuddles, and while sitting together at church. These were memorable and satisfyingly ordinary days. These were the best of times.
I also have seared on my mind the struggles we shared as a family of nine—a husband who traveled for a living, drug abuse, premarital sex and a child born out of wedlock, thoughts of suicide, failure in school, smoking, alcoholism, lack of belief in one's value as a person, quitting school, abandoning church, a mother who yelled, managing feelings of despair, and coming to terms with same-sex attraction. These were the worst of times.
That is why I have shared some of my birthday messages with you. If our family can experience what we did, and still come out so well, then so can yours.
You won't, and, frankly, can't do everything right. Your children will struggle as they grow. You'll struggle to do all that's required in your chosen vocation as a parent. You will fall short and make mistakes. It is part of the process of being human, of being in a family.
Perfect isn't what makes good parents and families. Those who stay the course, even when they're not doing as well as it could be done, they are the amazing parents that will raise amazing children. I promise!
Success doesn't require perfect. Let someone else know this truth!