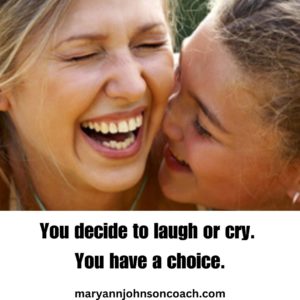 If you had asked me twenty-five years ago if I had a sense of humor, I would have replied that fun and funny are not on top of my list. I don't get jokes. I don't see the humorous first. Getting stuff done is my thing. Being on time matters. Maintaining order is number one. I liked things and people to be a certain way. Because of this, I was easily frustrated or annoyed by situations and people, including my husband and kids.
However, a decade and a half ago, when I began speaking and teaching, I was in for a shock. I made people laugh. I am no comedian, but I said things in a way that was humorous to an audience. People assured me of this all the time. : ) I would never have guessed that there was another side to me.
The Beginning of Change
One day many years ago I was preparing to attend an event with my 11-year-old daughter, Kate. The dress was Sunday best. We were running late and being late was not an option for me! So, the stress was on to get there on time!
As we walked out to the car, I stepped off the curb into a pool of water up to my ankle. I was instantly mad!!! My foot was wet, my shoe was full of water and there wasn't time to change. My thoughts were filled with anger and frustration. I turned those thoughts into angry, frustrated words.
As I drove down the road I complained about the water in the gutter and the inconsideration of some people who let their sprinklers run all over the place. I fussed about the foolishness of having the event at this time of day and not later, and on and on……. You can hear it, can't you?
When we were about 6 blocks from home, for some reason I visualized myself stepping off the curb and into that gutter. I saw my shoe fill up with water and the shocked look on my face. It was such a funny picture that I began to laugh.
My poor daughter who had sat silently through the so recent tirade just stared. Then she began to laugh. When I got control of myself, I said, "That was so funny!" In her sweet voice, she replied, "Mom, I wish you had known it was funny when it happened." That wise statement from my youngest daughter sent me on an adventure of change. I wanted to see the funny side of life more often. I wanted to be frustrated and annoyed less. I wanted to stop complaining when things weren't as I thought they should be.
I decided all those years ago to get a grip on frustration and anger, but my resources and my knowledge were lacking, so for quite a while I made very slow progress. But I did make progress.
Twenty-One Years Later
Mary and Jack, both under five, were taking a bath. They were in the tub alone for less than 5 minutes while their dad took their clothes to the laundry. When he came back into the bathroom everything in the room which wasn't nailed down was in the tub: scale, towels, dirty diapers, toothbrushes, soap, shampoo bottles, everything.
As Doug began fishing all the stuff out of the tub while trying to control his temper this is what he heard, "Hey dad you're ruining my island." How's that for learning? How's that for funny? I laughed and laughed. Even Doug had to laugh.
This Summer
In our garden, we have left a large patch of dirt. This is where Ben and his friends play. They are all 10 and 11. They dig huge holes and fill them with water. They make tons of mud. They bury stuff. They have a ball.
Recently the boys purloined a few eggs from the hen house and decided to put them into small holes in the ground and cover them. They wanted the covers to be light and not crush the eggs so that they could retrieve them later. Guess what they found to use?
Well, right next to this unplanted area are raised garden beds with my rhubarb and a huge pumpkin. The leaves were perfect. So, the boys picked a bunch and sniped off a few shoots. Hmmmm They turned some of the rhubarb into trees standing over the leaf-covered cavities holding the eggs. One side of the rhubarb was picked bare. Good thing it is a huge plant, as is the pumpkin. LOL
When I went out and saw their 'work' I did not get mad. I wasn't frustrated. I didn't laugh but I couldn't help smiling at the craziness of kids. Later, Ben and I had a talk about playing but asking for Grandma's help if leaves or other living items were needed.
This ability to remain calm and see more disasters as funny hasn't been easy to master. I will truthfully tell you that it is a battle I still fight every day and that little 11-year-old, Kate, well she is 34. Ten years ago, I recommitted to this calmer, sillier, more fun side of myself. I had learned a great deal in the ensuing decade and a half. I was willing and able to do more to be happier; to control my responses; to manage my thoughts and stories better.
It takes work and practice to change your way of thinking and being. I still have my wet shoe days, but they are fewer than when I began this process of change all those years ago. I am not discouraged because I have taken so long to get where I am, which isn't as far as I need to go. I am not discouraged, because I am so much better than when Kate was 11. I have made progress and I will continue to make progress.
What is required to make this type of inner change, a personality shift, if you will?
Deciding you will change
Knowing 'how' you want to be
Working on it consistently
Learning what you don't yet understand
Not beating yourself up when you behave in the old way, just starting again
Staying the course until you get there, never becoming so discouraged that you give up
I know that if you can laugh rather than yell, feel frustrated, or cry when kids do stuff that bugs you, causes messes, or seems frankly, naughty, life will feel and look better. Learning to laugh will relieve more stress than taking a long vacation.
This work is worth the years and effort it takes because
you will like your life better. I promise!!