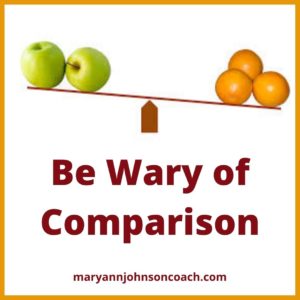 I have a friend, Audrey Rindlisbacher, and recently I was listening to an early morning Facebook Live she did. The topic was 'comparison.' Audrey is an exceptional woman who has been speaking and teaching for years on great books. I have sat with rapt attention in her classes. She inspires me with her knowledge of natural law and principles.
Not too long before she did this Facebook Live, she spoke with another woman that she considered exceptional. This mom had been the Young Mother of the Year, had multiple degrees, and currently lives in a foreign country where she has been for the last ten years with her family doing full-time work with refugees. Audrey admitted that during her conversation, she had thoughts like these – "You have always wanted to take your kids and do some humanitarian work. Why haven't you? If you had, your family would be so much better off. You are so lame!"
I had to smile inwardly because when I first heard Audrey speak, I had similar thoughts – "Man, you should have read more great books than you have. Why haven't you gotten as much out of them as Audrey has? How come you don't understand natural law and principles as she does. Reading isn't enough; you needed to think as she has. You are so lame." When we begin comparing ourselves to others, our self-talk plummets! When our self-talk dives, then our life-results also dive. We must speak kindly about and to ourselves.
Another reason to speak well of ourselves is that how we are and what we do, speaks volumes to our children. We want to model a way of being to our family that will help them as they tackle hard things in life and as they begin seeing that where they are and how they are doing is different from someone else.
Tools to Derail Comparison
When I find myself treating myself poorly or comparing myself to others, I have a couple of tools I use to get myself back on track.
1. Focus on gratitude. When I shift from seeing what I am not or what I don't have and focus on who I am and what I have, my self-talk improves. My result improves. There are many ways to stay in gratitude, but one that I use is a gratitude journal. Each evening before bed, I take a moment and write at least three things I am grateful for. No matter how terrible the day has been, I have yet to be stumped. I can always find at least three and usually more. Keeping my eye on what I have that is good keeps my mind on a higher plane, so I don't spiral into negative thinking and self-talk.
2. Limit social media. As much good as social media has provided, it is a hotbed of comparison and envy. Currently, three of my daughters have taken breaks from social media. No Facebook, no Instagram. They have found that they feel better about themselves when they cannot compare their worst to someone else's best. I spend less than 1 hour on social media each day, and on days when I don't need to be on it for work, I spend none at all.
You don't have to give up social media. Just limit the time you spend there. If you have a hard time, then turn off your notifications. Give yourself set times during the day to participate. When we compare ourselves to others, it creates unrest within us. It sucks the joy out of our accomplishments. It diminishes us in our own eyes.
We each have strengths and weaknesses. We all do well at times and at others do poorly. We all are in the process of becoming. Accept that you are still learning, growing, evolving. Be kind to yourself. Speak and think with generosity, and it will improve your pace. It will also give your children a better example of what to do when you are not perfect. It will do your family good.
Take the time to let a friend know about these simple tools to derail comparison.