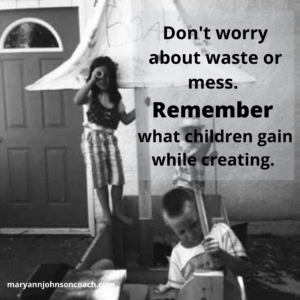 A mother asked me how I handled it when my children wanted to make something that I knew wouldn't be used after it was created. How did I feel about the waste of resources and the mess that would be left? That is a great question. In fact, this same question comes up often when I am working with moms, and I have put some thought into it and decided that an even better question would be:
"How do we determine when materials are being well used and when are they being wasted and if the mess will be worth it?"
When my youngest daughter Kate was seven, she and a friend created a boat out of an old wooden crate. They spent a few days on it and used a lot of paint, brushes, nails, and other materials. When they were finished, they had a creation that delighted them. They played in that boat all summer. But it did require a fair amount of resources and when seven-year-olds paint and hammer, there will be a mess.
When my grandson, Jack, was seven he created a robot out of a piece of plywood, tin foil, empty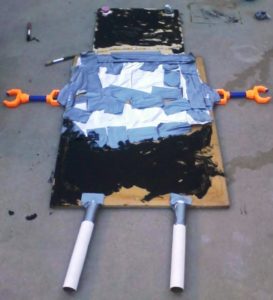 paper roll tubes, and tons of glue, expensive 'real sticky glue' as he called it. It turned out spectacularly, but it didn't have any use. It was too big and not sturdy enough to hang on a wall. It lay on the concrete at the bottom of the back steps to be admired by the whole family until it rained. Then all the pieces were gathered up by an adult and taken to the dump.
Both children learned a lot from their experiences. They utilized skills they would need to hone to become well-rounded adults. Here are some skills they had to use to make their creations.
• They need a vision
• It took initiative
• They had to bring the vision to life
• They needed to gather the needed materials
• They had to problem solve
• They worked independently
• They had to decide when to ask for help and what help they need
These important skills, which they were able to practice, made the use of the materials perfect and justified the mess in my mind. Seriously. : )
Today, let's explore one of the reasons why parents have so much trouble letting their kids waste, i.e. create, with paper, glue, paint, and so forth, and why it's tough to face the clean-up afterward.
Adults are End-Product Driven while Children are Process Driven
The end product is what matters to adults, how it looks, and its usefulness. To children, it is all about the process. Children care about how it feels to create. They aren't as concerned with the usefulness of the finished project or in fact, how 'perfect' it looks. They don't worry about the mess they are making because they are so caught up in the creative process.
Because you care about the end product, you will be viewing your children's activities through those lenses—unless, of course, you will consciously take those glasses off and see what your children see.
Don't manage your children's efforts in an attempt to make the project turn out the way you think it should. Don't worry so much about waste or mess. Think instead of what your children are gaining while creating.
When you decide to see your children's projects differently, you will better evaluate the 'correct' use of materials. It will be more about them and less about you.
In our communities, we could use a few more adults who aren't afraid to turn their dreams into reality because they spent their childhood doing it.