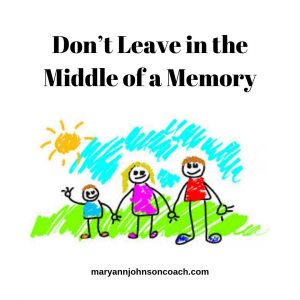 I had the opportunity to do some work with a nephew of mine. That meant instead of listening to Andy Williams or a musical, I was listening to Country Western. One of the songs I heard was In the Middle of a Memory by Cole Swindell. It's a love song about meeting the person you want to be with and then having them jump ship, so to speak.
There was one line in the chorus that caught my ear – How you gonna leave me right in the middle of a memory?
Has that ever happened to you? It happens to kids all the time. As parents, we often just disconnect or check out in the middle of memory-making moments.
Here are some examples
•You're raking the leaves with the kids. There has been a lot of laughter and horsing around. But time is passing, and lunchtime is approaching. So, you throw one more handful of leaves and head into the house. It feels as if getting lunch done on time is important.
•Your teen is telling you the details of the camp she just got home from. You're laughing at the craziness that went on. Then your cell phone rings, and you say, "Just a minute" and answer it. It might be important. By the time you finish the call, your daughter has drifted away.
•Finally, after a few days of craziness, your family are all sitting down at the dinner table together. Your oldest son is telling corny jokes and all the little kids are laughing. Then someone spills their milk. You jump up, grab a rag and remind everyone that this is dinner and not a free for all and that milk isn't cheap.
•You're having a coloring session with your four-year-old. You enjoy your son, but it's been a long day and your novel is calling. If you hurry you can get a little reading in before dinner. You pat his hand and tell him it's been fun but that you've got to go and get dinner made.
These are some simple examples of how adults leave in the middle of memory-making moments.
When I was writing the book Becoming a Present Parent: Connecting with Your Kids in Five Minutes or Less, I did an informal survey. I contacted my kids, my grandkids, nephews, cousins, and siblings. I asked them for their favorite memories. I think you'll be surprised at the results.
Most of my kids said, "Eating together." They also mentioned picnics in the park, which was a block away, watching movies together and having treats as a family. My daughter's favorite memory was of us sitting under the table reading one of the Ramona books. My favorite memories are of the times my mom read poetry to us.
Memories that last are made during the everyday moments we have
with our kids.
If we want these everyday moments to be memorable then we need to put technology, work, our interests, and even time, on hold. We need to stay Present. It isn't always easy. I get that. I was a busy mom of seven kids. I am not saying that we shouldn't take care of the duties of running a home or that it isn't OK to give yourself a break. What I am saying is that we don't often think about the impact that our checking out makes on our children and youth. We forget that it sends a message and one we probably don't mean.
If we want our family to have memories that last, then we must practice putting our focus on what is most important for just a few minutes at a time during the mundane work of caring for our family.
Keep your mind with your child or family for the short time it takes to read a book, take a walk, eat a meal, clean up spilled milk, or color a picture. When your kids are adults and remind you of some ordinary moments that they remember fondly you'll be glad you did.
Your shares are the BEST
compliment. : )