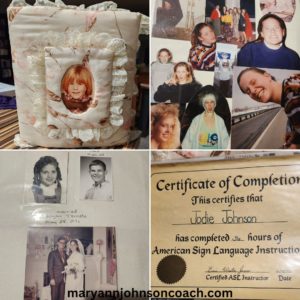 Do you ever have the feeling that your efforts aren't good enough, even though you are giving it all you have at the time? I have and still do, occasionally.
For Example…
I have a sister who is fabulous at scrapbooking. The pages she creates are beautiful with paper flowers, butterflies, bows, wagons, trains, and other cute decorations. It makes her kids 'stuff' stand out and look great. I have never scrapbooked. I don't think it was a thing until after most of my children hit their teens and some were gone from home.
I did have boxes of their stuff, each neatly labeled with their name. Everything was orderly and well cared for. I knew it was important to keep their art, crafts, papers with A's, photographs, and awards. But I hadn't done anything with all that stuff.
When my children were adults, I still had their stuff in boxes. Just a few years ago, I decided that for Christmas I would buy some beautiful boxes and give them their stuff as a gift. I bought the boxes and transferred their treasures into them.
It was fun watching the kids sort through their papers and get excited. "Hey, look at this. Do you remember when…" "Do you see this? Can you believe I finished? It was so hard." "Do you remember when we all…" It was a great gift, and I knew it was a hit.
However, as time passed, I occasionally felt that I should have put all their stuff in cool scrapbooks. I mean, it had become the rage, and everyone was doing it.
The Discovery that Felt so Good!
Now remember that my youngest is 34 and my oldest is fifty-one. They have been gone from home a long time. But last month, Jodie had a beautiful scrapbook on her kitchen counter. I had made it! What!! Seeing it again, after decades, helped me remember that I had indeed, made a book for each of my children. Granted, there were no cutsie things inside, just papers, photos, certificates, etc. Everything was handwritten, nothing fancy, but there was a book!! And to that, I added a cool Christmas box years later! Go, Mom!
Here is what I know and sometimes forget, and which you may not know yet – doing something a specific way, the way another mother does it, isn't going to matter in the long run. What we do for our family, with love, is what does and will matter to our children over the long haul. It wouldn't have mattered if I had never made a book containing some of their stuff. They loved the Christmas box because they knew I cared about them and their memories. That is what counted and for them, it would have been enough.
If we are filled with regret or worry over all the things we didn't or don't do as well as another mother, we consign ourselves to living in a dim room. But as we accept our efforts, whatever they are, time will clean house and leave us in a far brighter place. The good we did will become apparent.
Scrapbooks or even saving our kids' stuff, isn't the defining thing in good parenting, but I hope you get my point. We can't and won't do everything well or the way some other mother or family does it. But our efforts will pay off in the end if we do our best and work to become better. Notice I didn't say do better. It is far more meaningful, as our children grow if they see us become better.
This Mother's Day I received messages from women and mothers in my family. I wasn't a perfect parent. I made lots of mistakes. I was frequently in over my head. : ) BUT I did do my best. I gave what I had and as I cleaned out my bag of garbage, which we all have, my best became better. Please allow me to share a couple of my Mother's Day messages and know that the feelings they shared have developed over time, as they have become women and mothers themselves.
•One thing I love most about you is this, my entire life you have always wanted to become a better person. You did things to change yourself, develop new characteristics, and find who you really are. That rubbed off on me. I really appreciate that. I always do a daily self-inventory and stay aware of where I'm at and who I am. So grateful to have developed the nature to want to do better. Thank you, Mom. I love you very much.
•We really love and appreciate you Mom and all you have done for us. (speaking of her family) I appreciate that you have taught me to pray well. I like how you said it in your last article, you are blunt with Heavenly Father, and he is blunt with you. That is an important thing to understand, that we can just say how we feel. I love you.
•Happy Mother's Day Mom. Thank you for blessing us with so many wonderful people. Because of you, I have an amazing man in my life and an amazing baby, and it all started with you.
Speak kindly to yourself in the moment, accept your efforts, and be patient with yourself as you change and grow.
We really are doing better than we think
and time will show us this!