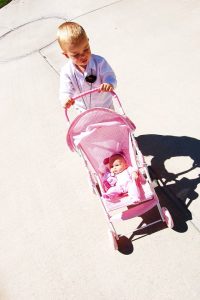 Father's Day is coming so I am going to dedicate this space to fathers for a few weeks. : )
When my grandson Jack, was two years old, he copied everything his dad did. At that time Jack had a small pink doll stroller. Actually, it belonged to his then four-year-old sister Maggie but Jack confiscated it. He needed it for his work – his "daddy" work. When Doug mowed the lawn Jack was following right behind with his pink stroller "mowing machine." He pulled an imaginary cord and away he went following his dad's every footstep, walking with his dad's swagger as perfectly as he could match it on his small stubby legs.
One day Doug was cleaning out the garage. Jack, of course, was right there helping. His father was sweating profusely with heat and exertion. Doug was wiping his brow to clear his eyes. Jack looked for a long time at his dad and his dripping face. Then he walked over to the dog dish, put his face in the water and turned to his dad and said "we're sweaty" and then wiped his head.
Jack is now ten and has a six-year-old brother, Ben. Another son-in-law, Brady has a two-year-old son, Elliot. And my son-in-law Kash, has a stepson, ten-year-old-Parker. These boys love their dad's. They want and need to be with their dad's. They watch their dad's and they copy them. Being a parent is one of the most influential roles you will ever have, whether you are a mother or father.
Sometimes fathers have a difficult time being involved with their children after a long day at work, caring for one of their primary stewardships – providing for their family. Because of the dilemma of work and family, too often "parenthood" becomes simply "motherhood." Professional research has found that a child's intellectual, emotional, and social development, masculinity and femininity, even the ability to function effectively in a future marriage, appear to be influenced by the father's personal relationship with the child and with the child's mother; dad's need to be involved with their children, because, Fathers do matter. They matter to their son's and to their daughters.
FATHERS DO MATTER
As with all important responsibilities, to be successful with our children requires making them an important priority. One of the most important gifts a father can give is a small portion of his time.
Richard L. Evans said: "In all things, there is a priority of importance … and one of our urgent opportunities is to respond to a child when he earnestly asks remembering they don't always ask, that they aren't always teachable, that they won't always listen. And often we have to take them on their terms and at their times. But if we respond to them with sincere attention and sincere concern they will likely continue to come to us and ask. And if they find they can trust us with their trivial questions, they may later trust us with the more weighty ones." (The Spoken Word, KSL broadcast, 31 Jan. 1970.)
In order to respond at the time of need, a parent, a father, has to be present, in body, mind, and heart!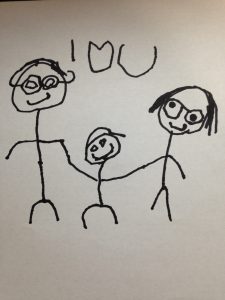 When over two thousand children of all ages and backgrounds were asked, "What makes a wonderful father?" the essence of their replies was, "He takes time for me." One of the misconceptions about this is that taking time means a lot of time. Actually what really matters is small amounts of time, consistently given.
I'll never forget the day that a dad of multiple children came up to me after a workshop I was giving on becoming a more present parent. He had tears in his eyes. He was weeping because as he said, "I have always wanted to be more connected with my kids but I work so many hours that I just couldn't see how. Now I see that it's possible!"
BE PRESENT BY USING DAILY TOUCHPOINTS
There are opportunities to connect with your children every day, dad. Here are four of the Touchpoints that happen in almost every family daily and you can use them to connect. They usually take 15 minutes or less and some as little as 3 minutes. If you want a deeper explanation of how to use them effectively on a tight time budget request the free chapter on Touchpoints from the book Becoming a Present Parent: How to connect with your children in five minutes or less, which will not only detail how you can make these four Touchpoints work for you and your children but will give you four more.
• Mealtime
• Bedtime
• Transitions
• Chores/family work
Dad, no matter how hectic your life is you can be present every day and increase the quality of your family relationships.