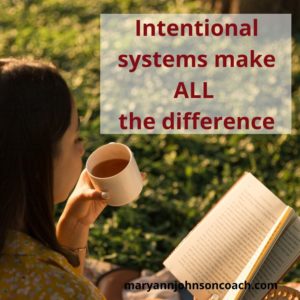 When I mentor moms, I hear about all the things that aren't working. That is what they come to me for – for perspective, to see with new eyes. I enjoy this process of sorting it out. We often begin with family systems, so things start to work better.
I have had this type of conversation hundreds of times:
Mom – I can't stand dinner time. It is always rushed, and then everyone goes and does their thing, and I am stuck in the kitchen with a big mess.
Me – Well, tell me about your system for getting dinner done.
Mom – We don't have a system.
Me – Yes, you do. You figure out what to fix at the last minute. You cook the meal. You set the table; you serve dinner. You clean up. You are filled with resentment. It isn't an intentional system, but it is your system. There is usually shocked silence on the other end of the phone.
Here is another example.
I worked with a mom who hated her bedroom. Her bed was always covered by unfolded laundry. What she wanted was a retreat but what she had was resentment.
When I asked her what her system was for the clean laundry, she told me she didn't have one. But of course, she did. Here is what it looked like. She would do the laundry, and then the clean laundry would be piled on her bed. She would coax the kids to fold their stuff and put it away. It often didn't get done before the end of a busy day, and then mom would move the laundry to the window seat. It might stay there a few days while she felt cheated because she couldn't sit in her room, in the window seat.
When she explained what happened on laundry day, I pointed out that she did have a system. It wasn't a system that got her what she wanted, it made her feel resentful, but it was her system. We talked about how she could better manage her laundry to stay out of her room and be taken care of by all the family. It worked. She got her private space back, and her children became more responsible. Everyone was happier.
The women I talk to are always astonished to realize that they have a system by default, and it stinks. Then we talk through what she would like to have happen, what could reasonably happen, and then come up with an experiment designed to intentionally set up a system that accomplishes what she wants. We talk about getting the family to buy in because when people buy in, they take ownership, and things work better.
Here is an example of a default system in my life that whacked me out for months!
I am a very orderly person. I am also very self-directed. However, for many reasons, I found myself in a mess. I wasn't getting up on time; I wasn't getting my studying done; I forgot to pray; I was distracted. After nine months of suffering, I did what I should have done far sooner. I prayed and then thought through what was not working. What did my current system for managing these things look like?
I realized that the system I had used in the past had fallen apart. I didn't have a morning routine. I sat down, thought through what I needed, then wrote it down and taped the paper to the bathroom wall. This experiment was better, but I was still distracted and not getting these important things done daily. I know that consistency is essential, so I went back to the drawing board and prayed again. I was missing something.
I have kept my morning routine quite simple for a long time because I am a full-time caregiver. I get up at 6:15 on many days, dress, feed, and groom my 15-year-old special needs granddaughter. Then I get the other three off to school. In the summer, I am on deck with these kids for a few hours most days. By nine Don and possibly my mom are up and want breakfast. Mom needs her hair done, and twice a week, she needs to bathe before I can move on to anything else. Noon would come and I wouldn't have gotten what set me on a solid path for the day completed. The time would rush on from there and frequently late evening would come, and I never got to my 'stuff.' The question was how I do the things that matter to me and still take care of all these people.
When the answer came, it was so simple as answers from God often are.
I had the thought to put my scriptures and affirmations in the bathroom, in my reading basket, and hang my clothes for the next day on a hook the evening before. Then each morning, I would get up, go into the bathroom, dress, and prepare for the day. I would sit on the toilet and read my scriptures and say my affirmations. Then I knelt and prayed. I know God forgives me for praying at the side of the toilet. : ) The whole thing takes 20 minutes, then I am out in the fray, but the things that matter to me and my well-being are complete. The system for my mornings that I have intentionally designed is working well!
Systems matter. If there is a place in your life that feels out of order or things aren't happening, look closely at your system. What is it? What does it lack that would feel better or help you manage better? If you don't think you have a system, and that is why it isn't working, think again. You do; it just stinks. Come up with an experiment. Try something new with intention. You will be surprised at what a difference it can make.
Got a great 'systems' story. Please share. : )