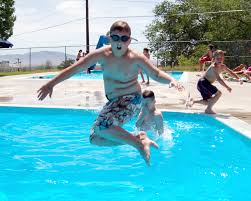 When I was a girl in the 50's and 60's we were expected to do a few things. Grow up, be respectful, get married and have children. Being the fairly obedient person I am that is exactly what I did.
If I was a girl growing up now I would be expected to find out what I love and go do that. If I was a girl now that would include getting married and having children and becoming an entomologist! Yes, I realize that I have a passion for bugs. They are hanging in frames all over my home.
Here is something else I realize, I am intrigued by science. I didn't fare well in science when I was in school, not even when I was in college. I think I believed that science was beyond me but I have come to understand that science is about every day, it's about living. Why not have some science moments with your family this summer. It will be fun.
In the following article, by Jamie Strand, an unashamed science nerd, you will discover four ordinary summer events that can help you enjoy a bit of science with your children.
Take it away Jamie –
As the temperature increases, so too do the opportunities for learning science outdoors. When kids explore their environment and connect classroom concepts to their own worlds, they develop not only a deeper understanding but also a more engaged approach to learning science. If you're looking for ways to teach science to your kids outside as the weather warms, you'll be inspired by these four outdoor science lessons for warmer weather.
1. Cannonball Splash Physics
Swimming is such an important life skill, and including swimming and water-related activities in science lessons is a perfect way to keep kids interested in what they are learning while teaching them water safety. That's why one of my favorite outdoor science lessons for warmer weather is Cannonball Splash Physics.
Confident, competent swimmers love to do cannonballs, and using the popular swimming pool jump is a great way to teach kids the science behind winning the splash game. Learning about fluid dynamics helps jumpers understand how to make the biggest splash, so it's a good idea to let kids experiment with dropping spheres into water first. Water displacement and fluid dynamics will make more sense to kids when they can see what happens on a smaller scale than when they watch people cannonball into a swimming pool.
Kids can experiment with their cannonball technique after learning about fluid dynamics and water displacement to see if they can make a larger splash using their new science knowledge. Try recording kids in slow motion on a smartphone or tablet so they can watch the science behind their cannonballs in action. This outdoor science lesson for warmer weather is sure to make a splash with your kids!
2. Water Balloon Drop
Allowing kids to experiment with water balloons helps them to cool off when the weather gets warm. It also gives them hands-on experience with learning the scientific method, as they form hypotheses about the experiment results in Water Balloon Drop. Kids may like to experiment to find the fastest way to pop a water balloon, which shapes of water balloons are easier to pop, the height of drop required to pop the balloon, and more.
Another option for Water Balloon Drop is to observe the splatter patterns that occur when dropping the balloons from various heights. This outdoor science lesson for warmer weather will help kids to determine whether a water balloon dropped from a greater height falls with more speed and has a larger spatter pattern than a water balloon of the same size dropped from a lower height. Consider adding paint to the balloons to help kids see the splatters more clearly.
3. Chalk Rockets
Most kids love to use chalk outside when the weather warms up, and this spring and summer you can use it to teach science through fun chemical reactions. Chalk Rockets require cornstarch, water, food coloring, film canisters, and Alka-Seltzer tablets. Kids can practice measuring by making liquid sidewalk chalk with the cornstarch, water, and food coloring.
Ask kids to make a hypothesis about what will happen when they add pieces of the Alka-Seltzer tablets to the canisters and put on the lids. Then, break the tablets into three or four pieces and drop them into one canister at a time, before quickly putting on the canister lid and flipping over the canister. Stand back and watch the rocket fly and then observe the chalk art it leaves behind. Students should observe each canister and record height and distance traveled. They may want to experiment by adding more tablet pieces to a canister or changing liquid amounts in each canister.
4. Rainbow Bubble Snakes
Nicer weather means bubbles, and Rainbow Bubble Snakes is an outdoor science lesson for warmer weather that kids will love. This science lesson involves elasticity, surface tension, and chemistry. To allow kids to explore these concepts, help them to create Rainbow Bubble Snakes with an empty water bottle, duct tape, a sock, water, dish soap, and food coloring.
Cut off the bottom of the water bottle and slide the sock over the open bottom. Secure the sock with duct tape. Kids should dip the sock-covered bubble blower into the dish soap/water/food coloring solution and then blow through the neck of the bottle. Once kids see how the Rainbow Bubble Snakes form, they should experiment by blowing with more or less force, adding more dish soap to the solution, and measuring the length of their snakes.
Getting outside as the weather improves can be an educational experience for the whole family. Outdoor science lessons for warmer weather give kids the opportunity to experiment in a hands-on way while asking questions and gaining a better understanding of the scientific method and science concepts.
If you enjoyed this article by Jamie Strand and the resources it provides then you will also enjoy Five Ways to Help Your Child Think Like a Scientist.
Jamie Strand is an unashamed nerd. He teaches community college and loves spending time with his two daughters. He wants to share his love of science and math with kids today and that's why he and friend got together to create SciCamps.org. Jamie enjoys hiking, camping, and doing science experiments with his daughters. This article originally appeared on home-school-coach.com on April 7, 2016